Maison Tait
Shediac, NB
Originally from Cape Breton, chef Chris MacAdam trained in Calgary at the Southern Alberta Institute of Technology, graduating in 2001. He has worked at numerous fine-dining establishments, including a position as Chef de Partie—responsible for a particular area of the kitchen, such as roast meats, vegetables or fish—at a prestigious Bermudian resort.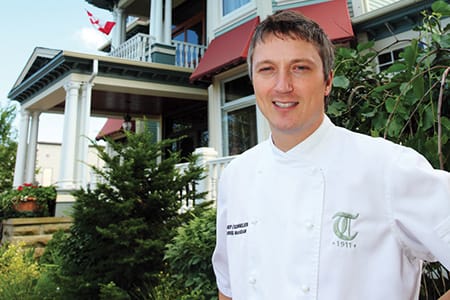 Having decided to return to his Maritime roots, Chris moved to Halifax to work at Bish World Cuisine. In 2006 he graduated as a professional sommelier—ensuring his kitchen creations will always have a glass of wine in mind—and moved to Shediac, NB, where he began working at Maison Tait House.
He has the flair and familiarity to create exquisite wine lists based on his menus; in 2007, Wine Access Magazine named Maison Tait one of the top 100 restaurants in Canada.
Now in his fourth year as executive chef at Maison Tait, Chris continues to think outside the lunchbox with exciting and unique interpretations of local gourmet fare. In November, he will prepare the Prestige Wine Tasting menu for the World Wine & Food Expo held in Moncton.
Q Who inspired you to become a chef?
A My late grandmother, Sis, was Cape Breton's best cake designer. I could watch—and taste of course—for hours.
Q Who do you look up to?
A My grandfather. He has taught me values such as patience and not to cut corners, which I carry as a person and in my kitchen as a chef. Good food takes thought and technique.
Q Why did you settle in Shediac?
A To be close to fresh local seafood—the lobster here is like no other—and because I am inspired by the Acadians and how proud they are. They have a strong will.
Q What is your favourite ingredient to work with?
A Hard to say but if I had to choose one, a good olive oil.
Q What is your favourite style of cooking?
A I am classically trained in French and have had a lot of Asian influences through a mentor, so French/Asian. This works well with local foods. I have a signature dish that's fresh Atlantic salmon skewered with lemon grass and infused with molasses, dark rum and ginger. People love it!
Q Do you have a cooking tip to share?
A The biggest thing involves cooking procedures: braising, poaching, sautéing etc. These are the fundamentals, and knowing them is crucial. After that you can play with ingredients.
Q Do you have a favourite cookbook?
A Larousse Gastronomic is invaluable for any chef or cook. I've used this resource all throughout my career.
Q What do you like to do when you're not in the kitchen?
A Spend time with my three-year-old daughter, Ava. We use our imaginations… She makes me realize the smaller things in life are amazing.
Q If you could cook for any three people, who would they be?
A Our troops in Afghanistan, the men's or women's Olympic hockey team and the Queen of England. I'm very patriotic and would be honoured.
Q Just out of curiosity, what would you cook for the Queen?
A Lobster, shelled of course. But using the tail only, maybe poached in vanilla butter.