In the midst of the internationalization of my multi-generational Nova Scotian palate from travel—and from almost four decades of residency in southern Ontario—it was an unexpected delight to be reintroduced to a heritage food in Scandinavia.
Descended from German settlers who went to Lunenburg in the 18th century, I grew up with a taste for pickled herring. It took a lunch at the Union Hotel overlooking the Geirangerfjorden in Norway to open my taste buds to a broader range of herring marinades—and to make me think of herring as a form of sushi.
Tasting a reddish concoction that I had just ladled from an earthenware crock was my "road to Damascus" experience. I did not even immediately suspect I was consuming marinated herring; it was just something wondrous. My wonder only multiplied when I found out, with great difficulty, what I had eaten—a lingonberry-based marinated herring.
Back in Toronto, the capital of international gastronomic ingredients, I was shocked when my search for another opportunity to experience this taste came to a dead end.
Fortunately, my eldest son exported himself to Aarhus University in Denmark for a six-month study term—which led to the requisite parental visit and another herring-related experience. None of the food reports of typical Danish fare pay much attention to the fact that the Danes have taken herring marination to a new level, so I was unprepared for the array of marinated herring offerings in every restaurant—Asian flavours as well as mustards and beets in the Nordic tradition. Sadly, there were no lingonberry offerings. I started joking with my husband that we may be the only travellers motivated to return to the Union Hotel for the herring, not the view.
At a certain point in all of this I realized that I had no idea about herring fisheries along the Atlantic coast, an embarrassing realization for a sixth generation Nova Scotian who was only lately exported to Upper Canada, but who is a faithful returnee each summer with the brood. A little research told me that there was a healthy herring fishery, with only a small portion of the catch remaining in Canada. Like other fisheries, catches of the clupea herengus ("true herring") fell in the 1980s, but rose in the 1990s—although not to former levels.
Most of the catch seems to go smoked or salted to the Caribbean, through such organizations as Botsford's, based near the isthmus joining Nova Scotia to New Brunswick. There are, however, a few organizations that retail bottled marinated herring (different from the tinned variety from Scandinavia).
As if the gods of taste buds were listening to my longings for a repeat of the Geirangerfjorden experience, I noticed lingonberry jam, made in Newfoundland, in an Amherst supermarket.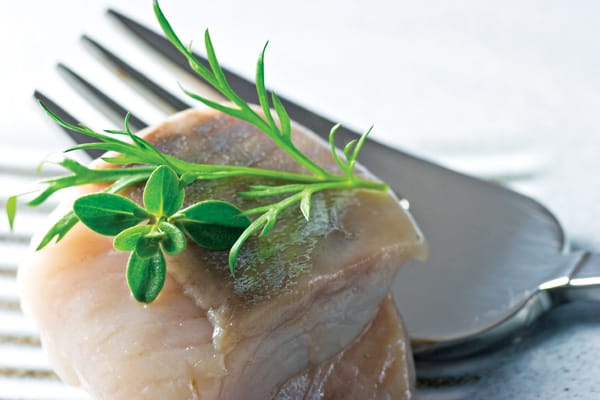 As desperate foodies will do, I hatched the plan to get some good herring already marinated the usual way and to further marinate it in the jam. From my Danish experiences, I knew a sweet and sour approach may not be bad and may even come close to my ultimate experience at the Union Hotel.
Indeed, it was as close to that as I could imagine doing on my own. As validation of its appeal, I served it to knowledgeable Nova Scotians (those who hailed from the Lunenburg area) who were as impressed with it as I had been.
This led me to experiment with other marinades added to the pure herring from jars.
The best of the bunch was made using a cranberry citrus sauce, useful for the Thanksgiving and Christmas turkeys (see recipe below).
Recipes featured in this article: