When it comes to flavour, garlic—in its many forms—kicks any meal up a notch
If ever there was an enigma in the culinary world it would be garlic. It fits into many classifications but doesn't truly belong in any. Is it a herb, spice or vegetable?
I asked Lloyd Mapplebeck, associate professor of horticulture at the Nova Scotia Agricultural College (as of July 1, the school will become a faculty of Dalhousie University), in Truro.
"It's all three, depending on how you cook it," he says. "If you roast a full head of garlic or eat pickled cloves, then you are eating a vegetable. If you steam or stir fry garlic scapes [the tender flower stalks] and eat them on the plate, then it's also a vegetable."
Eating garlic this way provides some sustenance, in addition to flavour. Herbs and spices derived from plants are usually defined as such because they are used in small quantities only, to add flavour to food.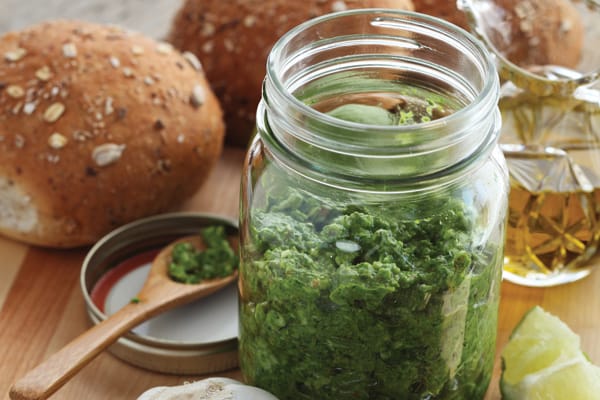 Herb or spice?
"As to the difference between a herb and a spice, that is a little more complicated," he says. "Various definitions exist, all with exceptions. The following is preferred by most of us who lay awake at night thinking about cool plant stuff: If the flavouring material is derived from plant leaves, sometimes with flower buds or flowers, then it is a herb (rosemary, thyme, basil, etc); if it is derived from any other part of the plant (seed, fruit, bark, rhizome, bulb, etc.) then it is a spice. Hence, black pepper (dried fruit), cinnamon (bark), ginger (rhizome) are spices.
"For garlic, if we use the mature bulb for flavouring food then we are using it as a spice, if we use the immature plant and chop up the leaves for food flavouring than we are using it as a herb."
Bottom line: garlic is a delicious plant to eat, especially if it's local, regardless of what part you eat or what you call it—and it is packed with health benefits, such as lowering blood pressure and cholesterol levels. For optimum benefits, eat it minced, raw.
There are many small producers growing garlic in Atlantic Canada—you often see it at farm stands and markets in late summer and fall; right now, we're coming into the time that you can buy the scapes or stems.
"We use them in salads, stir fries and even grilled on the BBQ," says Fay Johnstone, who, along with her husband, Jamie Andrews, farms in the Tatamagouche, NS, area. "Garlic scape pesto (see recipe below) fills our freezer and I have numerous jars of pickled scapes in the pantry."
The couple immigrated here from the UK in April 2010 and started Oliver Farm Botanicals, focusing primarily on flowers and herbs.
Fay and Jamie have a blog where they chronicle their adventures as farmers and their "rural love affair with Maritimers;" you can find it at onthefarminnovascotia.blogspot.com.
Recipies featured in this article