Newfoundland favourite Cod au Gratin, with some twists.
Yes, Christmas dinner is usually turkey, but the holidays offer many other opportunities for family gatherings, and fish is the perfect late-night meal on Christmas Eve or for brunch on New Years' Day.
White fish is a favourite in our house; we especially like milder types, such as haddock and cod. A neutral fish; it marries well with sauces and is equally delicious with just a bit of salt, pepper and lemon.
Cod, of course, is a complex topic here on Canada's East Coast. Decades of overfishing resulted in the 1992 cod moratorium and the single largest layoff in Canadian history. Today, fishing boats are once again heading out in search of cod but not without many expressing serious concerns about the still- depleted stocks and the continued use of trawling as a fishing method.
Yet increasingly, consumers have options to make choices that affect cods' future. Off the Hook, a fishing co-operative started by five fishermen in Digby, NS, in 2010, is Atlantic Canada's first community supported fishery. Modelled after community supported agriculture programs, consumers pay a subscription fee for the home delivery of fresh fish that is caught by one of two ways, ground hook or long line, ensuring the sustainability of both the species and the ecosystem. Other small-scale fisheries have also started up across the region.
Cod au Gratin remains a popular dish, well-known to Newfoundland cuisine. The term au gratin refers to any dish that is made with a browned topping; breadcrumbs, cheese or butter.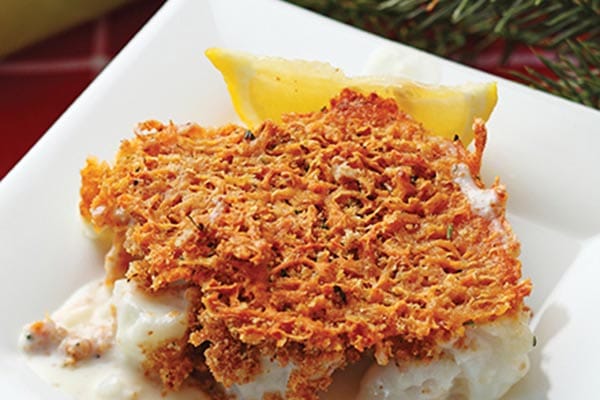 Our first recipe is a traditional au gratin; grandmothers in Newfoundland would have surely taught their children to make this staple, each cook adding his or her own twist. The second recipe offers a variation on the traditional, with smoked cheddar, havarti and kettle-cooked chips for crisp flavour. The third is a recipe that has been served in our home for many years, and a great way to use up lobster leftovers.
Any of these meals can be paired with a salad for light fare or served with pilaf and crisp greens for a more elegant meal.
Do you have a recipe to recommend to Alain, or is there a food topic you'd like to see covered in Saltscapes? Send an e-mail to This email address is being protected from spambots. You need JavaScript enabled to view it..
Recipes