Mateus Bistro, Mahone Bay, NS
Matthew Krizan, executive chef and owner of Mateus Bistro in Mahone Bay, NS, was the grand prize winner in the Taste of Nova Scotia Culinary Competition at the 2013 Saltscapes Expo. Matthew's huge talent is surpassed only by his winning personality.
Born in Bratislava, Slovakia, in 1972, Matthew moved to Toronto with his family when he was seven years old. After four years in Toronto they pulled up stakes and moved east to Newfoundland, eventually settling down in Corner Brook. Matthew took psychology at Memorial University for three years, before deciding to study the culinary arts, first at Le Cordon Bleu in Ottawa then in London, England.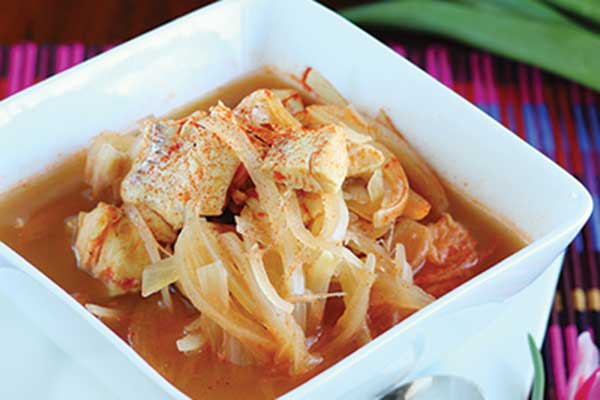 Culinary credentials in hand, he worked in a variety of kitchens and spent time travelling Europe to reconnect with his roots.
In 2002, after working in the cooking industry for close to 10 years, Matthew's career took an eight-year detour while he took a job in information technology, working for the territorial government in Iqaluit, Nunavut. Knowing he was neglecting his true passion in life—cooking—Matthew saved money and waited for the right restaurant opportunity to come along.
In 2010, he opened Mateus Bistro, a restaurant that is quickly becoming recognized as one of the top places to eat in Nova Scotia.
Q What inspired you to become a chef?
A My inspiration in the kitchen is my mother. Growing up in a family with deep European traditions and values, food tops the list. Being the youngest, I was left to hang out with my mother and grandmother. I remember spending endless hours in the kitchen in Bratislava, making traditional dishes. Our family would forage for wild mushrooms and berries. There were many mornings at our cottage where dad woke us up, still dark, to go mushroom picking after rain the night before; we had to get out before the worms attacked them.
Q What are you most proud of?
A Other than experiencing the north and just having a baby girl, I think it would be the fact that Kira, my wife, and I turned a small old space like Mateus Bistro into a great little spot. It's not just the business part but also I think we have contributed to the local food movement in our area. When we first started out, I was hard pressed to find a local farmer to supply me with fresh locally grown produce. Today we deal with close to 10 local farms and at times our parking lot looks like a farmers market.
Q What kitchen tools can you not live without?
A A utility knife—it's very versatile and you can almost do any job with it. And tongs—they are an extension of my arm. If pirates were in kitchens they would have tongs instead of a hook! And a clean dry rag—keeps you safe and clean.
Q What is your favourite style of cooking?
A My comfort is Eastern European, specifically Slovak and Hungarian cuisine; however my favourite fun style would be Mediterranean.
Q Do you have any cooking tips to share?
A If the ingredients are fresh, simple and clean, you can't go wrong, it will taste good. Simple compilations of basic herbs, fresh vegetables with a protein thrown in always constitutes a good meal.
Q Do you have a favourite cookbook?
A LaVarenne Pratique by Anne Willan; I considered it my bible at times! The book has a lot of illustrated French techniques; I always went back to this book for the basics.
Q What do you like to do when not in the kitchen?
A Anything to do with the outdoors—cut wood, hike or fish—and I love growing things, something I want to do as a hobby, but never have enough time. Growing a garden has always been a passion and I hope to be able to do that more as our business grows. Ideally I'd love to grow most things I serve at the Bistro, but that's a whole other job; that's why I need so many amazing farmers around me.
Q If you could cook for any three people who would they be and why?
A This is a hard one. I could name many celebrities or well-known chefs, but really I would have to choose my parents, Anna and Igor, and my wife, Kira. I am always on edge to give them any dish I cook as I tend to never be satisfied with any dish that goes out to them; there is always better.
Q What foods do you not like?
A Raisins. When we moved to Canada and I had my first Halloween experience, I loved those small packages of dried raisins. The problem was I kept eating them until I got sick. To this day I avoid things with raisins.
Q What food do you refuse to cook?
A I don't think there is anything I refuse to cook, but over-processed, packaged stuff is really not like cooking to me. Fish that's caught here, shipped to Boston, packaged in China then sent back to us is not an inspiring ingredient.
Recipes