Not just for soup anymore: stocks are liquid gold, with uses that may surprise you
EVERYWHERE I GO, I see beautiful, abundant vegetable gardens. Unfortunately, many of us are guilty of overplanting—due, in part, to the long Atlantic winters that have left us craving new growth—which brings me to the yearly lament: What to do with all those veggies?
Two words: vegetable stock.
Vegetable stock is flavourful, is a source of vitamin A, freezes well and is not particularly time consuming to make. It is low in calories and, in most cases, low in fat. Plus, it has uses that may not have occurred to you.
Vegetable stock typically begins with a base of celery, carrots and onions, but just about anything that grows in your garden can be added. To get the most flavour, I suggest roasting the vegetables first, or sautéing them in a little olive oil (but note that the oil will increase the fat content slightly, although not significantly). Then, I simply toss the vegetables into a large, four-quart pot with some peppercorns, cover that with cold water, bring it to a boil, then simmer for a couple of hours. Liquid gold!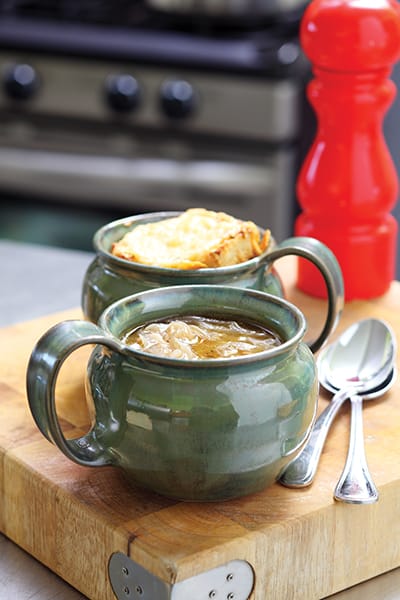 And once you've made this wonderful stock, what should you do with it? The nice thing about vegetable stock is that it's like Switzerland—it's neutral. You can pair it with either chicken or beef with wonderful results.
Once you become accustomed to having stock in your fridge, you'll wonder how you ever did without it. I use veggie stock for soups, stews, sauces and more. If a recipe calls for water, ask yourself if stock would work in its place. Many people, for example, cook rice in water, but cooking rice in stock can take it from bland to flavourful with no added effort. I've cooked potatoes in vegetable stock, and they are amazing. If you're reheating leftovers of any kind, add a bit of broth to keep the food moist without watering it down.
But there's more to stock than just vegetables; I never pass up an opportunity to make chicken or beef stock. We roast a chicken almost every week when the summer weather cools down, and I just can't discard the carcass without making stock.
As with vegetable stock, I simply put the bones, along with a couple of celery stalks (leaves on), a halved onion, a few carrots and some peppercorns into a large pot and cover with cold water, then bring the whole thing to a boil and simmer for a couple of hours.
Beef stock takes a bit more work, but the payoff is worth it. I visit my local butcher and get whatever bones he has left over—I'm not choosy, but I do prefer bones that contain marrow, such as leg bones.
At home, I place these bones into a roasting pan and dry-roast them at 350°F (180°C) for about an hour and a half; this brings out the flavour. Then, I follow the same steps as with chicken stock, substituting the roasted bones for the chicken carcass.
Some cooks differentiate between the words "stock" and "broth," defining stock as what is made by simmering just vegetables or bones, but no meat, while broth includes meat.
If you don't have the time or inclination to make stocks or broths, store-bought versions will fill in nicely—in fact, they have improved incredibly in recent years.
Whichever stock or broth type you choose to use, the flavour it can add to your meals is tremendous.
Tip: My favourite way to preserve homemade stock is to pour four cups into a freezer safe zip-lock bag and lay it flat to freeze. Be sure to label each bag for easy future reference.
Recipes