A restaurant in a restored railcar in Florenceville-Bristol, NB, offers a "Fresh" take on fine dining
I'm sitting inside a train—a dining car, in fact. The server presents me with an appetizer consisting of basil and cumin lamb chops, served on a grilled portabella mushroom, stuffed with sundried tomato and macadamia nut pesto, roasted vegetables and fresh garlic scapes.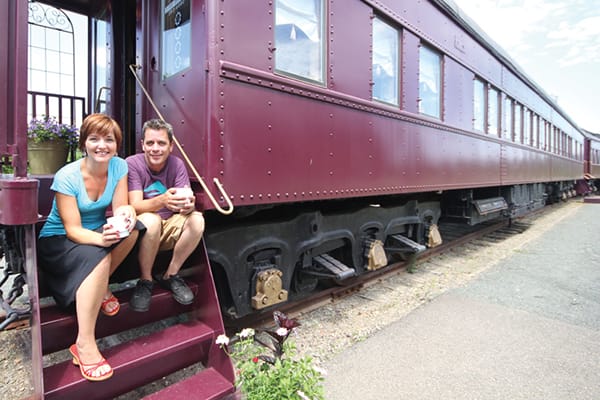 I feel as if I'm travelling first class on the Orient Express, only I'm inside Fresh, a 26-seat fine dining restaurant which is part of a restored 1930s CP Railcar at the Shogomoc Railway site in Florenceville-Bristol, NB.
My "server," Sara Caines, just happens to be the owner. She also doubles as maître d', bartender, and cashier. Like poetry in motion, Sara greets everyone, makes them feel at home, mixes drinks, serves her guests, clears the tables—and that's just for starters. The 36-year-old once wore a pedometer and clocked 17 kilometres during one sitting. Sara also brings all the linens and tea towels home to launder, and shops for food and wine daily.
Because the food is so impressive, it's easy to assume that a large backstage cast has orchestrated this dinner. Not so. Chef Jeff MacLean is working solo, doing all the prep, cooking, and plating for every morsel that leaves the galley. Within a three-minute time frame, he can be simultaneously searing a steak, stirring a risotto, plating a Cornish hen and whipping cream for the coconut cake he concocted that afternoon. This is all accomplished in a closet-sized galley crammed with a four-burner electric stove, a convection oven, two fridges and a small sink. The counter space is barely long enough to plate six servings of anything at one time.
Beyond the galley, in the Assiniboine car, tonight's dishwasher, Marsha White, quietly and efficiently washes dishes, glassware, utensils, pots and pans—and keeps everything moving so service doesn't miss a beat. She also helps fetch items (like coffee) from the basement of the main station, as there's barely an inch of storage space in the galley. Even ice is purchased by the bag every day, and stored in a picnic cooler.
Yet, with all these limitations, Fresh has garnered the prestigious CAA/AAA Four Diamond Award for the past two years—one of only 10 restaurants in Atlantic Canada to receive the award in 2012. All this in a rural region with a population of roughly 1,600 people.
A special night out
Guests on this night include Mike and Trudy MacInnis from nearby Bath, NB. Mike says he used to equate fine dining with meagre portions, so the first time he dined at Fresh, he thought, "I'm not going to get full here." After an appetizer and main course, he didn't have room for dessert. Trudy still finds it hard to believe that a restaurant of this calibre exists in such a small community. "When you're raising a family," she says, "you may have the desire to do something fancy, but you don't have the time. So having something like this, without having to drive for hours, is very special."
Kristina DeRier, of Centreville, NB, concurs. She loves to come here with her husband, Andrew. The mother of four children between the ages of two and six says, "When we come here, it's like a vacation."
Two tables down, travellers from Kitchener, Ont, relax over dinner before facing a 15-hour drive. "It's worth it," says Jennifer Young. "We did a lot of research before we came east, and this was one of the places that kept coming up, so I figured—why not try it on the way home?"
Her brother-in-law, Greg Giles, polishing off an apple fritter, pipes up: "This tastes just like a dessert my grandmother used to make. I may order another one to go."
Driven to perfection
What prompts Sara and Jeff to work so hard, aside from the fact that they seem to be Type A personalities—highly driven and somewhat compulsive overachievers?
Sara's interest in food began several years ago when she worked at the Hatfield Heritage Inn in Hartland, NB. Later, with two kids at home, she got an insurance licence, and also dabbled in catering and organizing people's homes. When Sara heard that Bristol (now Florenceville-Bristol) was restoring the train station site and wanted a "restaurant in a dining car" as part of the set up, she was intrigued. She and a colleague, chef Ian Purdy, started Fresh in September 2007. At the end of the first year, Ian decided to move on; Sara went into high gear to search for another chef.
The intrepid entrepreneur posted an ad on Kijiji and serendipity stepped in. A friend of Jeff's who saw the ad contacted him. Although Jeff had left his culinary signature from the West Coast to the West Indies, he'd just come through a difficult stretch professionally. "Okay. Here's a place in the middle of nowhere," he said to himself. "If I can put this place on the map, I'll feel solid again. It's either redemption or it's not to be." Clearly, it was meant to be. Sophistication without pretension The chemistry between Sara and Jeff has worked from the get-go. They create the menu together and change it every six weeks. Says Sara, "Our clientele is very diverse; urban and rural people come here, so the menu has to be interesting, but not too scary." Entrée titles on the menu are simple. There's no pretension or puffed up lingo here. Rather, you'll read titles like, "Roasted Salmon" or "Picaroons Steak." Diners can also ask for "Jeff's Choice"—Sara just needs to know if the diners have preferences or allergies and if they want fish or meat, then Jeff gets his creative juices going. It's always a hit.
But one thing this pair won't do is take shortcuts. Don't expect to be wined and dined in an hour. Although Jeff sets up little "kits" in the afternoon with emulsions, partially roasted veggies, his latest steak rub, and the foundation for a few deserts, everything is done on the spot—freshly prepared, with fresh ingredients. He won't even use dried herbs.
From time to time, after the last guests leave—which is often after midnight—Sara and Jeff pause for a glass of wine and review their performance. It's all about clarifying glitches and thinking about how to improve the dining experience.
Future plans? Their goal is to grow, but not the number of seats in the restaurant. Their dream would be to acquire another car to have more space—space for a pastry station; space for a washer and dryer. Jeff also dreams of hiring an apprentice from a culinary school so he can "show them what it takes to survive."
Meanwhile, on Sunday, the only day Fresh is closed, Sara spends time with her sons, Riley and Nicholas, and other members of her family. "I used to like to cook, but that's the last thing I want to do on my day off!" she says. Downtime with family and friends is treasured.
Jeff usually spends his free time playing the guitar. Although time to jam with friends is limited to the odd Sunday, he loves to invent tunes; he's especially fond of the blues. "I don't play other people's stuff; I write for myself. Same with cooking."
Nutshell: don't expect Chicken Alfredo when you visit Fresh. But do expect to have an extraordinary meal—and to say "wow" a lot.
On this night, before closing, Jeff plates some Digby scallops for me—pan seared, topped with strawberry compote and finished with a strawberry pepper beurre blanc. The "wow" factor hits 10 out of 10 on the first bite.
Recipe