Upper Amherst Cove, NL Bonavista Social Club
WHEN HUSBAND and wife duo Katie and Shane Hayes announced they were opening a restaurant in the small, rural community of Upper Amherst Cove, located on Newfoundland's Bonavista peninsula, a lot of people were skeptical, but Katie's motto was "if you build it, they will come."
And come they have. Now in their fourth year of business, the Bonavista Social Club, which is open seasonally, has become a community hub. But why build in such a rural area when even restaurants in larger centres struggle to survive? "This small town, Upper Amherst Cove, is where I grew up," says Katie. "We have spent 25 years establishing the gardens and animals. It is great to be home and also to be utilizing these gardens that I picked hundreds of buckets of rocks out of throughout childhood."
Katie, a graduate of the Culinary Institute of Canada, says the restaurant and business is a lifestyle for her and Shane, as opposed to a living. "It isn't necessarily cheaper to raise your own animals, but my family and I get to indulge in homegrown goodness year round."
Katie says she is motivated by her passion for cooking and food, and knowing that she is supplying patrons with a great product. "Helping to plant the seed in the spring and then serving the vegetables all season is very satisfying," she says.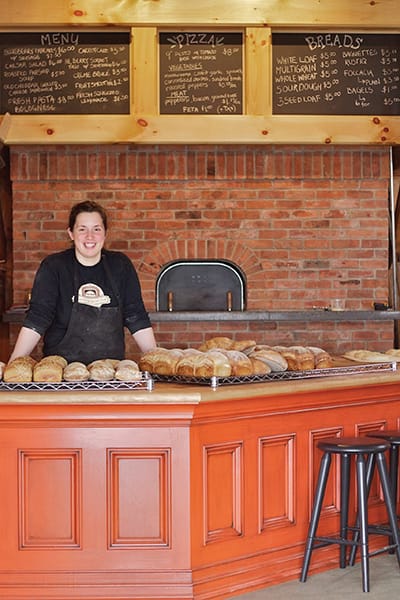 In addition to the restaurant, Katie and Shane operate an on-site bakery and proudly claim they have the only commercial wood-fired bread oven in Newfoundland and Labrador. The oven is located in full view of guests so that they can experience the sights and smells of the baking process. Each day the bakery produces a variety of breads such as sourdough (Katie's favourite), molasses and raisin bread.
Katie's advice for any young chefs who think urban cuisine is the only way to gain success? "As cities continue to grow, people are looking to get out to remote areas. You can sometimes get lost in the hustle and bustle in the city, whereas in a remote area, patrons are more likely to slow down and savour the experience," she says.
And the story behind the unique name of the restaurant? "It is a play on the Cuban music group, the Buena Vista Social Club," Katie says. "We didn't want to narrow ourselves down to using restaurant or café in our name; social club feels welcoming. It's a great conversation starter."
Q What inspired you to become a chef?
A I grew up in a self-sufficient, cook-what-you-grow lifestyle, and I have always had a passion for food. I love the look of joy and satisfaction on a person's face when they taste something you've made.
Q What accomplishment are you most proud of?
A Opening my own restaurant and being able to sustain a lifestyle, doing what I love every day and providing meals to patrons, made from food we've grown ourselves.
Q What is your favourite ingredient to work with?
A Farm-fresh eggs. I use them in pastas and desserts. Anything you can put them in is guaranteed to be better.
Q What kitchen tools can you not live without?
A It's a toss-up between my pasta roller and my Hobart dough mixer, 'Hoby.' It would be a tough day without either.
Q What do you see as the upcoming trends in food?
A I see a "farm-to-table" trend appearing more all the time. It seems to be consumer driven as people want to know where their food is coming from. As ingredients become harder to source, and more expensive, I believe more chefs will be cooking what they grow themselves.
Q What is your favourite style of cooking?
A I guess you would describe it as rustic or hearty, with some Italian influence—pizzas and pastas are a large part of my day.
Q Do you have a favourite cookbook?
A I have several but the Joy of Cooking is where I tend to go to for my basic recipes.
Q If you could cook for any three people, who would they be and why?
A Mario Batali; I really love his cookbooks, cooking style and ideas. He seems like a man who would appreciate a well-cooked meal.
John Prine; I would love to trade him a meal for a song!
Julia Child; she seems like an interesting woman who had a big influence on French cuisine. A woman who would tell you the truth about your cooking.
Q What foods do you eat "in secret?"
A Duck confit nachos are my after-service weakness, but not in secret, I will share.
Q What is the most embarrassing thing that as ever happened to you in the kitchen?
A Probably too many to name, I am pretty good at embarrassing myself. Maybe the time I used salt instead of sugar in a cake during cooking school.
Q What do you refuse to cook?
A There is nothing I can think of that I would refuse to cook. I will try everything once.