Newfoundland's salt cod trade may be well in the past, but artist Janet Davis is driven to ensure that its iconic imagery lives on in the future
The route to Norton's Cove Studio in Brookfield, Bonavista Bay, NL, winds through a series of coastal communities built on the weathered and rounded granite rocks that make up the inlets and coves of the so-called "Straight Shore." It's a storied coast, famous for its families of sealing and schooner captains.
I've come here to discover why the studio's proprietor, Janet Davis, is beguiled, time and again, to recreate the triangular shape of the split and dried salt cod. It's an iconic image in Newfoundland and Labrador: Cod brought settlers to our shores, and the salt cod trade with Europe and the West Indies sustained Newfoundland families for hundreds of years. Although this industry is a distant memory now, through her work Davis ensures the imagery lives on.
She looks through her sketchbook and laughingly admits she has a fetish for portraying the fish that was at the centre of her ancestors' working lives. She's made prints of the salty fish, hooked its image into rugs, and painted its humble form on canvas.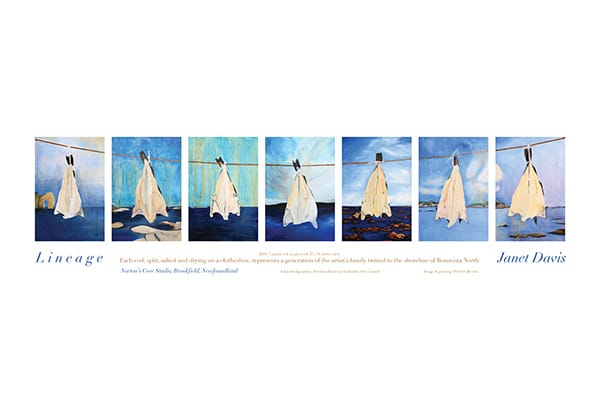 In fact, Norton's Cove Studio is not only Davis' workplace and the shop where she sells her wares, it's also become a gathering place for artists to meet, take workshops and exchange ideas.
Surprise gift
Davis' form of the cod trade is plied in a lovingly revived heritage building, formerly a general store, built by schooner captain Job Kean in 1890. She is not the first creative spirit to inhabit the site: Kean's wife, Virtue, was a poet and a songwriter who may have devised some of the lines for her most famous song, Lukey's Boat, while working in the shop.
Davis used to walk by the boarded-up buildings—which were slowly falling into disrepair—as a teenager, never dreaming she'd own them one day. In fact, they were a surprise gift—an early graduation present from Davis' parents in 1996. She opened the store as an art and craft shop in the summer of 1997 and started to use it as a studio when she graduated from the Nova Scotia College of Art and Design (now NSCAD University), in Halifax, in 1998. She says she believes her father bought the buildings to lure her back home.
The artist and her husband, Duke Kelloway, restored the properties themselves, working first on the store, then on the house, where they live with their 13-year-old son, Frederick.
With its wooden counters and old-fashioned shelves, the shop looks much as it did in its heyday. Instead of tearing out the shelves to create display space, Davis filled them with small linocut cards and prints—images of cod, mussels, starfish and other marine species—and the work of local artists who have taken linocut workshops at the studio. Behind the opposite counter, in small drawers that once held hat pins and lace, Davis stores the tools she uses to carve her linocut plates; the shelves above are lined with tins of printing ink.
In the adjoining room, the walls are covered with cod images, a whimsical print of a sculpin—inspired by a catch off a wharf nearby—and oil paintings from a new series exploring the water's surface. The etching press stands at the centre, in a pool of light streaming through French windows.
Standing in the studio doorway, I imagine schooners sailing into the harbour, holds filled with fish caught during a summer "on the Labrador." There's no need to specify the kind of fish: in outport Newfoundland, "fish" always means cod; the only distinction is "fresh" or "salt" fish. Anything else, salmon for instance, is called by name.
Seven generations later
By the time Davis was born, in 1972, demand for frozen cod far outstripped demand for the dried variety. Then, in 1992, the federal government declared a moratorium on the fishing of northern cod.
Davis says she's seen people drying a few fish from the summer recreational fishery, which is usually open for a few weeks in late summer and a week in fall, allowing people to catch a small daily quota; but she's only seen the huge flakes—structures the cod were dried on—covered in salt fish in old black and white photos.
Her earliest experience of salt fish came through her father's cooking. "It's a big joke in our family that every time Dad is left to cook for himself, watered fish is his staple. He warms it up—just warm, doesn't even bring it to a rolling boil—and serves it with bread."
Davis is the seventh generation of her family to "work" in the fishery, a fact she celebrates in a series of seven oil paintings called Lineage, exhibited at the Ryan Premises National Historic Site in 2010, in Bonavista. It was a fitting venue: the premises were once an important mercantile establishment in the salt cod trade.
She points to the poster from the exhibit, hanging above a shelf in her studio. In each painting, a salt fish, set against a section of shoreline, represents a generation of her family.
For William, the first Davis to settle in Newfoundland, she painted the image of Durdle Door, a limestone arch formation on the coast of Dorset, England. She used Google Earth to trace the route her ancestor would have taken in the early 1800s.
"I was looking at scenes of the coast and this one spot, southwest, stood out and I thought, 'Well, he would have noticed that.'"
William settled on Pinchards Island, one of the many islands of Bonavista Bay, where his son George grew up. By the time George's son James was born, the inshore fishery in the area was declining; men sailed to Labrador in schooners for the summer fishery.
In the late 18th century, people began leaving the islands to seek better shelters for their schooners and more land to dry their fish, establishing new communities along the Straight Shore. James left Pinchards Island and settled in Pound Cove.
In the 20th century, anyone remaining on the islands was relocated under a government resettlement program.
Levi Davis, her great-grandfather, was a businessman in Pound Cove, and skippered his own schooners. His son Gus was also a master mariner. Davis' father Bruce—whom she represents by the islands off Wesleyville—is captain of his own tugboat, working on jobs that take him from New York to the High Arctic. Davis herself worked as cook on the tug for two summers, as the boat travelled up and down the Labrador coast, delivering supplies to fishermen and collecting turbot to take back to the fish plant at Valleyfield.
She still works with her father, handily combining the job with her artistic pursuits, managing Davis Shipping from an office in the turret room at Norton's Cove Studio.
As background for the salt fish representing her own generation, Davis painted the view from her bedroom window.
Her son, Frederick, was annoyed that she didn't do a fish for his generation. "I told him I'll do one for him if he ever does anything with the fishery," she says, laughing. "He has to at least eat salt fish first."
Inspiration and feedback
One of Davis' first large cod prints was an etching made by pressing a salt cod into a layer of ink on the etching plate. "You lift it off again to leave the texture of the item in the ink; you let the ink dry on the plate and that acts as your [stencil] for the etch bath."
Davis rifles through a stack of prints and places an early one, entitled Right-handed Round Tail, on the counter. While she was making these prints, a man who'd worked as a culler for a fish buyer—sorting fish into the various grades that establish the quality of the fish and determine the price—dropped by the studio. He pointed out that the tail of the fish in the print curved at the bottom. In this case, the splitter did not cut all the way down. She relishes those types of authentic details as reminders of the actual salt cod trade.
One of Davis' largest pieces is an eight- by 10-foot mat, called Clifford's Education Fund. She asked Clifford Andrews, a friend and local historian if he had any pictures of flakes. He handed her two photos, saying, "This is my college education fund." She explains: "Clifford had polio when he was young, so his family knew he wasn't going to be able to do a lot of manual labour, but he was book-smart. So they took all the money [from selling the dried fish] one year and sent Clifford off to Memorial University College, now Memorial University, in St. John's in 1939." Clifford went on to become a noted educator; he died in April of this year.
For this piece, Davis hooked 45 fish, lying head to tail, on burlap. She wove twigs between the fish to represent the boughs used on flakes. She used salt fish as templates, and also received a little creative direction from her father.
"When I was hooking the first fish, Dad came in for a visit. He looked at what I was doing and asked, 'What are those little bits of yellow there?' And I said fly spits. And he goes, 'No, no, no. Grandfather would never have allowed it.'"
Fly spits are the little telltale spots left behind when flies lay their eggs on drying fish. Davis' grandfather was meticulous about his fish and would have quickly discarded any marked by fly spits.
In 2006, the mat, which took five months to hook, won the Award for Excellence in Craft for Interpretation of Provincial History from the Craft Council of Newfoundland & Labrador. It was displayed at the Sir Wilfred Grenfell College Gallery in Corner Brook in the summer of 2006, and later at the Rooms Provincial Art Gallery and the Craft Council Gallery in St. John's.
As we chat, Hugh Wiley, a customer and friend, drops by the shop. Hugh is originally from Alberta, but he and his wife, Joanne, were living in Texas when they decided to visit Newfoundland. That was in 2007. They fell in love with the place, bought a property in nearby Pool's Island and relocated the next year. Hugh had never seen a salt cod until he came to Newfoundland, but he loves Davis' prints. For him the importance of her work goes beyond the beauty and artistry of the images. "She's making a real contribution by not only preserving, but enlarging upon Newfoundland's history and culture," he says.
Davis is working on a new series called Surfacing, inspired by feelings evoked on sailing excursions, when the ocean becomes calm at sunset: "It's the closest I've ever come to some sort of religious experience," she says. "I well up every time. I don't know what it is, and that's what I'm studying, I guess—what it is about the sea that does that to us."
But she isn't finished with salt cod. She still ponders why she's drawn to the image. Her father has offered one explanation, telling her that grandparents on both sides of her family have been steeped in salt cod traditions, so it's not surprising that she is, too.
One thing's for certain, she'll make more art as she continues to try to figure it out.