Our recipe contest winners serve up their delicious takes on grilled cheese and tomatoes
Each year I eagerly anticipate hitting the road with the fabulous ladies from the Saltscapes team to discover new places and to sort, prepare and, best of all, taste all the recipes sent in by our wonderful readers for our annual recipe contest! This year we travelled to a place I have always wanted to visit—the stunningingly beautiful Îles de la Madeleine where we received a very warm welcome.
Our adventure began in Souris, PEI, for the five-hour ferry to the islands. Souris is also where I joined the rest of the Saltscapes team: Linda Gourlay, Sylvia Ernst and Jodi DeLong. Our crossing was made all the more interesting by the annual crib tournament (minus me, the non-crib player).
We arrived at 7pm and went right to La Table des Roy/Gourmande de Nature where we had a look at our venue, reviewed the ingredients and planned our contest for the morning.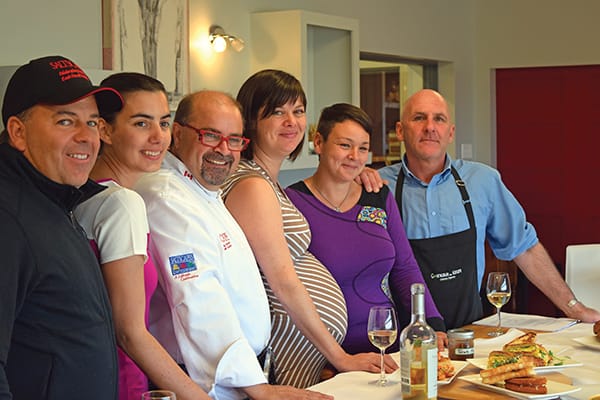 After a fitful sleep I met with chef Évangéline Gaudet for a long but satisfying day of prepping and judging. By noon our panel of judges had arrived and we were ready to go. All of the recipes were amazing and it wasn't easy picking the top 10 contenders for our panel of judges. But we did it and by the end of the day the judges declared the winners.
As ever, your enthusiastic response to our contest did not disappoint. We received more than 150 entries for this year's contest, from Labrador in the east to Vancouver in the west.
For judges we were honoured to have Denis Landry, co-owner and cook at the Domaine du Vieux Couvent; Marlène Vigneau, mother of two and owner of the Café d'Chez nous; Caroline Jomphe, Bon Goût Frais des Îles de la Madeleine (representing the producers of the islands) and Marie-Christine LeBlanc, marketing and communication agent with Tourism Îles de la Madeleine. I would like to thank them all for their time and commitment. It was a pleasure to work with them all. Merci beaucoup!
I'm also pleased to announce the categories for next year's contest: the best omelettes in Atlantic Canada and your favourite recipes using leftover chicken.
Stay tuned for this year's winners in the coming weeks…