Papa Joe's, Charlottetown, PEI
As a young man growing up on a farm in rural PEI, Irwin MacKinnon found himself in the role of family chef at the age of 12. His mother went off the farm to work and his dad—who was used to a farmer's way of life—still looked for supper every day at 5pm. When Irwin was old enough to find work, he went from the family kitchen to working in a restaurant kitchen, not as a cook but as a dishwasher.
That restaurant was the Bonnie Brae in Cornwall, PEI, and it was the kitchen that Irwin would return to at several important junctures in his career. His first return was after his graduation from The Culinary Institute of Canada and a stint in a Toronto kitchen. This time Irwin wasn't in the dish pit but behind the line.
Like many chefs, Irwin went to Europe for additional experience, working in kitchens in Switzerland and Germany, before returning home, once again to the Bonnie Brae. Soon after, Irwin took on the chef's position at Joseph's, a family restaurant operated by the Jabbour family in Charlottetown. After 10 years at Joseph's, Irwin moved to Papa Joe's, a sister restaurant, also owned by the Jabbours, where he remains today.
While there is no doubt Irwin is passionate about cooking, he is equally passionate about the place he calls home. He has traveled to Europe, Asia and the US, promoting some of the best products that his beloved Prince Edward Island has to offer.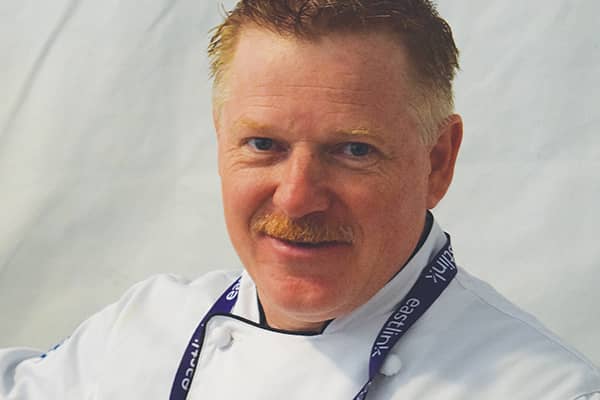 Q What is your favourite meal?
A I really enjoy things that are cooked low and slow, so braised lamb shank is right up there.
Q Who do you look up to?
A Without hesitation or doubt—Hans Anderegg. He was the first chef I ever worked for, starting as a dishwasher. He is a great cook with a great work ethic and I like to think I've learned from him and am a bit like him. He has taught me a lot and continues to do so, even now. Thanks, Hans!
Q What accomplishment are you most proud of?
A I am most proud of my family: my wife Donna and our four wonderful children! On a professional level, I would have to say being inducted into the Honour Society of the Canadian Culinary Federation was a very proud moment for me.
Q What is your favourite ingredient to work with?
A Anyone who works with me or is close to me knows my motto: "Everything good starts with an onion." Onions are delicious!
Q What kitchen tools can you not live without?
A Well, not sure if it's considered a tool but I tell all my new apprentices: "Don't show up without a side towel!" It's an extension of your arm and needs to be by your side at all times—the kitchen is a hot place. In addition to that, a sharp chef's knife. You can pretty much do any task with a chef's knife.
Q What is your favourite style of cooking?
A I am a bit old school and have a great respect for classical techniques and fundamentals. I use that background and add a modern twist to dishes without adding too much "fluff." I try to think about flavour balance, as well as nutrition and presentation, when I cook.
Q What do you see as the upcoming trends in food?
A Consumers are much more educated about food now. They want to know about the food they're eating. Is it fresh? Is it frozen? Is it farmed? Is it wild caught? These are all questions being asked. At Papa Joe's, we pride ourselves, and our business, in sourcing and using as much local product as we can. Fresh and local is the trend and I think it will continue for a while.
Q Do you have any cooking tips you could share with us?
A Cook with your heart. So often I will have a meal and say "they didn't put any love into it." When you cook, you shouldn't just go through the motions and follow a recipe to the "T." Put a little of your own inspiration into it. And remember to season from the start—you can't just shake salt and pepper on top afterwards!
Q What foods do you eat "in secret"?
A Caramilk bars.
Q What do you like to do when not in the kitchen?
A My family and I go camping every summer. I like being outside in my yard doing odd jobs and landscaping. I also play pool in a league, which I enjoy a lot.
Q If you could cook for any three people who would they be and why?
A Anthony Bourdain, because I think he's pretty cool and I'm sure we could tell kitchen stories for days! Clint Eastwood, because he's been my favourite actor for years. My sister Heather, who passed away at a young age. It would be nice to be able to cook for her right now.
Q What is the most embarrassing thing that ever happened to you in the kitchen?
A Once, when I was an apprentice, I bacon-wrapped about 20 dozen scallops and used mint flavoured toothpicks by mistake. They didn't taste very good...
Q What do you not like—food wise?
A I don't like grapefruit or tomato juice—but I like tomatoes every other way!
Q What do you refuse to cook?
A There isn't really anything I wouldn't cook for a paying customer, but I really find it painful to cook a nice piece of red meat well done!
Q What makes you tick?
A I love to cook and I love to eat! Food is fun and I enjoy finding new ways to cook it. I really enjoy the excitement and fast pace of the kitchen. Every day is different and it keeps you sharp.