From the moment costumed wait staff, carrying candle lanterns to light the way, meet guests in the parking lot of Kings Landing Historical Settlement to escort them to the King's Head Inn, trappings of the 21st century quickly fall away. Here at the King's Head, a Victorian halfway house - where coaches could change their horses and passengers could refresh themselves on their journey - renowned for warm hospitality and hearty food, the year is always 1855. The fireplaces are lit, goose and turkey roast in the oven, candles twinkle merrily on the tables, and evergreen boughs tied with ribbon, stringed popcorn and cranberries adorn the windowsills and walls. Is it any wonder Kings Landing's Christmas Candlelight Dinners are so enticing?
"People like to step back from modern life. This takes them away from the hustle and bustle. They can really relax," says marketing assistant Krista Rae, who was busy taking bookings as early as last June. For more than 20 years, Kings Landing, a soulfully pretty living history site 20 minutes west of Fredericton on the banks of the Saint John River, has been offering people a chance to discover Christmas traditions of 19th century pioneers settling into a long winter.

The specialty dinners, offered from early November to December 23, are extremely popular. They almost always sell out. In 2006, the inn welcomed almost 4,000 people. Guests can cosy up to the fire at the inn's old-English pub before dinner where costumed theatre minstrels and musicians sing Christmas carols. They can grab a wooden bench in the pub and chat by candlelight, while enjoying such treats as hot mulled cider, spiced rum, port, and Simeon Jones River Valley Amber Ale, brewed for Kings Landing by Fredericton's Picaroons microbrewery. Or they might want to browse the Gift Shoppe for items crafted by Kings Landing artisans and blacksmith.

In 19th century New Brunswick, most of the day would be spent preparing the Christmas dinner, writes Darrell Butler, Kings Landing manager of heritage resources, in A Study of the Evolution of Christmas Traditions in Southern New Brunswick 1780-1885. By the 1860s, turkey was king of the meal, though the dinner would vary from town to town and family to family. However, "every effort would be made to have as hearty and joyous a meal as possible," Butler writes.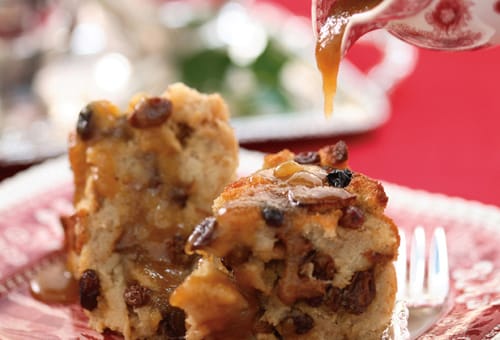 Dinner starts with homemade soup and warm brown bread, followed by main course choices of roast turkey, roast goose, or prime rib roast of beef with Yorkshire pudding. Dessert choices include bread pudding with Whiskey sauce, mincemeat pie and warm gingerbread with whipped cream.

A three-course dinner in the 19th-century would generally begin with homemade soup and warm brown bread.


Recipes featured in this article: