In my lifetime I've played "patty cake" many times. It's fun. But not, I discovered, as much fun as playing veggie cakes with a panel of tasters who tried in vain to guess the secret vegetable in a variety of cakes.
The idea hit me as a way of introducing the categories for our 2005 Recipe Contest to you. Yes, they are Vegetables and Cakes. But not necessarily together. I decided that, by adding a bit of humour, I might get you thinking about entering your favourite cake or vegetable side dish in this year's contest. Entries in the past have hovered around the 200 mark. With your help and interest, I'd like to aim at doubling those numbers this year.

We want to hear from you. We want to know what your favourite foods are, and surely there's a cake or vegetable dish among them. Just carefully read the rules on page 77 and follow them to the letter. When we say put your name, address and telephone number in the upper right hand corner, we don't mean the upper left hand corner. When we ask for the origin of a recipe, we need to know that. That is not to say you can't use a recipe that has appeared in Canadian Living or Chatelaine, or one of Anne Lindsay's wonderful cookbooks, but we need to know so we can credit the source. And please, no professionals. We want to know what's brewing in home kitchens not chef schools.

Now back to the veggie cakes. In making my choices, I stayed clear of carrot cake, which everyone knows and most like. I might have tried a beet cake, but didn't. Or a chocolate potato cake. Too easy. Because I like butternut squash so much, I attempted to make a fancy torte with it. It got pitched. Too strong a flavour. I'll take my squash in a soup, please, or as a vegetable side dish.

Instead, I opted for the unusual. A cake with baked beans as an ingredient seemed to fit well enough and certainly brought out an "ugh!" or two from one of my tasters. "No thanks" was on the tip of her tongue.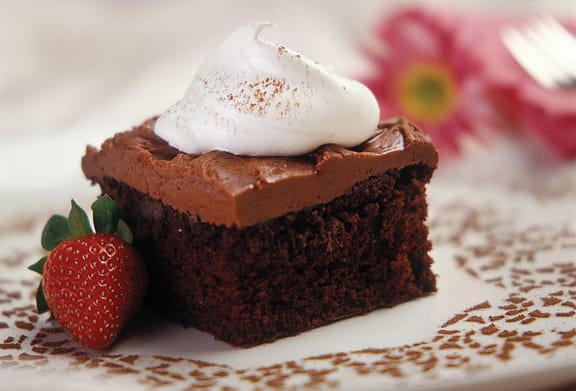 So it was obvious. I would have to keep the hidden ingredient a secret if I were to get honest opinions and impartial judging.

My "ugh!" taster had to eat her words. She actually liked the baked beans cake. Everybody did. But the overall favourite was sauerkraut cake. Was it the chocolate that captured their taste buds? Or the sauerkraut that made it so nice and moist?

I hope you'll try it. But don't forget the baked beans cake. You might even want to serve it to the family on April Fool's Day.
Recipes featured in this article: