The sun was beginning to spread its warmth over the campus of the Culinary Institute of Canada, in Charlottetown, when my colleague Terri Hayes and I arrived to set things up for the final judging of Saltscapes' 2003 Comfort Food Recipe Contest.
On the arrival of Chef Scott Carr, of Charlottetown's Rent-a-Chef operation, we headed to the cavernous and sparkling clean kitchens to turn on the ovens.
Excitement built with the arrival of the judges, each prepared to blind-taste the 25 recipes from which seven winners would emerge. The 13 chicken casseroles and 12 pans of squares had earlier been prepared by Chef Arne Fulton, of Moncton's Rent-a-Chef. Now, with forks, plates and napkins laid out and pitchers of ice water at hand, the judges were ready to tackle the job that would last four hours.
Doing jury duty this year were Chef Hans Wicki, chef instructor at the Culinary Institute, Joy Shinn, general manager of P.E.I. Food and Beverage Processors Association, and food writer and author, Julie Watson.
When the tallying was done and winners declared, Terri and I enjoyed reading some of the judges' comments. "This is very do-able for the home cook." "Good family type meal." "All the ingredients of a comfort food." And for the sweet treats, "Good mouthful," "Nice flavour," "Nice and crunchy and light." "I like it."
We agreed.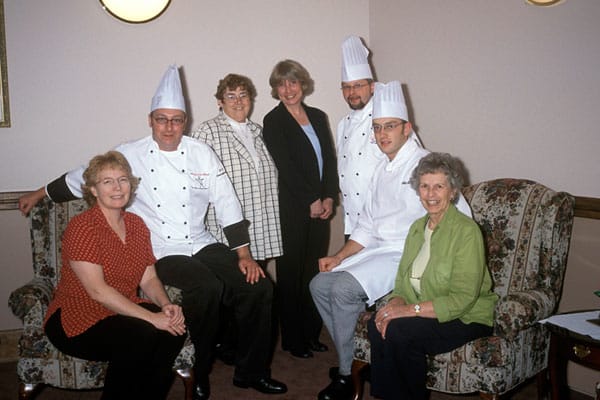 2003 Saltscapes' Comfort Food Recipe Grand Prize Winner
Chicken Lasagna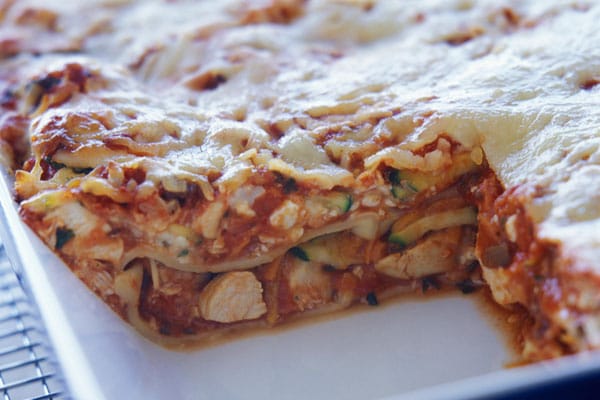 One might think that Nadine Bolton, of Quispamsis, N.B., had a special reason for entering her first recipe contest. And she had. She needed a new deacon's bench for her entry hall. Susie, the cat, had scratched her existing one "to pieces."
Talk about calling the shots! A beautiful oak deacon's bench from Bass River Chairs, valued at $500, was exactly what she got-with $100 worth of EdenValley chicken tossed in. We can consider her lucky, especially since the bench was only one of seven prizes, and to win it, the recipe had to top close to 200 entries.
Nadine's recipe for Chicken Lasagna captured the attention of the three judges who profoundly acclaimed it as the Grand Prize winner in the 2003 Saltscapes' Comfort Food Recipe Contest.
Nadine, who is quite used to modifying recipes to suit the needs of her family, came up with this recipe by replacing the usual hamburger with chopped cooked chicken. She also found that adding a few vegetables increased the flavour and nutritional content. It was a hit from the get-go, and now she makes it at least once a month, more often during cold weather when she doesn't mind having the oven on to heat up the house.
Admitting there's a bit of clean-up necessary with the use of so many pans and bowls, she doesn't let that hold her back.
"I like to have all of my pans assembled before I start out," she says. And what's a few more pots and pans to clean when the results are so delicious?
Claiming to be in shock after hearing the news of her win, she said it was the second wonderful surprise she had received within a 10-day period. The first, in recognition of volunteer work she has done for the Kennebecasis Valley Quilting Guild, was a presentation of 69 completed quilt blocks. Over the years, Nadine and other Guild members have made close to 200 quilts, some for presentation to hospitals and local charities. But this quilt, once put together, will be her own, a gift of appreciation from her colleagues.
View this recipe in our recipe index.
Chicken Category Category
First Prize
Chicken Pancake Rolls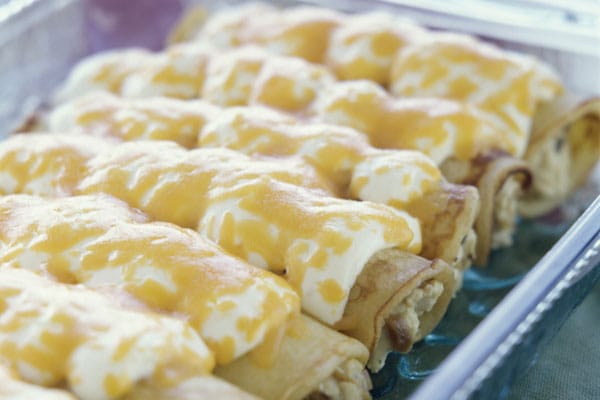 Marilyn Larsen, of Elmsdale, N.S., was so excited to hear that her chicken casserole recipe had won first prize that it didn't occur to her to ask what the prize was.
"This is so cool," she said, over and over again, as she called out to her husband and his visiting parents to tell them the good news.
She was delighted, however, to learn that she had won $250 worth of Pfaltzgraff products for her Chicken Pancake Rolls. She remembers her grandmother making this recipe on the old wood stove on weekends, and it remains a favourite with Marilyn, who continues to make it often for family and friends.
Although Marilyn takes the "easy" way by using a pancake mix, she says any pancake recipe can be used, so long as it produces a dozen pancakes, about 7 inches (18 cm) in diameter. To get that many, she uses 4 cups (1 L) of pancake mix and 3 cups (750 mL) of water, following the recipe on the package.
"These are not crepes, which are too thin," Marilyn says. The pancakes should be about one-eighth inch (5 mm) thick, so they'll be easy to roll.
She says she sometimes makes the casserole earlier in the day and reheats it in the microwave when she needs it.
Marilyn's husband Barry also likes to cook and entered his Tipsy Chicken recipe in the contest. They like to cook together and often invite friends in to share the results.
View this recipe in our recipe index.
Second Prize
Chicken Stuffed Tortillas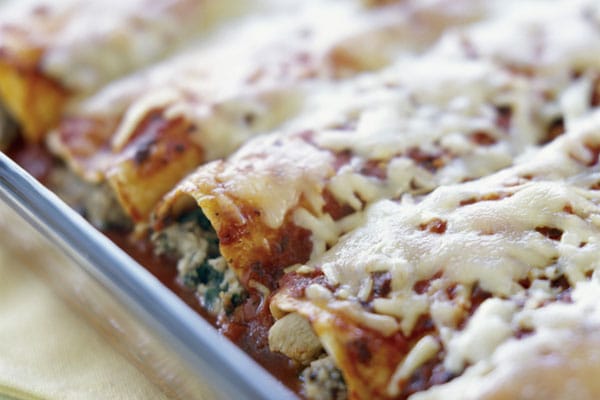 Emilia Burchell, of Halifax, better known as Mimi, loves to cook and create new recipes, with an eye and a hand leaning toward healthful meals. Her Tortillas Stuffed with Chicken, Mushrooms and Spinach fits the bill, and was tasty enough to impress the judges who ranked it second among the 13 finalists in the chicken category.
"It's a spin-off of cannelloni, but I wanted to go a little further. It needed an egg to hold it together, and because my husband likes Tabasco sauce, I 'm generous with that," she says.
It doesn't matter if homemade or commercially-bottled sauce is used. Sometimes she makes her own; other times she uses the bottled sauce, and finds little difference between them.
"The recipe is really easy to make, especially since I usually do some of it in the morning and finish it off just before it goes into the oven. If the filling sits in the fridge, it's firmer and easier to work with," she says.
Mimi has lots of options when making this dish. Sometimes she uses chicken breasts or thighs, and sometimes cheddar cheese or a mixture of cheeses, but Monterey Jack is her favourite.
Apart from being a family favourite that even Megan, her Wheaton terrier enjoys, she has often served it to guests with plain rice on the side.
Delighted with her prize of Doughmaker's Gourmet Bakeware, Mimi says it was her first experience with a cooking contest. Perhaps it won't be her last.
"I entered because I enjoy Saltscapes," she says.
View this recipe in our recipe index.
Third Prize
Apricot Curry Chicken Casserole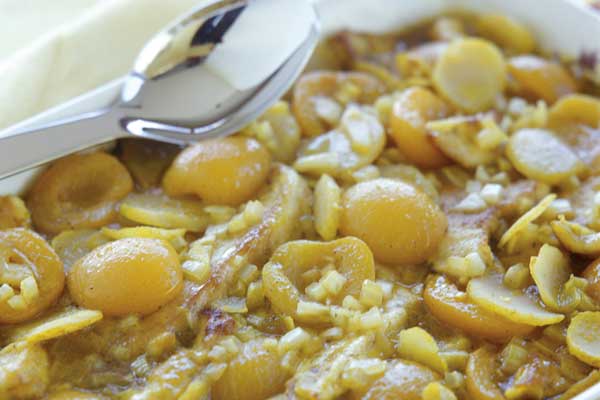 Marian Hamilton, of Sackville, N.B. is an artist in more ways than one. Not only does she love to design and paint flowers, birds and landscapes on porcelain plates and vases, but she also enjoys creating and arranging interesting and tasty dishes for her husband and friends.
In fact, the two hobbies came together at an artists' buffet dinner when she first presented the chicken casserole that would capture third prize in this year's recipe contest.
Marian, who once belonged to a gourmet club, never stops changing a recipe, and offers several alternatives to allow for individual tastes and preferences.
"You can use canned apricots, which are readily available, or dried apricots when you can get them," she says, adding that if dried apricots are used, they are best left whole. This would indicate that she once tried cutting up the apricots, only to find they "went mushy."
"Or, you can substitute peaches for the apricots, or add a few black raisins for colour."
View this recipe in our recipe index.
Squares Category
First Prize
Chocolate No-Bake Squares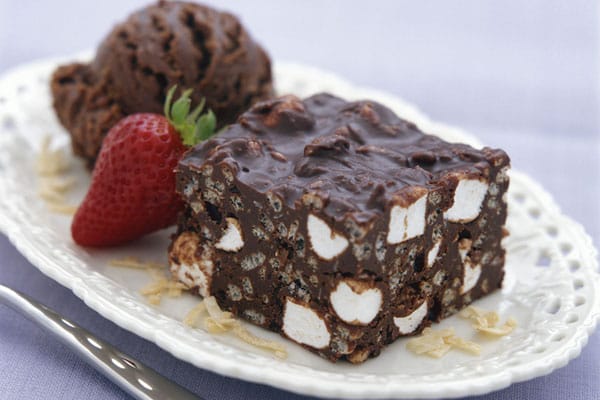 So, what is comfort food anyway?
It's nostalgia. It's food that gives you a warm feeling as you remember favourites that Mother used to make. It's what picks you up when you feel down. It's food that hugs.
For some people, it is simplicity at its tasty best. Macaroni and cheese, mushy peas, Welsh rarebit, homemade soup and ginger tea have been singled out as examples of what constitutes comfort foods.
Others may see comfort food as a compilation of their favourite ingredients. Some may even consider that any recipe could be enhanced by adding chocolate, for instance.
And so it seemed, when our three judges sat down to taste and rate the 12 finalists in the squares category. Chocolate not only captured the hearts and taste buds of the judges, but it appeared to be the favourite ingredient of those who submitted recipes.
Ease of preparation, flavour and a crunchy mouth-feel all figured in the awarding of first prize to Linda Smith, of Belnan, N.S. for her Chocolate No-Bake Squares.
"This recipe is one that I have made up on my own. It is delicious and can be made up in minutes. It just has to be chilled before cutting," Linda says.
Although she first made them for her four grandchildren, Linda says the squares are also a favourite of her husband Ken, and almost anyone else who tastes them.
"I make them for afternoon teas, funerals, and meetings of the Women's Institute, and I haven't had too many complaints," she says.
The squares keep well in the fridge and, for a decorative touch, she sometimes sprinkles the top with coloured cake decorations, coconut or nuts before chilling.
View this recipe in our recipe index.
Second Prize
Orange Chocolate Brownies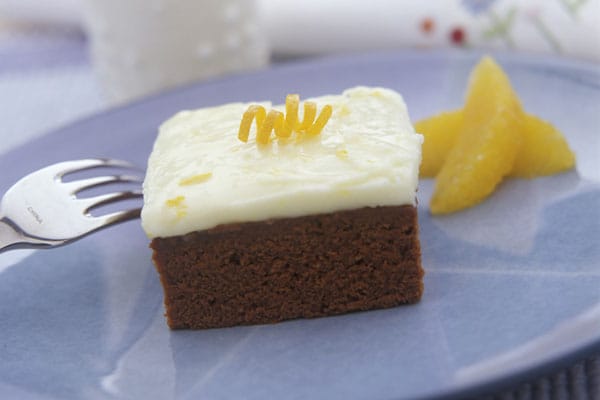 Marjorie Fulton, of Sheet Harbour, N.S., had never entered a recipe contest in her life. Nor did she intend to. But, after creating her Orange Chocolate Brownies, she thought she should pass the delectable results along to others.
It was good enough to win second prize in the squares category and earn for her a fine collection of Doughmakers Bakeware products.
"I got the idea from Perry's chocolate oranges and found the flavours go so well together. So, last winter I took my mother's basic brownie recipe and added orange to it. It became a family favourite," Marjorie says.
Having learned to cook at home with her mother, Marjorie did a lot of baking when her two children were growing up.
Although she doesn't bake as much now, she's compiling cookbooks of her favourite recipes for her grown son and daughter. Her prize-winning recipe is among them.
View this recipe in our recipe index.
Third Prize
Fudge Squares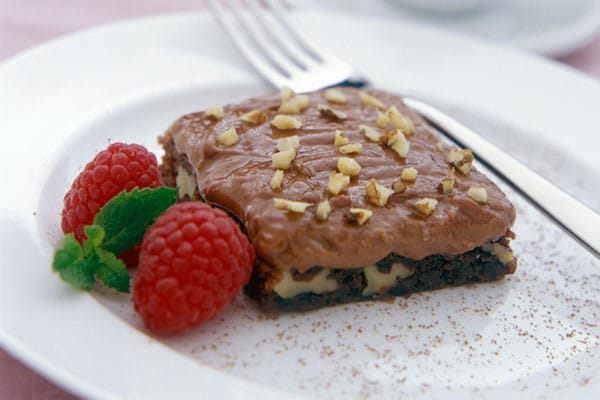 Sheila McCallum, of Dartmouth, N.S. captured third prize with her Fudge Squares, a recipe handed down by her mother, and perhaps her grandmother before that.
"My mother made 'Fudge Cake', as she referred to it, as long as I can remember. It is not a cake, but chocolate squares with chocolate icing," Sheila says.
She now has the glass baking dish her mother always used to bake the "cake," and her sister has the special plate on which it was served.
"I make certain I have Mother's 'Fudge Cake' on hand when my sister visits and we tuck into it over a cup of tea," she says.
Too thin, really, to pass as cake, these squares go together easily. Sheila just tosses everything into a bowl and uses a wooden spoon to mix it up.
"I have never shared this recipe with anyone, friend or relative, with the exception of my son and daughter. Until now," she says.
Such power doth Saltscapes wield.
View this recipe in our recipe index.