No matter the weather, Friends of Ellenwood Park are ready to enjoy nature
Picture this: a pristine spot in Southwest Nova Scotia that features six kilometres of groomed ski trails—the only known groomed trails in that part of the province. This bit of winter paradise is located in Ellenwood Lake Provincial Park in Yarmouth County, Nova Scotia. Not only can people ski there, there's also a cabin with a wood stove where folks can enjoy hot beverages and kibitz with others. For those who don't ski, other winter options include snowshoeing and hiking.
Between October and April a plethora of activities—everything from drumming, nature walks and making bird feeders to workshops on photography, fly fishing and how to build a shelter—are also on tap.
Getting started
It all started nine years ago when Brian Hatfield, a local outdoor enthusiast, successfully engaged local politicians, the department of Natural Resources and recreational authorities, to provide an insulated cabin with a wood stove at Ellenwood Park for anyone who wanted to use the park for skiing or hiking during the winter.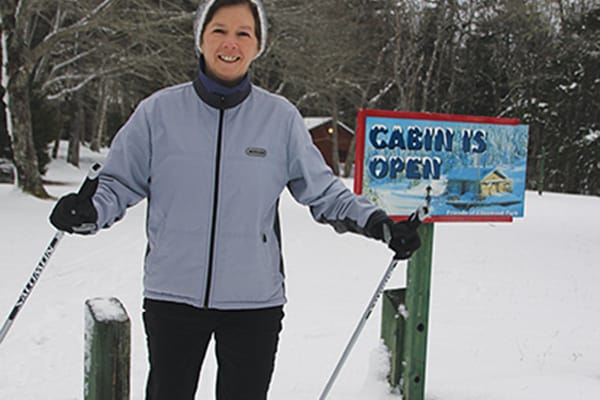 So much interest was generated that in 2009, a group of like-minded individuals got together and formed the Friends of Ellenwood Park (FOEP).
Stephen Sollows currently co-chairs the Friends. "We then became more focused," he says, "established some goals, and worked towards making the area a high quality Nordic ski centre for the winter months."
From the beginning, the Friends realized that partnerships with both the private and public sector would be critical to FOEP's success. They also started applying for grants, and in 2012 they received the Doctors Nova Scotia Strive award of $10,000, which allowed them to buy a cross-country ski groomer.
More recent purchases have included a snowmobile, and a lot of ski gear. To date, FOEP has purchased more than 70 ski sets with boot sizes ranging from three to 12; more than half of these have been donated to the department of recreation, along with 10 pairs of snowshoes—available for use at no charge through the department of recreation or at Ellenwood.
A special success story
The Friends also have an outreach program. Sollows remembers the first year the Friends partnered with Carleton Elementary School to provide an after-school program to teach students how to ski. "One of the young boys was not considered athletic, and had probably been told so. He struggled with many of the exercises we were using to help them get a sense of balance and control. The only reason he was there was because his parents told him he had to be."
With encouragement, the student became more confident and successful. "The first day we bussed the children to Ellenwood Park," Sollows adds, "he skied over five kilometres and didn't stop beaming the whole afternoon. He learned that, in fact, he could do sports. It was clear that he not only enjoyed it, but was good at it."
FOEP'S secretary/treasurer, Janice Comeau, says that wellness goes beyond physical health. "It includes mental well-being. More and more studies show being out in nature acts as a mood elevator and a stress reliever."
Comeau explains how being cooped up all the time can lead to what Richard Lou, (author of Last Child in the Woods) has described as "nature deficit disorder"—a condition that negatively affects a child's behaviour because the child doesn't get exposed to nature. "While technology has made our lives easier, being "connected" to it all the time takes away from the time we have to step away and just let our cerebral batteries recharge," Comeau says.
The health and fitness aficionado continues, "We know we have terrible stats in our province for overweight and obesity in both adults and children and as such it behooves us to try and help ourselves. Active living gets our bodies doing what they were meant to be doing— moving. When we are moving, we are building bone, muscle, exercising our heart and our lungs, controlling our weight and protecting ourselves from the development of heart disease, diabetes and some cancers like colon cancer."
Comeau adds, "Doesn't that just make you want to get moving?"
Deanna Nauss from the department of natural resources (DNR) says the department issues a letter authorizing the FOEP to use the park, as well as provide a facility for activities and equipment storage.
"By working with the FOEP, we get greater use of the park at a time when it is underutilized," she says. "These opportunities assist people in gaining an appreciation for nature and promotes a healthy lifestyle. It also provides opportunities for more activities to be offered in provincial parks beyond those the department offers annually. The results are positive for everyone."
To get in-the-know regarding the Friends of Ellenwood Park, check into their website, friendsofellenwoodpark.ca. The organization is also on Facebook and it places information in South Shore Connect, the municipality's recreational website and the provincial parks events guide.