Walking her talk
Less than a year after being diagnosed with bladder cancer, Tanya Gracie began organizing Cape Breton's first Bladder Cancer Canada's Awareness Walk. Held last September in Sydney, the event brought out more than 200 people and raised nearly $14,000, making it one of the most successful bladder cancer fundraising walks in the country.
"My goal setting out was to raise $5,000. I had no idea it would do so well," says Gracie.
Bladder cancer is the fifth most common cancer in the country. Beginning as a malignancy in the bladder, the cancer can spread to other parts of the body.
Since her diagnosis in May 2014, Gracie, now 39, has undergone six surgeries and 12 rounds of chemotherapy. Reflecting back, Gracie says receiving the diagnosis and going through treatment was a "surreal" experience, although reading and talking with other bladder cancer patients helped enormously—motivating her to organize the walk.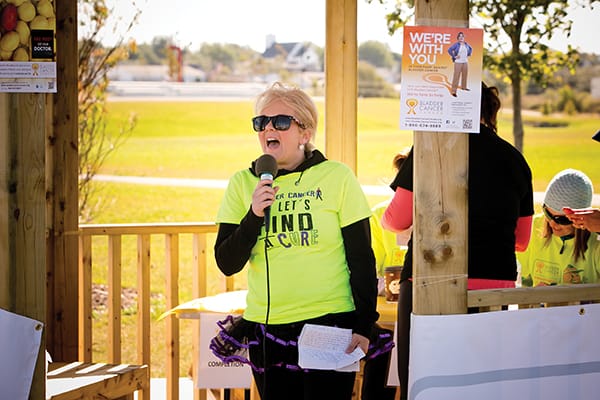 "I just felt that I wanted to help in some way. You never know who or how you might be able to make a difference," she says.
Knowing that her three children were supporting her every step of the way helped Gracie, an entrepreneur and school-based education assistant, overcome her fear of speaking in public."I've come a long way in more ways than one," Gracie says.
Another walk is planned for this fall. Along with raising awareness of the prevalence of bladder cancer, funds raised go towards research to improve diagnosis and treatment of bladder cancer.
No monkeying around here
The IWK's GE Adventure Series SPEC/CT digital imaging machine—the first of its kind in Canada—is designed to alleviate some of the stress children and their parents endure when diagnostic imaging is required.
"It is a better experience for the child," said Dr. Steven Burrell, a nuclear medicine physician at the IWK. "With this new approach children are less intimidated which will mean reduced sedations and improved patient satisfaction."
A pathway of stepping stones and a colourful jungle-themed environment, with parrots and monkeys on the walls and a bed painted to look like a dugout canoe, help children relax and try to forget they are in a hospital.
In addition to the jungle theme the IWK now has a machine that combines the SPECT images of the body's functions with the CT images of the body's anatomy. The combination of the two images means doctors will have access to far superior diagnostic technology, a luxury that only two other pediatric hospitals in the country share.
The provincial government provided 75 per cent of the cost, while the IWK Foundation made up the remainder.
Better together
The Canadian Foundation of Healthcare Improvement gave the IWK Health Centre and QEII Health Sciences Centre top marks for their open-visiting policies that encourage families to stay with patients in care.
The study, released in November 2015, looked at 114 Canadian acute care hospitals, revealing inconsistencies in visiting policies.
Flexible family presence policies not only improve the in-hospital experience for patients, research shows lower readmission rates, fewer medication errors and better informed medical assessments and co-ordination of care.
"Isolating patients at their most vulnerable times from the people who know them best can place them at risk for adverse events, emotional harm and inconsistent care," says Maureen O'Neil, president, Canadian Foundation of Healthcare Improvement.
Improving youth mental health treatment
The IWK Health Centre aims to improve youth mental health treatment programs with the recent appointment of Dr. Leslie Anne Campbell as the new Sobey Family Chair in Child and Adolescent Mental Health Outcomes. The first of its kind in Canada, the Chair is a cross appointment between the IWK Health Centre and Dalhousie University, made possible by a $3-million donation from the Sobey family.
"The evidence is clear; the mental health of children and youth across Atlantic Canada represents a call to action," said Tracy Kitch, president and CEO of the IWK Health Centre. "This Chair represents an opportunity to work with clinicians, families, children, partners, government, and private industry to pioneer new thinking, create understanding and transform health care."
The growing field of outcomes research brings many disciplines and experts together to improve treatment and care for patients and families, guide policy and planning, and provide insight about making everyone's efforts more effective, timely and patient-centred.
IWK summer volunteer program
Each summer the IWK is filled with more than 200 new faces as the volunteer resources department matches students between the ages of 14 and 17 with departments and areas of the health centre.
Some volunteers make it an annual activity. Last summer, Matt Lingley was back at the IWK for his fourth summer, his second working with the staff in day surgery. Lingley has a personal connection to the IWK through his brother's experiences as a patient. He also has a keen interest in studying medicine.
"It's cool to see the whole process of caring for patients and to see how the doctors and staff are so good here," says Lingley.
Childhood burns on the rise
Over the past year, the burn team at the IWK Health Centre has treated nearly 35 children for scald injuries caused by hot liquid spills. Another 24 cases have involved infants and young toddlers touching a hot object such as the glass of a fireplace or a heater.
"Many of these children have gone on to develop severe scars that have a lifelong impact on their appearance and function. For the most part, these injuries are preventable," says Dr. Michael Bezuhly, IWK's head of plastic surgery.
While direct contact with wood and propane stoves and fireplaces are the most common cause of these burns, barbecues and fire pits can be just as dangerous to children.
"Many parents are aware of what they have done to keep their child safe in their own home, but it's common to overlook what might need to be done to keep their child safe in someone else's home," says health promotion specialist Chantal Walsh from the IWK's Child Safety Link program.