Adapting your living environment can allow you to stay in your own home as you get older
All the comforts of home may not be enough to meet your current needs. Age, illness, or injury can often force you to choose between moving to more accessible accommodation or renovating to adapt your home to your situation.
That's what Joseph Arsenault of Lake Echo did recently.
Out in his power wheelchair with his dog Rascal to pick up the mail, Arsenault points to his new deck and ramp, wider doorways and other accessible features he's added to his family's minihome—all of which give him more independence and quality of life. He doesn't have to wait for someone to do things for him; he can do a lot for himself.
"In 1970 I fell on the job," Arsenault says. "I crushed both my heels, broke my hip and my femur and my wrist. I've got a steel plate in that." Since then he's had his knee replaced once and his right hip replaced five times.
When he was ready to renovate, Arsenault looked into options to improve access outside and inside his home. His doorways were scarred from too many run-ins with the wheelchair, he needed changes to the bathroom to accommodate a wheelchair and he needed help getting in and out of bed. Mostly he wanted as much independence as he could get.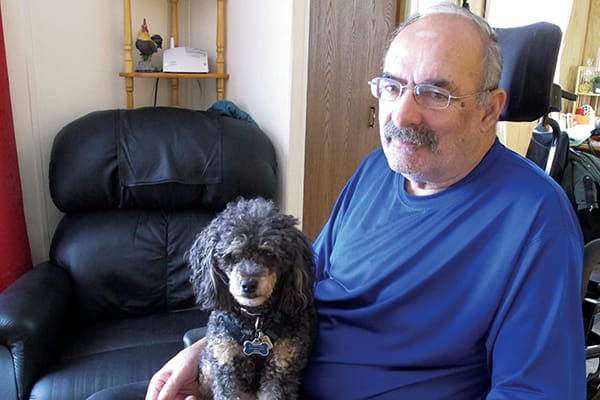 Comfort of home
Claude Gautreau, a consultant with CMHC, says most people want the familiarity of home—the house, their friends and family and the surrounding community. They like to go to the same church and the same grocery store they have shopped in for years. "Changing everything at once can be a bit overwhelming," Gautreau says.
Bill VanGorder, chair of CARP Nova Scotia (the regional branch of the national seniors' advocacy organization), agrees. "One of the most wrenching things a person can do is to move away from all the comfort and supports they have had both inside and outside their home."
Often when people consider moving, alternative housing is not available in their neighbourhood, VanGorder says. When seniors come to him to see if they can renovate to stay in their homes, he refers them to two CARP board members: Ron Swan, who once ran a business called Home Safe Living and continues to work in this field, and Barbara Adams, a physiotherapist who offers physiotherapy at home. Adams and her colleagues—other physiotherapists and occupational therapists—do a physical assessment then make recommendations for needs to Swan and other home equipment suppliers and home renovators.
"First we look at the client's medical history, then their abilities and stamina," says Adams. "How well do they move their joints? How strong are they? How is their transferability (Moving from bathtub or shower or on and off the toilet, getting in and out of bed)? How long can they stand on their feet? How far can they walk? What limitations do they have with respect to pain and weakness? Do they have vision or balance issues?"
Next they look at the home. Starting with the driveway and entry way, they assess whether grass or uneven cobblestone or other pavers might make it difficult for someone using a walker or wheelchair. What about steps? "Stairs are one of the biggest barriers and one of the main reasons people decide to move out," she says. "Using the stairs is one of the highest risk activities."
Bathrooms in older homes are often too small to move around in with a walker or wheelchair. Toilet safety rails help transfer to a chair. Grab bars help in the shower or tub area and an M-rail is good to lean on to assist getting in and out of bed. Often one question leads to another: Would a lift chair help the individual stand up? Does the person have the cognitive ability to use the lift chair properly? Is the room cluttered with furniture making it less accessible?
"The goal is to keep the person doing as much for themselves as possible to take the strain off the family or caregiver, plus if the person is doing things for themselves, they are getting out of their chair," says Adams.
The third part of the assessment looks at the caregiver's responsibilities, training them in the safest and most effective ways to do things, such as transferring a person from the toilet to a chair.
Health benefits
Adams says the benefits to society in terms of costs are huge when people stay in their own homes. The person's health benefits too, since people are more mobile when in their own home. They participate, even if it is just getting their own lunch or helping with the laundry. People can come visit, so they maintain the social aspect of being in their own community where people know them.
"The top two determinants for seniors' health is their social life and their mobility," says Adams. There are many in-home services available as well—from dental care and hairdressing, to physiotherapy and lawyer visits.
Changes and adaptations
Arsenault used the free home assessment from Lawtons Home Health Care to have a contractor and an occupational therapist decide what he needed to change. Friends volunteered to help with the work to keep costs down.
The occupational therapist recommended major changes for both safety and ease of use in Arsenault's home. Renovation work included a new deck and ramp to his front door, threshold ramps on each side of his entry doors, wider doorways throughout, a bathroom door that swung out rather than in, a roll-in shower with grab bars, and a raised toilet seat. He has also ordered a roll-in wheelchair to access the shower.
In his bedroom, Arsenault now has a queen-size hospital bed that can be raised to make it easier for him to get in and out, and a trapeze suspended from the ceiling so he can pull himself up.
"You might love your home," Arsenault says, "but you want to make your home love you. These changes have made a big difference for me. I get around a lot better."
Travis Gunn, director of Lawtons Home HealthCare, says often people live in a two-storey home with a basement, but can only access one level. He says stairlifts are the most commonly installed devices for their clients. Other options include porch lifts, deck lifts and residential elevators.
One homeowner recently had an elevator installed in his three-floor home as his wife has a degenerative back injury and arthritis, and managing all those flights of stairs was difficult. He and his wife have been in their home since the mid-70s and love the location.
They decided to build the elevator shaft on the outside of the house—as an added bonus, one clear elevator wall also lets in light from the exterior windows.
Where to get help
Ron Swan sold his Home Safe Living business to Lawtons last year and now works for Lawtons Home HealthCare. He suggests people go to the Lawtons website to look at home accessibility options. Detailed diagrams offer lots of details and tips. CMHC also has a good publication, Maintaining Seniors' Independence: A Guide to Home Adaptations.
CARP can also recommend reputable contractors who specialize in aging-in-place renovations (carpnovascotia.ca).
"If I can bring home care and other services into my home and make the changes I need, compare those costs to assisted living which commonly costs $5,000 a month," says Swan.