One weekend in the fall of 2004, Joe Gillis decided to stop mulling over three things he had been thinking about doing for some time – and actually do them. The first was to run a marathon. The second was to pursue medical school. And the third was to donate a kidney to his Uncle Dan.
On the Victoria Day weekend in May, 2005, Gillis, then 32 and working in Capital Health's communications department in Halifax, ran the Blue Nose Marathon. Not long after, he started preparing to apply to medical schools. (In April of 2008, he enrolled at Saba University's School of Medicine, near St. Maarten in the Caribbean.) And just four weeks after completing the marathon, Gillis was laying in an operating room at the QEII Health Sciences Centre, where Dr. Bjorn Nashan spent several hours removing Gillis' right kidney and putting it into Dan MacDonald's abdomen.

A lot had taken place in the months between Gillis' decision to give a kidney to his mother's brother – a high school teacher in New Waterford, NS, who in 2005 turned 56, and who was on home dialysis because of kidney disease-and the surgery. First, Gillis had to find out whether he was a donor match, which meant being subjected to several physical and mental tests.

"I had thought long and hard about donating a kidney before I started the process to find out if I would be a suitable donor," says Gillis, who is now 38 and who married Amy Bishara, a 34-year-old high school teacher and guidance counsellor in Yarmouth, NS, in August. "At that point, I didn't tell Dan. Several family members and friends had offered to donate a kidney, but they hadn't been a match. I didn't want to offer mine until I knew I could."
Getting ready
Gillis underwent a series of physical tests to analyze his urine, blood type and kidney function. He also had psychological counselling. "I was prepared for most of the social worker's questions, but one of the things she asked me that I wasn't expecting was how I'd feel if I gave a kidney to my uncle, then he turned to a life of alcohol," he says. "I hadn't considered that, because I knew my uncle well enough to know that wasn't going to happen, but answering the question helped me realize that I would no longer have ownership of my kidney after I let it go."

The main issue troubling Gillis was whether living with a single kidney would interfere with his ability to play hockey and baseball and to surf and run. He was told it wouldn't, but for added reassurance, he asked to meet with other donors. "It's one thing for a medical professional to answer your questions, but quite another to hear the answers from someone who has been through the experience firsthand," he says. "That step really helped alleviate my concerns."

Toward the end of the approval process, Gillis had a CT scan to make sure his kidneys were healthy. When the results came in, there were concerns there might be a problem with a blocked artery. "When I heard that, I was crushed, because it would mean I wouldn't be able to donate," he says. Relief followed when an angiogram showed that everything was OK, and Gillis was given the green light.
Granting the gift
On a cold January day in 2005, Gillis drove the five hours from Halifax to his uncle's house in New Waterford. "He was outside, and after I got out of the car, I walked up to him and said, 'Dan, I want to give you a kidney.' He would never have asked me to find out if I was a match because he wouldn't have wanted to put me in the difficult position of having to make a decision or to pressure me in any way," he says. "But after he found out that I had already been approved, he didn't have a choice but to accept."

Gillis was discharged from hospital three days after the June 27 surgery and, after one routine checkup a couple of weeks later, he went home to Cape Breton to stay with his parents for just over a month while he recuperated. He was back at work in less than two months. "My recovery was very short, probably because I was young and healthy," he says. "Today the only physical reminder I have of the surgery is a four-inch scar on my abdomen. Living with one kidney hasn't changed my life at all in terms of what I can or can't do, and definitely not to the extent that it has changed Dan's."

Today, MacDonald, who is 62, travels, gardens and swims daily. "He takes very good care of himself," says Gillis. "And he always looks for opportunities to help me out when he can." Gillis believes the biggest gift he received in return for his selfless act came when MacDonald's wife, Bev, introduced Gillis to his future wife.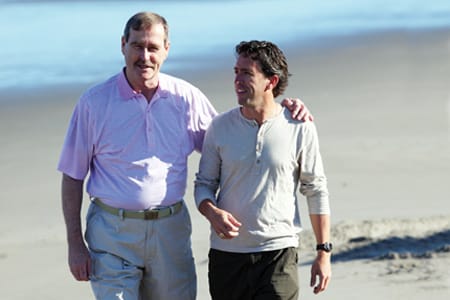 Wait lists and wish lists
Dr. Bryce Kiberd, a kidney-transplant physician at the QEII, wishes there were more stories with happy endings like Gillis and MacDonald's. He and his team at the QEII's Multi-Organ Transplant Program (MOTP) conduct between 80 and 100 kidney transplants a year. On average, in Atlantic Canada, a kidney patient can be on the wait list for two to three years. Dr. Kiberd points out that people who have hypertension and the growing numbers of those with diabetes are living longer thanks to new and improved medications-long enough, in fact, to get kidney disease. That has led to increased demand for dialysis and kidney transplants.

In Dr. Kiberd's opinion, the best way to shorten wait lists is to increase donors, especially in light of the fact that the MOTP's rate of live donations has fallen in the last five to 10 years, while there has been a slow growth in the number of patients starting dialysis.

"I would encourage families to talk about organ donation," he says. "Most people, when they make a decision to donate a kidney to someone they know, make it very quickly after they have all the facts. And many family members who offer to donate a deceased relative's kidney or other organs and tissues see it as a way to carry on the life of the person who died."
For living donors, "the facts" include learning about short-term and long-term health risks. "In the short term, you can die," says Dr. Kiberd bluntly. Fortunately, that risk is very low; only three out of every 10,000 living donors die, typically due to a blood clot or heart attack soon after surgery. Other short-term health concerns are pneumonia and infection in the wound post-surgery, and pain during recovery.

"After the two- to three-month recovery period is over, most donors will feel perfectly well," says Dr. Kiberd. Longer-term issues include being at a marginally higher risk of developing kidney disease. "We all have a risk of developing it, and that risk goes up slightly when you only have one kidney. It is a risk, but a very low one."
Something a living donor must be prepared to face is the chance that the recipient's body could reject the donated kidney. "If that happens, the donor has to say, 'I did the best that I could,' and then must accept the loss, as must the recipient," says Dr. Kiberd.
The heart of the matter
Ken Stevens of Dartmouth, NS, had a heart attack in the aftermath of White Juan in 2004. On Feb. 19, the day after the snowstorm hit, he started his snowblower and had only pushed it 10 feet when he felt a searing pain in his chest. He managed to crawl into the house to ask his wife, Joan, to call 911, then made his way upstairs to lie in bed, where he was soon soaked in sweat.

Because the roads were clogged with snow, it took paramedics over an hour to reach Stevens, now 67; when they did arrive, they had trouble making their way to the QEII's emergency department. After doctors conducted myriad tests, Stevens was shocked to learn it wasn't just the roads that were clogged-he had a blocked artery in his heart's left ventricle, which had caused the attack. "I didn't have high cholesterol or high blood pressure, and I had no family history of heart disease," he says.

When Stevens was released from hospital, he went home with an arsenal of new medications and a special diet-and-exercise plan. He also participated in a research group for which he was monitored while attending a weekly heart-exercise program. But by 2009, he couldn't walk and was having difficulty breathing. Upon being admitted to the QEII's emergency department, a doctor gave it to him straight: He needed a new heart. "I had been told by my cardiologist that I'd eventually need a transplant," he says. But he wasn't prepared when he was told that the next step would be surgery to implant something he hadn't heard of before, a pump called an LVAD, which stands for left ventricular assist device. It would keep his heart working 24/7 while he waited for a donor heart.
The waiting game
During the several hours immediately after the June 4, 2009, surgery to insert the LVAD, and into the following week, "Ken came close to death three times," says Joan, who remained by her husband's side with their grown sons, Troy and Derek. "He's a lucky man to have survived."

Stevens' arteries experienced a severe bleed around his heart; recovery was painful, and he remained in hospital for three months before he was well enough to go home.

Today, Stevens sings the praises of the physicians, nurses and staff at the QEII who have treated him over the past seven years. "They saved my life," he says simply. "I have been amazed by the knowledge, the professionalism and the expertise of everyone working in the cardiology department. They have been so cordial and helpful; I can't say enough about them."

Currently, Stevens goes for checkups once a month, and is on the heart-transplant list; he is regularly monitored to make sure he doesn't have any diseases such as cancer, because he must be in relatively good health in order to receive a new heart. He also has to stay close to home in case he gets the call asking him to get to the hospital ASAP because a heart is on its way.

Although Stevens is generally upbeat and cheerful, he's aware that his LVAD won't last forever (noting that they haven't been in use long enough to really put a number on it), and waiting takes a toll. "Sometimes I have bouts of depression when I feel sorry for myself," he admits. "Then I ask myself, why am I depressed? I've got a loving family who supports me, I'm mobile, I can play with my four grandchildren. Physically and mentally I'm ready for a transplant, but it's not primary on my mind because I'm living my life."
Bridging the gap
MOTP cardiac surgeon Dr. Imtiaz Ali calls LVADs a "bridge to transplant." Dr. Ali and his team, which consists of four surgeons, perform roughly eight to 12 heart transplants a year. He says the statistics are discouraging. "The number of patients waiting for organs far outweighs the number of available organs," he says. "The number of donors has reached a plateau. There is a great need for more donated organs both in Atlantic Canada and across the country."

Encouraging more people to donate takes effort and patience. "With deceased donors, there's a lot of bereavement around that time," says Dr. Ali. "It's always difficult for the surgeon to ask grieving family members whether their loved one wanted to donate their organs and tissues." He advises people to sign their donor cards but, more importantly, to discuss their wishes with family members and, ideally, to write them down so their instructions will be clear. "It's a very personal decision," says Dr. Ali. "We would never try to coerce people into becoming donors, but we need more of them, and I'm optimistic that we'll find them."

Living donors like Joe Gillis give transplant teams cause for such optimism. After Gillis graduates from medical school, he and his wife hope to live in a small community in Nova Scotia, where Gillis would like to practice family medicine. He has no regrets about giving a kidney to his Uncle Dan and insists he got as much, maybe even more, from the experience than his uncle. "Sometimes the act of giving is just as rewarding as the act of receiving," he says. "That has definitely been the case for me."