A dentist with the Belvedere Dental Clinic in Charlottetown, PEI, Dr. Richard Holden spent two weeks in Kenya last February. The journey is indelibly etched in his memory, and in his heart.
Dr. Holden was part of a mission to Mikinduri, a small, remote village in eastern Africa that is extremely poor. Doctors, nurses, optometrists and dentists travelled across the world to conduct clinics for local villagers and those in surrounding communities. "There is so much need for basic services," says Dr. Holden.
The annual mission is organized by the Mikinduri Children of Hope in PEI. The seeds for the charity were sown more than a decade ago when a woman from the African village emigrated to the Island and organized a clothing drive. Today, the charity, officially founded in 2003 by a local Cornwall couple, offers a wide range of services and support to the community. This includes co-ordinating an annual medical, vision and dental health clinic.
During his visit, Dr. Holden worked with three Kenyan dentists to perform dental procedures, primarily extractions, and enable locals to live a little less painfully.
"We would ask where the most uncomfortable area was through a translator," Dr. Holden recalls. "They would point to multiple areas. We would have to ask them where the worst pain was."
Working in the Mikinduri dental clinic, which the team set up in a day, stands in stark contrast to practising dentistry in Canada. The Kenyan doctors, for example, work with virtually no additional light, and there are times when the entire compound, which includes a hospital and onsite pharmacy, lost electricity. Not having all the options and equipment at hand to help someone was the biggest challenge, says Dr. Holden, who pulled more than 450 teeth in two days alone.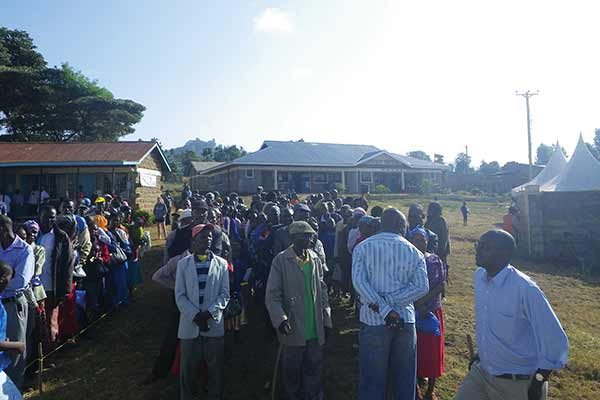 "You couldn't fix people to the level you were used to," he notes. "You had to accept different standards."
In return, the Canadian dentist met incredible people who find joy and hope despite extreme poverty. "This community lives with basically nothing," notes Dr. Holden, "They live with a level of pain we couldn't even imagine. [Yet] these people never complained."
The roots of the Charlottetown dentist's trip to Kenya can be traced back to Dr. Holden's youngest daughter, Charlee. When the teenager hit high school she wanted to be part of a mission to Mikinduri. Together with her father, they attended a series of meetings to learn more about the charity, the village, and the work that would be required of them.
The Mikinduri Children of Hope was established to help relieve the effects of poverty in Kenya by working with local leaders and other partners. The extent of the organization's outreach is significant. Since 2010, more than 25,000 people have been served in what the organization calls its KENCAN clinics. In 2014, when Dr. Holden was part of the mission, 6450 people were treated, 1200 of them in the dental portion of the clinic, the highest number of patients treated yet.
"You could probably keep a thousand dentists busy in Africa forever," says Dr. Holden.
To get to Mikinduri, Dr. Holden and his daughter, part of a team of 15 (Charlee was the youngest member), flew to Nairobi then had a three-hour drive through lush terrain, sprinkled with small villages, until they reached the town, which sits about five miles from the equator. The team brought as much equipment and supplies with them as possible—including water. Individually, each team member was allowed one carry-on bag and one suitcase, for a total of 50 pounds. Dr. Holden brought three pairs of clinic scrubs.
"We washed our own clothes in water and hung them to dry," he says.
Because Mikinduri sits at the base of Mount Kenya, at an elevation of approximately 4,000 feet (1,200 metres), the heat is not as sweltering as elsewhere in Africa. "It was like a summer day here," notes Dr. Holden. "The clinic had open windows and a breeze."
Registration for both children and adults started first thing in the morning, and generally ended mid-afternoon when the schedule for the day would be full. People knew about the clinics well in advance and arrived early to be seen by the dentist (and perhaps the doctor and the optometrist). A tent was set so that the more than 800 people who waited each day would have some relief from the sun.
On weekends when the clinics weren't running, Dr. Holden and his team visited local schools and met with many of the individuals on the ground working with Mikinduri.
"The intent is to help people help themselves," he says.
Dr. Holden's trip to Africa was eye-opening. So was his return to Canada.
"I had culture shock going over and culture shock coming back," he says. "There is so much gratitude for having relieved their pain. You can do so much good in a community. Here we take things for granted."