Managing diabetes through teamwork
Ten years go, Sharon Fowler Wells of Hopewell Hill, NB, was taking two insulin injections a day for diabetes, wore size 22-24 clothing and weighed 256 pounds. She was 48-years-old and unable to walk up her driveway without chest pain.
"I had adopted three special needs kids, worked full time, didn't get enough exercise," she says. "I ate the wrong foods. I would say my A1C (a test measuring blood glucose levels over a period of time) would have been 10-11 per cent."
The tricky part of managing diabetes is maintaining blood glucose in the 7 per cent range; a non-diabetic might be 5.7 per cent or less.
When diagnosed at age 36, Wells wasn't surprised: both parents and her brothers were diabetic. But when she could no longer walk without discomfort, the health implications stared her in the face. She was a prime candidate for heart attack. Her doctor told her, "Either you take time for yourself or you won't be here to look after anyone else."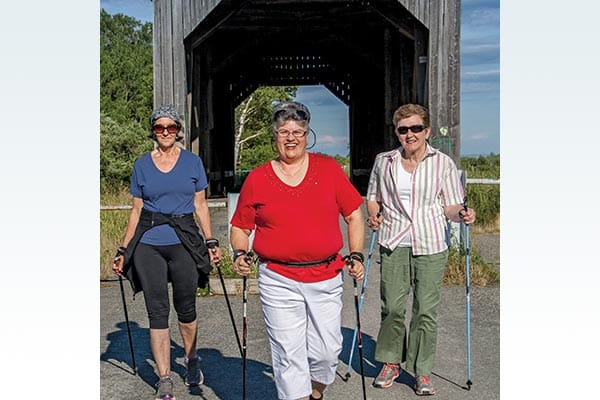 Looming problem
Wells' story is far too common. She is among the 77,000 people living with diabetes in New Brunswick…over 10 per cent of the population. An additional 105,000 are classified as prediabetes or at risk for prediabetes. Without effective intervention, New Brunswick is headed for an epidemic on its already over-stressed healthcare system.
"We're worried about [the people] who are 'in the pipeline' and are at risk of diabetes," says Joanne Young, chronic disease consultant with the New Brunswick Department of Health. "We are working hard upstream to prevent them from becoming diabetic and having to deal with the tremendous burdens that this condition brings to patients, their families, and the healthcare system."
This is one reason the New Brunswick government launched a Comprehensive Diabetes Strategy in 2011 aimed at improving the support provided to both patients and primary care physicians. In just a few years, it has proven highly successful and provides a model for treatment of other chronic diseases, such as COPD.
Her doctor's warning compelled Wells to make simple changes in lifestyle. "I had to find out how to eat as a diabetic," she recalls. She began seeing a dietician at a diabetes clinic and began an exercise regime of cycling, snowshoeing, kayaking and Nordic walking (which uses specialized walking poles).
In two years, Wells took off 80 pounds, dropped to a size 14 and no longer needed insulin. She had walked her first half marathon, become a certified Nordic walking coach, and a lifestyle leader for the province, helping to motivate others.
A strategy that works
She may be a poster child for successful diabetes management, but many don't have the support, counseling, or commitment in place to achieve such changes in their own lives, while others do not realize the serious implications of their disease.
This is where outreach case managers like Shelley Jones play an important role in NB's strategy. "People don't know what they don't know," says Jones. "When I sit down and talk to people one on one, even if they had education in the past, they learn new things."
A certified diabetes educator and a registered nurse with Horizon Health in the greater Moncton area, Jones began developing the case manager model in 2004. She is now one of 13 in NB.
Case managers meet with diabetes patients in their healthcare provider's office to provide one-on-one counseling. As diabetes experts, they are up-to-date on all the latest resources, research, medications and practices, and perhaps more importantly, have the time to spend listening to the patient's challenges, helping them find workable solutions.
"Sometimes the reason the diabetes is off the rails might have nothing to do with the disease, but everything to do with mental health, heart disease, or COPD," says Jones. "Having someone who can pick this up and steer the patient in the right direction may help avoid complications and hospital stays in the long run, and improve quality of life."
"For the physicians," she says, "it's a challenge to stay on top of everything. The diabetes world is changing so fast with new research, medications, and tools for our toolbox, so the case manager becomes their diabetes expert. I make recommendations for medication or treatment based on the individuals needs of the patient. We work as a team in the office."
The strategy also includes a Live Well! Bien Vivre! program with health coaches who provide one-on-one or group counseling and coaching to those wanting to make lifestyle changes, but unsure how. The coaching is available to anyone—not just people with diabetes—through self-referral or a family physician. Coaches meet with clients in the workplace or community spaces to provide instruction on healthy eating and physical activity.
Targeted approach
But the key underlying element of the strategy is an innovative diabetes registry unique to New Brunswick. This electronic registry merges Medicare and hospital discharge records with laboratory results to provide critical information and reporting to primary healthcare providers.
'Diabetes at a Glance' practice profiles provide a snapshot of a physician or nurse practitioner's diabetes patients, with their lab data, so they can quickly see who needs extra support. "Then they can leverage the case manager to support them in their practice, or the health coach to help support lifestyle and behaviour change—or both," says Young.
By analyzing blood work and historical records, the registry flags both those with diabetes and those at risk for the disease. In the medical world of white paper reporting, it generates a special attention-grabbing 'pink sheet' documenting a five-year trend when the patient's glucose levels are consistently high, and also identifies those who haven't had regular bloodwork done on schedule.
"That's a big deal," says Young. "If you're not getting your A1C tested once or twice a year, then we risk having people living with diabetes who are not being supported or monitored. It's a flag for the doctor to follow-up to ensure they understand the importance of monitoring to prevent complications."
Diabetes complicates other health issues such as heart disease, stroke, kidney or celiac disease, blindness, anxiety and depression, and amputation, so when an individual can manage their diabetes through healthy eating, exercise and proper medication, they are better able to deal with conditions over which they have limited control.
The strategy has reduced incidences of, and death from, diabetes, reduced admissions where diabetes is the primary reason, and decreased hospitalization for diabetes-related complications. While significant from a healthcare and cost perspective, perhaps more importantly, the strategy is helping people, like Wells, participate in their own wellness.
Wells has now completed 10 half marathons, a 10K and a 5K walk. She makes presentations on health and volunteers to coach others in Nordic walking. She leads a group of local walkers twice a week and has taken up weaving. "You can't get your hands in the Cheezies when you're working with fabric," she jokes. "I feel so much better about myself. I am sure I've added years to my life. If I had stayed that way, I might not be here."