Caleb Burt may have a medical diagnosis (or two) but he hasn't let it hold him back, in fact, he's found a way to open a door to a whole new world of opportunity
Living with a medical diagnosis can be isolating, even more so for youth, who may not want to talk with their friends about their symptoms. For Caleb Burt, 14, one way to overcome that problem has been to join Upopolis, a national online social network for young patients.
Created by Kids' Health Links Foundation (KHLF), Upopolis is a private online platform that gives youth access to age-appropriate medical information, as well as providing resources to help them cope with their diagnosis. Inspired by the medical experiences of two teenage friends, Upopolis was developed in 2007 and launched two years later at the IWK Health Centre, where Caleb is an outpatient.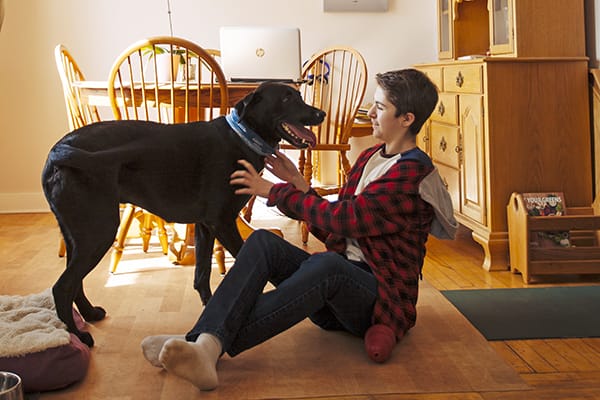 "I like that it's a very secure site. It helps because you can connect with others who have the same diagnosis as you," Caleb says.
After hearing about Upopolis at a Brigadoon camp last summer, Caleb quickly registered and become a Upopolis member. Within weeks he went on to become what Upopolis refers to as an active user, logging on a couple of times every day. "I like that I can chat with kids right across the country. It's somewhere I want to be."
Caleb has two separate medical diagnoses. At age five, he was diagnosed with Childhood Absence Epilepsy, which means his seizures are brief lapses of consciousness that can look like a blank stare for a short spell.
"It looks like he is outgrowing those, which does happen in many cases," says Caleb's mother, Linda Wallace.
When he was first diagnosed, he was having numerous episodes a day. The seizures were first controlled with medication. He eventually went off the medication, but the seizures came back when he was diagnosed with Crohn's Disease a few years later. As long as he is having seizures, Caleb needs direct supervision when swimming and when walking across a street. ("Many of his friends were walking alone to school before he did," Linda says.) He only has one or two episodes a month now (without medication).
In 2011, when he was eight, Caleb developed a persistent cough, fever and gastrointestinal symptoms that wouldn't go away. He was tired and weak, and after five visits to the doctor, it became clear that Caleb had something more serious than a simple virus, so he was sent to a pediatrician for a consult.
"For a while he hadn't wanted to eat much and just seemed to be getting sicker. The pediatrician thought it sounded like it might be IBD (Inflammatory Bowel Disease) so she booked him into the IWK as an inpatient for a test to check for inflammation," Linda says.
That test confirmed the pediatrician's hunch. Caleb was diagnosed with Crohn's Disease, an inflammatory bowel disease that causes inflammation in the lining of the digestive tract, leading to abdominal pain that is sometimes severe, frequent diarrhea and weight loss.
Caleb spent five days in hospital and had to go on a liquid diet with a nasogastric (NG) feeding tube attached to a bag of formula and a pump that he carried in a small backpack for three months. An active child who enjoys his weekly karate class and music lessons, Caleb reflects on that time and what it was like to wear the feeding tube and the occasional problems he experienced with the flow of the liquid through the tube, causing the pump to beep.
"I really didn't like it, especially the feeding tube when I was in school and it would beep. I didn't like having to wear the backpack all the time," he says.
After 12 weeks of the feeding tube, Caleb's parents tried reintroducing food with limited success at first, resulting in him having to wear the tube again for another three months, before a second attempt at reintroducing solid food finally worked.
After a short course of prednisone to keep the inflammation under control, and a carefully controlled dietary regime, Caleb eventually got better; so much so that he is now in what is called "deep remission," and has been for more than two years.
"Crohn's is considered a lifelong condition so it could flare up again, but right now there are no signs of active disease," Linda says.
At this time the dietary restrictions are where Caleb feels the most impact from his disease. Having always grown up in a nutrition-conscious family with a mostly vegetarian diet, Caleb is now on a dairy-, soy- and gluten-free diet as well. Meals include a variety of whole foods, and they have even come up with a great recipe for pizza that Caleb can take with him to pizza parties. Snacks are healthy homemade cookies, muffins and squares that he can grab on days when he's on the go.
And he is on the go a lot. Still in karate, which he has done since he was seven, Caleb recently earned his blue belt (with three stripes). He's beginning to train occasionally with the adult class and has become a junior instructor for the younger class. He's a member of a Halifax-based magic club and hopes to perform some of his magic tricks on the city's waterfront this summer. He takes private drumming lessons and plays in the school band. He also is in the music production program (writing and recording songs), and a photography class at the MacPhee Centre for Creative Learning, an afterschool youth program in downtown Dartmouth, NS, not far from his home and just a ten-minute walk from his school. As his absence epilepsy is so infrequent now, Caleb walks unsupervised. Although she knows the independence is good for him, his mother admits she still breathes a sigh of relief when he walks through the door.
"I like to be active," Caleb says with a small shrug.
One of Caleb's most passionate interests, however, is Me to We, the international youth movement created by Canadians Craig and Marc Kielburger and their Free the Children Foundation. Caleb attended his first We Day in grade 5. An annual series, We Day is a huge event that celebrates local, national and international youth working to make a positive difference in the world.
An active member in the We Club at his school, Caleb soon began thinking of ways to bring the passion and excitement he feels for We Day and the We School movement to Upopolis.
Just as Upopolis members can create personal spaces to meet other youth with similar diagnoses, they can also create a space around a particular interest.
Having made the move last fall from being a Upopolis active user or regular contributor to becoming a Upal, or youth leader, Caleb got busy. He talked with Krista Naugler, the Upopolis program co-ordinator for Kids' Health Links Foundation about getting Upopolis signed up as a We School and created a We Space (an online chat room) on the Upopolis platform to get some ideas going for local or global action campaigns.
All through this process, however, Caleb was thinking about youth who haven't been able to go to We Day, "kids who are in hospital or because of their health just can't go."
Krista and Caleb began talking about doing a video series as part of their We School program, something that could be shown at the IWK via CLTV (the in-hospital child life television network) and possibly the new IWK theatre, as well as online for other Upopolis users who live in rural areas and haven't been able to connect to the We movement in the past.
"We are always looking for ways to empower the youth and give them opportunities to create a peer support network and develop their leadership ability. This was just a perfect fit," Krista says.
Perhaps it's no surprise that when asked about his future plans, Caleb thinks first of the We movement. "I just want to keep this going and stay involved with Me to We, that's what I'd like."
Krista and Caleb will begin working on the video series in the coming weeks.