In May 2007, registered nurse Melinda Casey, 44, of Truro, NS, suffered an injury that left her in chronic pain.
"I prolapsed a disc in my lower back while lifting," says Casey. "The disc sat on the nerve route for my sciatica nerve for six months before I could get in for surgery to take it off. By that time, it had damaged the nerve route."
Since then, Casey's lived with chronic pain from her hip to her leg.
"I wear a fentanyl patch plus I take other pain medications," she says. "It could be quite depressing, but I always remember that there are many people worse off than I am."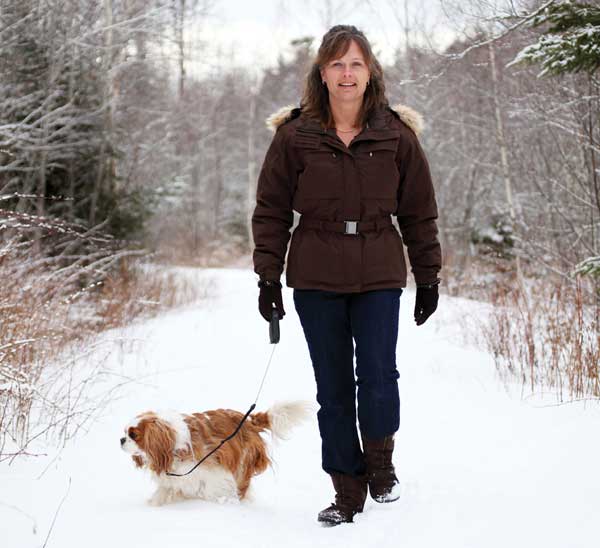 World-class research
Casey was a candidate for a temporary spinal stimulator implant, something QEII Health Sciences Centre anesthesiologist Dr. Ian Beauprie says is very exciting.
"We're able to put a wire inside the bony ring of the spine against the spinal cord and apply an electric cur-rent to the spinal cord that in some circumstances blocks pain," says Dr. Beauprie. "It's a miracle when it works. We have to continue to give an electrical signal so we install a small computer and battery, like a pacemaker, under the skin of the belly to connect to this wire in the spinal cord. The patient has a controller and can turn the stimulator on or off, up or down. It's very effective for some kinds of pain."
One kind of pain it can be effective for is nerve pain after disc herniation like Casey's. Others include phantom limb pain, rib nerve pain and angina. It is typically not effective for back pain.
"We've been doing these surgeries for 15 years," says Dr. Beauprie, "and we're one of the busiest centres in the country. Nova Scotians probably have better access to spinal cord stimulation than people in many other provinces, in particular Ontario where they only have a small program compared to ours. It's something Nova Scotians can be very proud of."
Dr. Mike Murphy, chief of the QEII's Health Sciences Centre department of anaesthesia and pain man-agement unit, says Nova Scotians can also be proud of having the leading pain division in the nation.
"Dr. Mary Lynch is the president of the Canadian Pain Society," says Dr. Murphy. "She's recognized internationally. As well, we enticed Dr. John Clark back to Halifax from Calgary and he's the most recognizable figure in pain in the nation. He'll take over the pain portfolio as the physician chief and it's a huge coup to get him back."
Challenges to the health care system mean wait times are longer than Dr. Murphy would like to see.
"But in the system that we have," he says, "we have some of the best people in North America here and we have some of the most innovative programs. With the right tools, they can deliver the best in care."
Dr. Mary Lynch, director of research and acting director of the QEII Health Sciences Centre pain management unit, says, "Chronic pain is a very real problem. There are approximately 584,000 Atlantic Canadians who suffer from pain conditions and they need help. It's very important for us to get the help out there in order to limit suffering and to decrease the economic burden on the patients themselves, who are shelling out millions and billions, and if you look at the developed world, trillions, in attempts to get pain relief."
Dr. Lynch says researchers in Halifax are looking at a number of ways to fight pain.
This includes research on novel delivery systems for pain medications. Dr. Orlando Hung is looking at in-haled medication to get the active agent into the body more efficiently. Dr. Janice Sawynok is looking at topical agents that can be spread over the skin in the painful area to help with nerve damage. Studies are being done on that and new agents will eventually come to market.
Some researchers are interested in examining the absolute best way to treat pain at the time of surgery.
Dr. Murphy says, "A Danish researcher found that as many as 30 per cent of patients that have acute surgical procedures have chronic pain post-operatively if their acute pain is not well managed."
Researchers are looking at analgesic protocols that will be more effective in taking care of peri-operative and post-operative pain.
Dr. Lynch says a study of osteopathy in the management of back pain has just been completed using high-tech testing equipment.
"The study was done by Drs. Sheryl Cosy and Ed Hanada in collaboration with two osteopaths, David Braha and Jodi Aitken," says Dr. Lynch. "The results have not been published yet, but our impression is that the osteopathy did lead to positive change. We're very curious to see what the outcomes are, because this is the first time this type of study has been done to examine osteopathy using these objective measures with the body surface EMG (electromyography) mapping."
Halifax researchers are also interested in complementary therapies in the management of pain related to fibromyalgia, especially Qigong, a gentle movement meditation therapy with origins in traditional Chinese medicine.
"We did a pilot trial in 2007 that showed it could potentially help people with pain and the impact of fibromyalgia on their quality of life," says Dr. Lynch. "We've now gone on to start a control trial looking at fibromyalgia-related pain and its response to the self-practice of Qigong. We're very excited about the re-search we're doing on alternate and complementary therapies because it's very important to expose these therapies (which millions of people are using) to scientifically rigorous studies to see if they actually work."
Another study is about to start that examines a cannabinoid called sativex, which is an extract of marijuana manufactured in England.
"It's being used clinically as an analgesic with success," says Dr. Lynch, "and we wanted to examine it in a clinical trial with people who are suffering pain from chemotherapy-induced neuropathy. Chemotherapy to treat cancer can often lead to nerve damage, which is a significant limiting factor in trying to treat cancer with these agents. If we can find something that will assist with treatment of that pain, then it will make people's lives easier as they pursue their cancer treatment, and after they finish their cancer treatment."
Dr. Peter MacDougall is also doing research into a mentorship network where pain specialists, and in some cases specialists in addiction, assist family and community practitioners with regard to delivering care to people with pain, without them necessarily having to be seen in the tertiary care pain clinics where there are long wait lists.
"The mentorship network partners pain experts with community practitioners so that they can assist patients on their own with the guidance and support of tertiary care specialists," says Dr. Lynch. "Dr. MacDougall is doing an excellent job leading that and it's set up in a couple of sites with plans to go province-wide, assuming we get appropriate funding in the future."Research is also being done specifically on children in pain.
The IWK and Dalhousie University constitute a world-class centre for pain research in children.
Dr. Pat McGrath, vice president of research at the IWK, Canada research chair and professor of psychology pediatrics at Dalhousie, says outstanding work is being done on post-operative pain, pain in developing countries, pain in handicapped children, and delivery of pain services using innovative approaches, to name a few.
He says some of his own research involves the use of smart phones that teach adolescents how to manage their headaches.
"That's being done in conjunction with a whole group around the world," says Dr. McGrath. "The IWK and Dalhousie are at the forefront of pain research, especially the psycho-social-cultural types of research. If a child has chronic pain and they see our team, they have the advantage of the latest information about chronic pain. Because so many people here are working on pain, it sort of rubs off on the rest of us professionals. There's more awareness of pain and what to do and there's a whole culture here aware of pain and how to prevent problems in pain."
Happy ending
A few days after Casey received her temporary spinal implant, she was tired, but excited to discover the device was effective.
"I've been able to decrease my pain medication and will be able to do more than I'm used to doing," she says. "I plan on going to a movie this weekend and sitting through a movie without taking pain medication. That's one of my big trials I'm looking forward to. After a couple of weeks, they'll take this one out and in a few more months they'll put in a more permanent implant."