13 reasons to tie the knot Atlantic Canada-style
1
Location, destination, location. We've got natural wonders, postcard views, distinctive settings and special places—in spades.
Jillian Witt and Fenwick McKelvey, now living in Montreal, picked Kingsbrae Gardens in St Andrews, NB, as the place to walk down the aisle—which in their case was a grassy knoll through an apple orchard. Fen is from Saint John, NB; Jill from Waterloo, Ont. "We'd regularly go to the Rossmount Inn, in St. Andrews," says Jill. "We were there the Christmas before the wedding, and said, 'Let's come back to get married.' We looked for a venue, came up with Kingsbrae and planned everything in secret—then told our families."
Julie and Josh Murray also got married in New Brunswick, because that's where Josh is from. "We wanted to have the ceremony in the wilderness," says Julie from West Kootenay, BC, where the couple lives. However, unforecast rain put a damper on the proceedings; instead of being in a cathedral of trees the vegetarians sang their vows indoors, at Adair's Wilderness Lodge, Sussex, with a bearskin rug backdrop. "It was a little ironic," Julie admits, chuckling.
In Newfoundland, Melanie and Darryl Couch said their vows on a cliff in Logy Bay. The St. John's, NL, couple love the outdoors, and had hiked along this stretch of the East Coast Trail for hours. "It's memorable for us, and the cliffs and ocean views are amazing—just a magical place," says Darryl. Magic aside, their 150 guests were able to park at Memorial University's Department of Ocean Sciences nearby. While Darryl was wearing sneakers and Melanie cowboy boots, the landscape was accessible—"regardless of what type of shoes you were wearing," Darryl notes.
2
Any type of footwear goes, from rubber boots to FiveFingers shoes. Kimberly Orren and Leo Hearn wore rubber boots for their wedding last summer in Petty Harbour, NL. In fact, their whole wedding party wore rubber boots, and some of the guests did too. Instead of stating black tie optional on their wedding invitation, they said rubber boots optional. "Some of the fellas who are fishermen were pleased to be able to wear them," says Kimberly." That's what they always wear and that's what they're comfortable in."
For his part, Josh, in Sussex, opted to wear his Vibram FiveFingers—earthiness being a factor.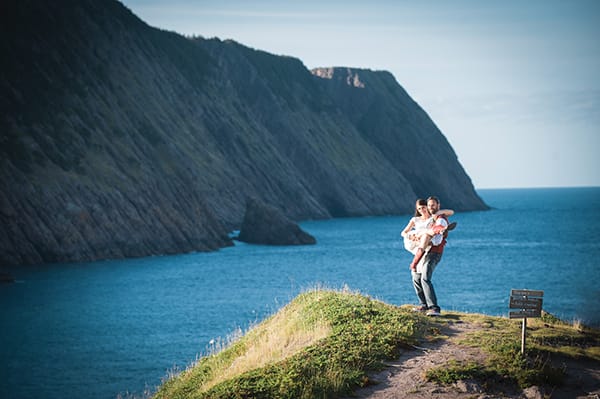 3
Strong networks of extended family and friends, who can help decorate the community centre, write place cards—or offer horses for photo ops. Melissa and Paul Pike got married in Port aux Basques, NL—Paul's hometown, and where the couple was living at the time. "One of my dad's neighbours, a good friend, is a farmer," says Paul. "They live in Codroy Valley, a half hour away from Port aux Basques… my father thought it would be nice to drive down there and get pictures with the horse before the wedding, so that's what we did."
Debbie MacDonald and Sean Murray, in Savage Harbour, PEI, wanted a low-key affair, so chose to have the ceremony in the backyard of their own home—which had been Debbie's maternal grandparents' house for more than 50 years; the reception would be across the way in Debbie's parents' old potato warehouse. However, the warehouse required elbow grease to get it shipshape, so Debbie's sister and parents rolled up their sleeves and dug in. "We quite literally scrubbed it, on our hands and knees, for three weeks, Debbie says. "I can't thank them enough for the work they did."
For Meagan and Justin Rogers, setting up for their reception at the Lions Club in Plaster Rock, NB, was like old home week—they are originally from the area but now live in Whitecourt, Alta. "A lot of people stopped in to bring food and offered help," she says. "I loved that."
4
Great selections of traditional cookbooks to give as gifts, to keep people sated at kitchen parties for generations to come. One suggestion? Out of Old Nova Scotia Kitchens, by Marie Nightingale. On her blog "Dining out with History," travel writer Jan Feduck notes that her old edition is stained with cake batter and coffee marks, which is to say it had obviously been well loved by her grandmother and mother. "It's both a recipe book and a history book—stirring a story into the food—describing how traditions in Nova Scotia have evolved since the Europeans stepped onto the shores," she writes. Dutch Oven is also a good candidate for historical trivia and folklore, as well as recipes—especially if you are of German heritage from Lunenburg County, NS. Both started out as fundraisers, and have recently been reissued by Nimbus Publishing.
5
An abundance of food fresh from the sea or raised on family farms; creative food producers and chefs who embrace the local food movement. "We wanted to treat our family to a really nice meal," says Jillian Witt. "That's really important to us, so we had a table reserved at Rossmount Inn [in St. Andrews, NB]. The reception wasn't catered—we just ordered off the menu, which changes daily depending on what's fresh and available from local producers."
PEI mussels and oysters were served at Debbie and Sean's wedding last summer. Also on the menu was seafood chowder, made by Debbie's mom, with biscuits—"hundreds of them, made by friends and family," Debbie says. Plus, little bottles of Island Gold honey made by Sean—he has 200 hives—were given to guests as wedding favours.
To go with the rubber boots in Petty Harbour, NL, Kimberly and Leo had fish and chips from a chip van down on the wharf after their wedding. "It just made sense," says Kimberly. "I didn't want a stuffy wedding with a big sit down meal—we wanted it to be fun and relaxed."
In Nova Scotia, Adam Fine and Marla MacLeod had the menu for their Middle LaHave wedding somewhat cut out for them. "We wanted to have food in season and lots of it," says Marla, the community food co-ordinator at the Ecology Action Centre, in Halifax. "Because Adam is Jewish, we also wanted to have some Jewish food." They had a sit-down dinner that included challah and brown bread with smoked mackerel and fresh salsa, and haddock and couscous with green beans and other vegetables in season. Close to midnight, after lots of dancing, they served blueberry grunt.
And the food at Julie and Josh's reception in Sussex? It also had a local flavour, including strawberry shortcake served with edible daylilies—local, edible daylilies, Julie says.
6
If you hear, "You may now kiss the cod," instead of "You may now kiss the bride," does this mean you have a fish wife? No, it means you took a wrong turn and are at a pub on George Street in St. John's, NL. Having said that, some weddings in Newfoundland do incorporate "Getting Screeched In" at a stag party or bridal shower, or at the wedding reception itself—if there are "mainlanders" in attendance. This ceremony to afford honorary Newfoundlander status varies, but typically involves a short recitation, a shot of Screech, a 40 per cent proof rum, and kissing a cod to seal the deal. (Because cod are scarce these days, you might be invited to kiss a capelin, or a stuffed puffin.)
7
No shortage of musicians to entertain the guests. Sure, your father's brother's first cousin once removed has a band. "When we planned our wedding we wanted to include the family," says Priscilla Bourgeois-Boudreau, in Cheticamp, NS, "so Guy and I hired a local band, Back on Track, that my cousin played in."
Entertainment aside, when Josh and Julie Murray sang their vows to each other, there apparently wasn't a dry eye in the hunting lodge.
As a member of two Halifax-based bands—Gypsophilia and Der Heisser—Adam Fine has musical connections galore; friends formed a string trio to play from the time guests began arriving to the start of the ceremony; another group picked up the pace following dinner. The music was so infectious that Adam's 88-year-old grandmother cut loose on the dance floor, creating one of the evening's most memorable moments. "Seeing Bubbe up there dancing…she had a blast," he says.
8
Want to get married in a church? There are lots of churches to choose from. Bay Roberts, NL, has 14 active churches for its approximate population of 5,900. Mahone Bay, NS, famous for its iconic three churches overlooking the harbour, has five churches—and a population of approximately 900. In fact in some rural communities you can actually buy a church for as little as a dollar, becoming more commonplace in the face of dwindling rural populations.
Marla MacLeod and Adam Fine chose St. Mark's Place in Middle LaHave, near Bridgewater, NS, for their wedding. A former Lutheran church, St. Mark's closed in 2005 due to declining membership; it was bought by an American entrepreneur and reopened in 2011 as an event venue.
9
Local wineries and craft beer add to the local appeal either for a shower, bachelor party or the wedding reception itself. While Marla and Adam had wedding photos taken on a nearby beach, guests were served sandwiches along with Tideview Cider, made at Noggins Corner Farm, in Greenwich, NS. Local wine and Propeller beer, made in Halifax, were served at dinner, and members of the wedding party each received a bottle from Ironworks Distillery, a Lunenburg-based company that specializes in vodka, rum and liqueurs.
Magnetic Hill Winery provided the tipple of choice for Josh and Julie and guests in Sussex.
Darryl and Melanie Couch, in St. John's, had Quidi Vidi beer at their rehearsal party—in fact the event was held at its brewery, formerly a fish plant in a rustic fishing village within the city. How many people go to a rehearsal party? "In our case it was about 80," says Darryl. "There were people in from out of town who we wanted to spend time with beyond just the wedding day, so they joined the fun after the actual rehearsal."
10
Memorable activities for bachelorette or stag parties, or for out-of-town guests. In Bonavista, NL, Stephanie Keel and her girlfriends got all gussied up and went to Mifflin's Tea Room, for a cuppa and sweets, while her fiancé, Mark, and the b'ys went to the pub next door. (Mark says, "The girls went to the pub afterwards, too—and in fact they got there before we did!")
Debbie and Sean, in PEI, had friends visiting from the UK, Europe and Australia for their wedding, and wanted to show them the beauty of the local area…so they took them on their honeymoon. "We called it a buddymoon," says Debbie. "We got a cottage in Cape Breton and had a wonderful time."
11
Who-knew venues, from Pier 21, Halifax, to the Anne of Green Gables Museum, Park Corner, PEI, to Lone Shieling, in Cape Breton Highlands. Plus barns and beaches, boats and cottages—not to mentioned covered bridges. Julie and Josh, in Sussex, got their rustic groove on—and stayed relatively dry—by having wedding pix taken inside a covered bridge nearby.
12
The region is rich in tradition to build on. "We wanted to get married on Thanksgiving—that to us is family—so we had the traditional turkey with all the fixings at our reception," says Priscilla in Cheticamp. "For dessert we had Acadian Blueberry Cake with Brown Sugar Sauce, well known in the Cheticamp area." Jill Witt, in New Brunswick, says, "My inlaws hosted a lobster dinner for the extended family the next day at the family cottage on the St. John River—where Fen grew up sailing."
And for Paul and Melissa Pike, it was a new tradition to have a photo taken beside one old outhouse in a meadow overlooking the water in Cape Ray, NL. "Originally there were two outhouses there," says Paul, "and that's where my best friend got pictures taken when he got married a couple of years before us.
"We liked the spot and wanted to use the location for photos ourselves—but one of the two outhouses had collapsed."
13
Interesting options for honeymoons…and engagements. For their honeymoon, Marla and Adam spent five days paddling in the southern part of Kejimkujik National Park, NS, in their engagement canoe.
"We were there during the meteor shower [the Perseid Meteor Shower, an annual occurrence in early August]," Adam says. "It was absolutely spectacular to lie back and watch the show.
"We love to go on canoe trips so it seemed appropriate that when it came time to propose, I would do it with a canoe."
Adam wanted to surprise Marla with 16-footer—a plan that proved more difficult than he expected, in part because the canoe didn't fit in their house. "I took it out to the back yard and left a note for Marla to come back when she got home," he says.
Paul Pike proposed to Melissa on a ski day at Marble Mountain, NL. "About half way down the trail we were on, called Country Road, there's a short turn where you can stop. It's in the woods; it has a nice view over the hill—a really nice spot. That's why I chose it. "
~with files from Joanie Veitch
I do?
Confessions of a marriage commissioner
It began when I couldn't find a person of the cloth to marry two lesbian friends. In my search for a minister, I discovered I could become a marriage commissioner myself—I applied, paid $500, got my licence and married our friends on the deck of our beach house.
It was the first of many, as things turned out. I have been performing civil marriages in PEI for about five years now. I married one couple in the midst of a raging blizzard in our living room, and another in an apple orchard with bees buzzing. On one occasion, the day after Boxing Day, I married a young couple who had adopted Buddhism, certainly the only members of that faith in the Irish Catholic community of Kelly's Cross, then drove to Summerside to officiate at another ceremony carried "live" to the groom's family watching in Australia.
And then there was the wedding I shall never forget.
The groom was 63, with terminal cancer; he was slumped in his wheelchair and had an oxygen tube. His voice was so weak he could not utter the necessary responses, so I spoke them for him. He held hands with the bride—a much younger woman, and his caregiver—throughout the ceremony.
She had been looking after him for five years, and it was his wish that they be married before he died. I shortened the ceremony to lessen the strain on him, and pronounced the words that made them husband and wife. His eyes told me what happiness the ceremony had brought him.
He passed away the following day.
~Jack MacAndrew