Why not resolve this year to converse and exchange ideas?
THOSE IN THE "techie" generation tend to make "giving up" resolutions—spend less time on Facebook, socialize more in real life rather than online, watch less reality TV, and text people less.
Those leading a hectic lifestyle resolve to slow down—spend more time with family and friends, leave work on time more often, volunteer for a charity.
Those with addictions threaten to eat less chocolate, cut back on liquor consumption, quit smoking, and eat more veggies.
Those a touch jaded with their daily lives consider turning a bit wild—learn to ride a horse, sky dive, bungee jump, take a trip on their own...
The most popular resolutions made by older folks include: read more books, save more money, eat better/lose weight, drink less—and in contrast to the younger group, elders resolve to learn more about Facebook, Twitter, and texting.
We all make the vows, but (as George Bernard Shaw said), "hell is paved with good intentions…"—and those good intentions, of course, go to hell after a month of trying. It's back to daily wine tots, eating too much, and the exercise program is on hold 'til the weather improves. And that save-more-money resolution—forget it!
So here's a suggestion.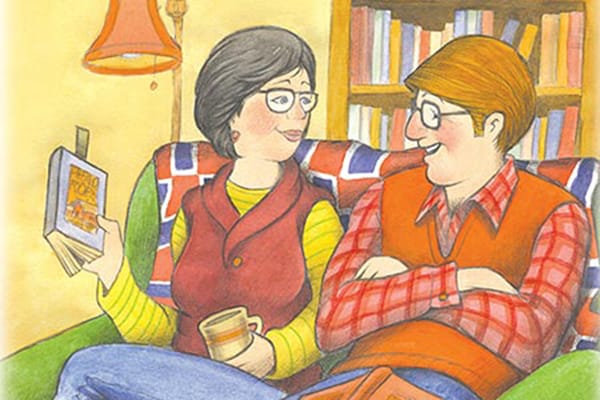 How about making a new and different resolution this year—develop the art of conversation. You can pick it up any time, and practise it most of the time.
What does conversation mean to you? Does it mean exploring ideas with someone? Or the mere exchange of words about a topic? This is a topic that has interested me for some time. And to me there is a difference between communication and conversation. Communication is the tool we use to make or keep contact with others. We can keep in touch with our friends by communicating on the phone, by letter, or in a host of other ways.
Conversation is the tool we use to build deeper connections, to learn more about and from others. Conversation is best when it is face-to-face. It's a two-way street and it goes beyond simply regurgitating or recounting experiences. It involves talking, listening—and courtesy.
How often have you been in the company of others and raised a topic, or made a comment, only to have the other person respond by describing their own experience with no acknowledgement of yours? For example, I might say "I gathered Irish Moss for my grandmother to make custard." A friend sitting at my table may then say "my grandmother was the best cook ever; she even taught my wife to make pie." See the subtle difference? In a conversation an answer to my comment could have been "did she pass along the recipe to you," or "Is there a season for Irish Moss?" or "Tell me what Irish Moss looks like." Each query leads to a conversation. Instead my comment allowed the other person to bring attention back to him. Conversation potential was lost unless I wanted to follow up on thoughts about his grandmother, his wife, or her pie.
When we are with other like-minded people we speak, share experiences, and enjoy each other's company. This is communication. I think of the many times I've been in the company of fellow fly fishermen. We tell tales of our fishing experiences, or talk about fishing gear, or the plight of the Atlantic salmon: all fish talk. One person will say something about his fishing year; the next person says something about his own. There is an unspoken thread and connection, a sharing and updating—but not a conversation.
To me a conversation includes the potential to learn something new. Or exchange ideas. It is not an opportunity to impress others. I recall one gathering of a group of fishermen: let me describe it…
There were eight or 10 of us at an end of season gathering, each enthusiastic about our own experiences. We had been through this same thing year after year! The wine flowed, the volume increased. My voice is too weak to compete with male voices, and every person was anxious to interrupt the current speaker. Chaos! Then the voice of one of us boomed out: "I was thinking of the word 'grotto' today. What does that word mean to you?"
After a moment of stillness the more intellectual and witty side of my contemporaries came out. Fishing tales were put aside; wisdom and witticisms emerged. A conversation started and it was fun!
Another friend has an eager curiosity about life and people. She has the ability to get a person talking about him or herself and the conversation invariably engages in self-discovery for both. For example, she asked me once, "What do you see as some of the problems of being raised in a small town?" She appeared genuinely interested in my response, and together we delved deeper into the topic. It was a good learning experience for me because I always think of the pleasures of my small town upbringing, not the problems. It was good for her to hear my thoughts because something had been bothering her about a member of her own family in a small town.
The golden rule of having a conversation with others is "don't interrupt." Listen, don't talk until it is appropriate to do so. My now deceased husband was an inveterate interrupter… I worked on him to get him to take deep breaths and wait. It worked. He stopped interrupting when he wanted to say something. Then he developed his own strategy that went beyond taking deep breaths. When he started picking his pants at his knees, taking many short breaths, and I saw the twinkles at the corners of his eyes, I knew that he was dying to speak! It was fun watching him.
That same husband and I developed a mechanism to have wonderful conversations. We both liked to read a lot, but different types of material. After the initial bloom of living together, we found that we would have a quick dinner then sit down to read. No conversation. So we changed that. We read aloud to each other instead, one book of his liking (mystery and intrigue), one of mine (non-fiction or Canadian authors). That worked and we would have conversations about the books. Then we added a new component. We each scrounged clippings from the newspaper, or magazine, that prompted us to develop and discuss our opinions. That worked like a charm. I recall many evenings going well past our bedtime so we could continue the discussion of a topic. How I miss that routine! If he were still alive today we would have more podcast options to introduce topics, thanks to the Internet.
The Art of Conversation: Simple Rules
Get people to share their wisdom
Raise topics of common interest
Mind your manners and extend courtesy
Explore the ideas within or behind a topic
Don't anticipate the ending of someone's story and finish it yourself
Listen with an air of interest and attention
Don't interrupt
Stay positive; try not to be critical, negative or gossipy
Don't do all the talking
Avoid boasting; don't be pompous about money or people in high places
Don't try to hold the floor, don't be tedious
I'm sure that you may have suggestions of your own. When you fall back on those New Year's resolutions, don't give up and don't feel a sense of failure. Remember you have the Art of Conversation to fall back on. Happy talking!