Small mouth bass being no exception
I CLOSE my eyes and I can hear the sounds of fishing: the cast; the splashdown of the lure; the smash of a take; the excited cry of "fish on;" the splash and the jumps; the reluctant scream of the drag; the chattering voices as the fish is brought to the boat and landed; the click of the camera, and the silent decision to let it go…
Then happy, excited voices getting ready to make more casts with heightened optimism.
I open my eyes and look out at the northern smallmouth bass lake on which I fish and guide. Suddenly I feel that, as a fisherman, I am in the right place at the right time.
A great fishing trip is like a well-prepared meal—it always ends too soon. There are many things that come together to make those memorable trips. As a guide, my job is to be aware of them, and to try to bring as many of them together as possible. In a well-prepared meal, it's the ingredients that make the difference.
So it is with a fishing trip—and the fish itself is the prime element. The fish should be attainable by everyone involved. It should reward experience and skill with larger and more fish, while not discounting the novice's efforts by offering an occasional lunker. The smallmouth bass meets, and in most cases surpasses, these prerequisites.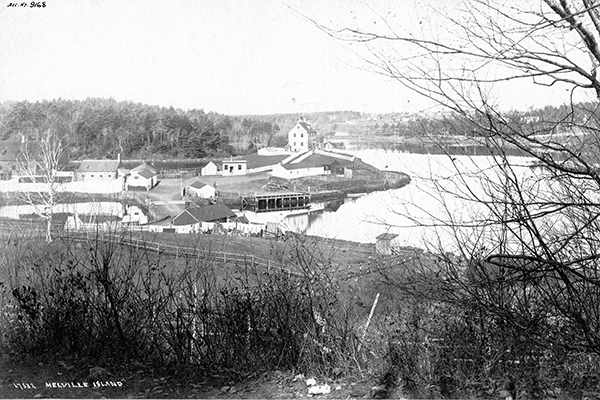 It has been said that most times fishermen will forget the fish they catch, but not the water they catch them in. To believe this is to understand that the images we take of ourselves holding a prized fish will be, in the future, pathways to memories of beautiful places and happy times. If fish is the prime element in the fishing trip, the water and surroundings are second—a close second…
I have heard repeated many times that there is more to fishing than fish. For the pleasure is not so much about fish, as it is about where wild fish live. They live for the most part in beautiful places, where there is an abundance of other wildlife to look upon when the fishing slows down—as it always does.
I recall a couple from Texas. Upon their arrival, the tackle that was assembled showed me these were serious and experienced anglers. My initial impression was right on: they could certainly fish and soon they were rewarded.
The lake where we were fishing has some floating bogs, which at the time had a number of wildflowers in bloom. I mentioned the orchids that were native to our area and showed the couple the plants. The next thing you know we were exploring the multitude of wildflowers that covered the bogs. We found some I had not identified, and every day we went out the flora and fauna of the lake was explored and admired. We also caught fish—but our enjoyment was in the balance of our day.
In a healthy smallmouth resource, taking a few in the morning for a shore lunch does not adversely affect the population. I have noticed over the years that the most photographed event in a day is not the fish itself, but the break in the day in which the shore lunch is prepared and enjoyed—especially if folks are involved in the preparation, consuming and cleaning up after the meal.
I was guiding a father and young son on a fishing trip last year and the father asked his son how he had enjoyed the trip. The son said, "I thought we would catch more fish!" I told him that was his father's fault because he had booked a "fishing" trip, when he should have booked a "catching" trip. You will appreciate this if you have taken young people fishing and understand that they tend to be impatient and lose interest quickly.
But it only takes a few small smallmouths to bring back their interest and enthusiasm. The wonderful thing about smallmouth bass is that this is not an unattainable goal, under most conditions. The trophies are, however, more difficult—as they must and should be—and it was trophies that the father in that story was seeking.
It is important when you set out on a trip that you understand what it is you want to achieve. It may not be what you thought it was; it may change mid-stream, but smallmouths will fulfill your expectations most days.