All the neat stuff you can do without a fishing licence
IT'S A question I've heard many times from visitors we welcome to our seaside home. Where can we fish and for what without worrying about licences and laws we're not familiar with?
Last summer, it was a family from Paris, France—a mom with two teenage boys—who were chomping at the bit to wet a line. Answer: mackerel off the local wharf. I loaned them a couple of fishing rods and gave them directions. They were thrilled to mix with the locals and land a few mackerel. Their mom, a great cook, fixed them a fish fry. The boys went home with a lifelong memory and bragging rights amongst their Parisian friends.
It's a perfectly reasonable question. Whether I'm a visitor or a resident, what do I have the freedom to fish for in Atlantic Canada? The trouble is, there's no easy way to sort out the laws, the levels of government involved or the species available for recreational fishing without a licence. To start with, the federal Department of Fisheries and Oceans (DFO) oversees all recreational fishing in Newfoundland and Labrador. In the three Maritime provinces, inland fishing is under the jurisdiction of each respective provincial government, while tidal water fishing is administered by DFO. And then there's the very long list of regulations regarding seasons, closed areas (both permanent and occasional) gear types, bag limits, size limits and, of course, species.
To help the recreational fisher sort out what's allowed and what isn't, the federal Department of Justice has posted on its website a document called Maritime Provinces Fishing Regulations and another called Atlantic Fishery Regulations to be viewed on line or downloaded. They're long, written in legalese, and apply to both commercial and recreational fishing, so they're not exactly your user-friendly pocket references. On the bright side, they do contain all regulations (except seasonal closed areas for species like clams) and the downloaded versions are searchable. As well, most provinces offer free angling handbooks to sort out the inland water regulations.
Here's an abbreviated species by species account of what hundreds of pages tell us about what's allowed.
Mackerel
As with my visiting Parisians, mackerel is the easiest fish to recommend because it's the species freest of regulations, the most plentiful and maybe even the easiest to catch. Neither residents nor visitors to Atlantic Canada need a fishing licence to catch them with rod and reel either from a boat or a public wharf or anywhere else fishing is permitted. There is no bag limit, but there is a size limit—no less than 25 centimetres (roughly 10 inches). Mackerel are fun because they're easy to catch, they're plentiful, they put up a pretty good fight, and they're delicious—and as oily fish they're good for you. While other regulations do apply to mackerel, as long as you're fishing in a legal area with a rod and reel, you're free to do so without a licence anytime for as long as you want.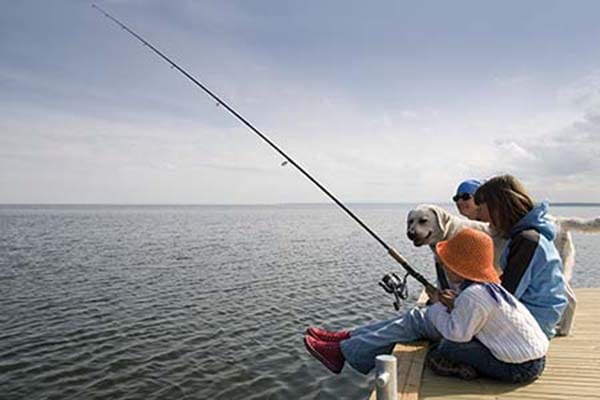 Smelt, gaspereau, squid and capelin
Angling, and in some places dipping, for the little silver-sided white-fleshed fish known as smelt (so good rolled in seasoned flour and fried quickly in a little butter or olive oil) is permitted without a licence. This is the species most often fished through the ice in winter. But there are important restrictions, namely seasons and closed areas. For example, smelt are off limits in June and July in the Maritimes. The bag limit is usually 60 per person per day. As with all species, it's important to check those two Justice Department documents to determine exactly which regulations apply to fishing for smelt in your area.
Anyone who knows the pleasure of a plateful of crispy calamari will certainly want to try for a few squid. DFO recommends using hook and line rather than the famous squid jig—a weighted bob circled in damaging barbs. There are no daily catch or size limits on squid or capelin and no closed seasons for recreational fishing, though learning where and when to fish is an acquired skill.
A close relative of the smelt, capelin beach themselves in huge numbers during spawning in early summer. It's a famous phenomenon in Newfoundland and Labrador, but takes place to some extent in parts of the Maritime Provinces whose waters include the St. Lawrence Estuary. Newfoundlanders pick up buckets full of beached capelin during the annual spawn, but they're not an angling fish. Similarly with gaspereau, or "kayak." A common sight on some rivers in the spring is a crowd of recreational fishers with wide dip nets scooping up this relative of the herring, so delicious when smoked.
Groundfish
Some groundfish are open to recreational fishing: cod, haddock, flounder, pollock and even the small shark called dogfish. While these species can be fished using hook and line without a licence, strict regulations apply and differ from area to area. Halibut are off limits, period. Depending on the area, the daily bag limit for all species combined is five to 15. For the Gulf of St. Lawrence region and Newfoundland and Labrador, the long standing moratorium applies, so licence-free recreational ground fishing is limited to certain time periods, areas and bag limits. It's important to check the Atlantic Fishery Regulations or call the nearest DFO office to find out exactly which regulations apply to the place you want to angle for the makings of some fresh fish and chips.
Shellfish
Digging for clams is one of the most satisfying of family fishing outings. Even the youngest toddlers can pick a clam out of a hole dug by a parent. And a clam boil on the beach is easy and fun. But knowing where and when to harvest is a challenge. Some visitors choose to go with a guide. Bill Kendrick of Experience PEI offers digging activities with experienced clam harvesters.
"People like to learn how clams are harvested here on the Island," he says. "They learn how clams grow and how to clean and cook them." One of Bill's youngest participants said after her clamming experience that she enjoyed PEI more than Disneyland.
Experience PEI's fishing outings include Happy Clammers, Digging for Dinner, Giant Bar Clam Dig and Get Hooked (deep sea fishing, including mackerel). Those participating in the Giant Bar Clam Dig have to get into wetsuits and wade around waist deep on sandbars. The quahogs and bar clams they collect are tossed onto the barbeque. "As soon as they open, they're done," says Bill. They're served with a little Worcestershire Sauce, lemon or seafood sauce. Soft shelled clams and razor clams are steamed on the beach and served with a little butter for dipping.
Along with mussels, all these species can be collected without a licence. Seasons, minimum size limits and daily catch limits (usually 100 to 300) all apply when harvesting in the Maritimes. In Newfoundland and Labrador, there are no regulations except for closed areas. And knowing which areas are closed anywhere in Atlantic Canada is vitally important. Some areas like Halifax Harbour are closed permanently. Others are closed periodically because of red tide and other seasonal issues. Toxins found in shellfish in closed areas can be deadly, so it's vitally important to check with DFO.
Special exceptions
Both inland and tidal waters of Newfoundland and Labrador come under the jurisdiction of DFO. Any resident can fish for trout in that province without a licence. Non-residents need one. The province offers a special family licence that allows children under 18 to fish on the same licence as parents or grandparents.
Young people can fish much more freely than adults. In most waters open to fishing, anyone under 16 can do so without a licence, even for those species that require registration, as long as they're accompanied by a licensed adult. Atlantic salmon is an important exception. All the other regulations apply equally to youngsters and adults.
If all this seems confusing and you just want to try angling, there's always the twice-annual special fishing weekends when anyone can fish inland waters without a licence. New dates are announced annually and there are some restrictions, so it's best to check with the appropriate provincial fisheries department. In Newfoundland and Labrador, the equivalent is National Fishing Week, this year July 5-13, when the whole family can wet a line to see if angling is for them.