Things happen when town and gown come together in Wolfville
From the arrival and departure of Acadia University students, to the tending of grapevines, the migration of shorebirds, and the ebb and flow of the world's highest tides, there's a rhythm to Wolfville, Nova Scotia that's hard to resist. Add to that a fertile valley flanked by 17th century Acadian dykelands, a scenic, 250-acre university campus, an extensive network of nature trails and a picturesque main street and you have a place that was described by the National Post recently as "a town you want to pick up and hug."
"There's something very special about Wolfville with its tree-lined streets and community spirit," says produce entrepreneur Pete Luckett. "It's the kind of town that no longer exists—except in Norman Rockwell paintings."
A diverse community separates Wolfville from the homogeneous images Rockwell created for The Saturday Evening Post, but Luckett is on the mark in describing a charming, small town vibe that harkens back to simpler times.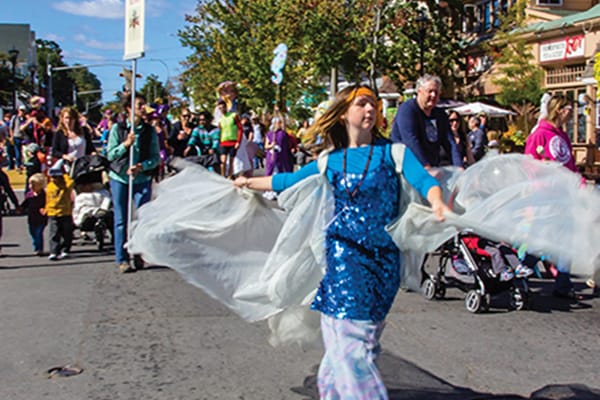 "Just don't go for a walk on Main Street if you're in a hurry," cautions Wolfville mayor Jeff Cantwell. "You have to stop to exchange a few words with everyone you know, so it takes a long time to get anywhere. It takes me even longer because I have to stop to talk about potholes."
Joking aside, Cantwell is visibly proud of Main Street, readily ticking off the attributes that earned it a place as first runner-up for the Great Street Award in the 2015 Great Places in Canada contest. His list includes historic buildings, bed and breakfast facilities, fine dining, brewpubs, funky cafés, distinctive shops, sidewalk patios, bike lanes, a cinema, an art gallery, and sprawling views of the Minas Basin.
"And that's just Main Street," he exclaims. "Let's not forget some of the other things that make this town unique." This list is even longer, and includes the Saturday Farmers' Market, Wednesday night market dinners, visionary citizens, the Blomidon Naturalists Society, Acadia Cinema Cooperative, and Wolfville Magic Winery Bus, a British double-decker that whisks riders around Wolfville wine country, stopping at Domaine de Grand Pré, Luckett Vineyards, L'Acadie Vineyards and Gaspereau Vineyards.
Festivals make the cut as well, with Cantwell singling out two for special attention: Deep Roots, an annual music festival that attracts the likes of Matt Andersen, David Myles and Sylvia Tyson; and Devour! The Food Film Festival, a jam-packed five days of film, food and wine held at the Al Whittle Theatre on Main Street and other venues all over town.
There's no question that Wolfville is vibrant. Happily, it's also a place where people from all walks of life pull together on everything from environmental sustainability, accessibility and fair trade coffee to human rights, tobacco bans and roosting sites for endangered birds. Also impressive for a small town in a rural part of the province, there's a spirit of inclusivity that's as evident in the L'Arche community's support for people with developmental delays as it is in the Acadia S.M.I.L.E. (Sensory Motor Instructional Leadership Experience) Program, an innovative physical activity program in which Acadia student-volunteers provide one-on-one instruction for people with disabilities.
Tolerance and respect
Of course it hasn't always been this egalitarian. Once known quite aptly as Mud Creek, Wolfville traces its beginnings to the early days of colonization in Atlantic Canada. Settled by the French (later called Acadians) in the 17th century, and resettled by New England Planters after the 1755 expulsion of the Acadians, the town changed its name in 1830 at the urging of two socially conscious citizens and their obliging postmaster uncle, all of whom happened to be members of the DeWolfe family. The town was officially incorporated in 1893.
Acadia University brought an ethos of religious tolerance and respect when it opened its doors in 1839, but with only two faculty members and 21 students, it didn't bring much in the way of a population boost. Ranked by Maclean's magazine as one of the top liberal arts universities in Canada, a full-time enrollment of almost 4,000 nearly doubles the Wolfville population of 4,500—a bump that pays off for the town in a broad range of offerings in the arts, recreation and natural sciences.
"They say a high tide raises all ships," says Cantwell. "In Wolfville, that high tide is Acadia University. Economically it drives the town, and we all benefit from research expertise in fields such as marine mammal navigation, coastal ecosystems, entrepreneurship, the wine institute, tidal power, data mining, digital technologies and healthy lifestyles."
University benefits
Wolfville may be small enough that locals give directions by telling newcomers to turn right just before Alex Colville's old house, or left at the tree where the eagles once roosted, but thanks to Acadia, the town has all the amenities of a big city.
Wolfville residents enjoy a host of recreational resources at the Acadia Athletic Complex, including an Olympic-sized ice surface and swimming pool.
Community access to the six-acre Harriet Irving Botanical Gardens and KC Irving Environmental Science Centre's greenhouses, lecture theatres and conservatory is also good news. A memorial gift from the Irving family in honour of Acadia's distinguished alumnus Kenneth Colin Irving, the facility includes an environmental research facility lauded by The Huffington Post in 2015 as one of the "Most Eye-Catching Campus Buildings In Canada."
On a mild Saturday morning in mid-November, Jill Davies reads the paper and enjoys a coffee in the Irving Centre's Garden Room. There's comfort in the overstuffed leather chairs, in the glowing embers of the cavernous Rumford fireplace, and for Davies, in knowing someone at almost every table. "There may be seven degrees of separation in most parts of the world, but not in Wolfville," says Davies, who retired recently from her role as a counsellor in Acadia University's student resource centre. "One of the things I love about Wolfville is feeling connected, and I also love that it doesn't happen at the expense of culture."
Davies and her husband, Wayne Woodman, a transplant from Newfoundland, usually attend at least one performance a week. Their tastes are eclectic and the opportunities are broad, so they take advantage of everything from jazz concerts and Shakespearean plays to modern dance and Turko-Balkan dance music.
Upbeat and on tempo
No stranger to show business, Davies has spent much of the past year preparing to mount a play that draws on the connectedness she values. Scheduled at the Al Whittle Theatre for March, Feelin' Groovy is an upbeat look at aging using the music of the 1960s. "Which is exactly what we're doing," says Davies. "Everyone in the cast is over 60 and the play is fairly short, so anyone with bladder problems will be able to make it through both acts."
Those who know Jeff Cantwell—which is almost everyone—won't be surprised to see their mayor take to the stage as a cruise ship captain, among other roles. "Type casting," says Davies. "I knew he was right for the part when he walked away from our first meeting snapping his fingers and singing the theme song."
Cantwell is the right vintage to know the words to a Simon and Garfunkel song, yet like many of his fellow thespians, he still feels too young to be cast as a senior. But then again, that might be what happens when 4,000 young people skew the demographics of a rural community and help to keep an aging population "lookin' for fun and feelin' groovy."