Getting to know Annie Leroux
AFTER LIVING in five provinces and in the US, founding a soap company and creating the PEI Antiques Trail, Annie Leroux renovated an old church in New London, PEI, where she opened Annie's Table and Culinary Studio. Visitors to her studio cook with chef Norman Zeledon, and meet the Islanders who produce the ingredients. She lives across the street from the birthplace of Lucy Maud Montgomery, in the house that once belonged to the midwife said to deliver the famous author. Saltscapes spoke with Annie Leroux about antiques, lobster boats, and acceptance.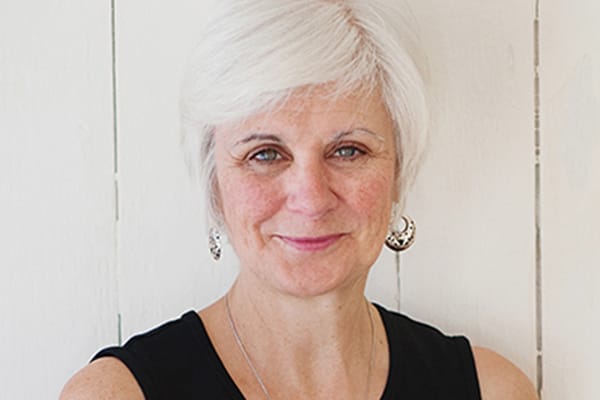 Q Where did you learn your love of cooking?
A My mother was a great cook. We had chickens and huge gardens. She was the matriarch of the family, my role model—a very strong woman in a soft way.
Q How did you find your way to PEI?
A I was living in Edmonton. A friend had been to PEI, and said, "Oh Annie, you've got to see it… you'd love it." I spent two weeks here, met a real estate agent and asked her to take me around. I bought a farm house, which my husband didn't see 'til we moved that June. Within a week I had chickens. That was 2007.
Q What was the first thing you did?
A The second day after moving here I went to an antique auction, and I was hooked. I built and opened an antique store and started doing all kinds of experiential things—classes on mosaics, taking people clamming, giving classes on how to make bread and mozzarella cheese. I put in lavender gardens and taught how to cook with lavender. I've always had this passion about food and learning. PEI is conducive to that.
Q How did you end up in New London?
A A few years ago, my husband and I separated. I got to choose something I really wanted for me, and this historical little home spoke to me. I heard the church was for sale—I bought it, not knowing what I was going to do with it. Once I got to know the area, I realized it had to be something to do with food because it plays such an important part in this rural community.
Q Explain the concept behind your cooking studio.
A We teach people how to cook, but also about the people behind the food. In rural PEI, we're located where all the food sources are. I have an oyster fisherman across the street. Another neighbour is a lobster fisherman. Next door is one of the largest potato farms. We bring these producers to our classes. In terms of cooking and teaching people about our foods, I can't think of a better place to be.
Q What do you enjoy most about rural Island life?
A I love to walk. Last year, I remember walking early in the morning. I didn't realize it was setting day. There were all the lobster boats overflowing with lobster traps. One of them was called Hope She Floats. There's always something to engage you on the Island—the scenery, the people, the food. It has the farms, the ocean, the rural landscape, the history. It's ripe. Its time has come.
Q Do you feel you belong on PEI?
A People say you have to be born on PEI, but I feel like I belong. It's heart-warming how they've accepted me, my neighbours. They've been here all their lives. They've got friends, community, church. There's such a sense of community. If someone's in need, everyone gathers round. It's like you've gone back a hundred years. I knew the minute I visited here, this is where I was going to call home.