With a vision that extends beyond the present, Local Valley Beef's Cedric MacLeod produces grass-fed beef and thinks about the next generation
WHEN CEDRIC MacLeod saw a broken down potato farm in Centreville, New Brunswick, he couldn't pass it by. He purchased the property on impulse, believing one day he'd bring it back to life. While enrolled in pre-veterinary studies, MacLeod took a class in conservation tillage on a whim, "I recognized the sustainability place was where I needed to be, so I switched my major that afternoon to soil science," the 38-year-old recalls. In 2003, he planted the seeds that would eventually become Local Valley Beef, a self-sustaining business that's growing in profitability, and boasts a growing herd of prized black Angus.
The 105-acre property in Centreville had been overgrazed and overplanted for decades. MacLeod plowed, amended the soil, then planted corn and soy the first year. When early frost turned his corn crop into high-moisture, low-grade feed, he knew he had to do something different if he wanted a sustainable, economically viable farm. So he purchased his first six cattle, and since then has developed his herd from lessons learned in soil science.
"Soil health is a key to sustainability," MacLeod says, "Through my undergrad and graduate school training, I developed an understanding of how important soil health and conservation is in the current day and more importantly for the next generation." He describes his method as a way to maintain soil health, which, he says, is fundamental to high performance production output. High quality forage output with low labour input is MacLeod's specialty, "It's a $1,500-a-year expense to keep the pastures in high performance shape. I really have found my groove as a grass manager." He's also found it as a producer of quality, grass-fed beef that's boasting a small, but noteworthy profit.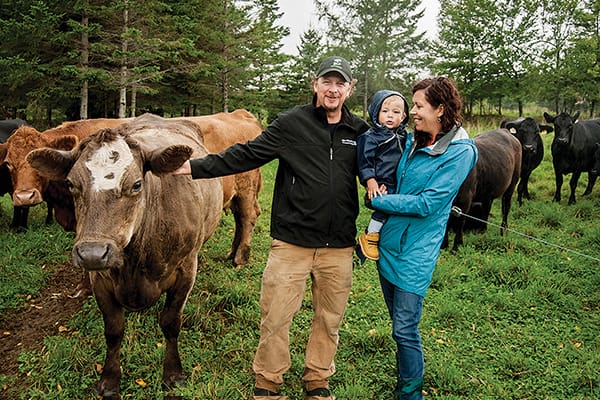 MacLeod's herd of grass-fed cattle are moved every three days, ensuring the health of the pastures, and better beef production. This also keeps them from being bothered excessively by flies, eliminating the need for pesticides. Solar powered, portable electric fencing allows for easy movement of cattle from pasture to pasture. He gets a little help from the herd leader, a doe-eyed Simmental/Angus cross—the only member of the herd to have direct contact with the farmer. "She comes when we call her and the rest follow," he says. MacLeod's herd is healthy and happy year-round on the land, with minimal need for protection. He develops his herd by crossbreeding with Ayrshire, which, like the Angus, has inherently tender meat and does well on pasture. As his market grows, developing partnerships with other farmers and businesses is crucial.
Making ends meet
Local Valley Beef has gone from selling one cow a year to two a month. Direct marketing sales were once the bulk of the business, but now only make up 25 per cent. The remaining 75 per cent is a wholesale partnership with Real Food Connections, a business specializing in locally sourced food, and the Crowne Plaza Hotel, both in Fredericton. This has been the impetus for expanding the business, "I would never have been able to keep up with the direct marketing demand. And now the Crowne Plaza stresses our inventory, but that's a good thing. It's allowing us to grow the herd." By working with institutional clients MacLeod can focus more on production and less on marketing, helping to increase the profitability of Local Valley Beef.
Working off the farm is as much a choice as a necessity for the MacLeods. Alanda—MacLeod's wife—is a manager for the department of tourism and a mom, and MacLeod's an agricultural consultant. "We're about as stereotypical a family farm as you can get," he says, "Dad's farming, workin' his guts out, not sure why he's doing it, but every once in a while you have an epiphany. Mom's holdin' down the fort with the steady job, and a paycheck, and raising the baby." Alanda doesn't have much time to help on the farm anymore, but MacLeod's quick to acknowledge his appreciation when she does, "We had a fantastic session this summer. I was baling silage, she was raking for me, and I thought, 'this is it'. Me and momma bear out getting this done, baby's nappin' [with the grandparents], and she's just doing a fantastic job. I can't even imagine how I would function without her support."
What is unique about the MacLeods is they also live off the farm closer to their jobs. Pastured livestock and an automatic watering system makes this possible, which frees MacLeod to pursue other ventures.
Looking to the future
When asked if farming is a lifestyle choice, MacLeod bristles, "Calling it a lifestyle is an excuse to justify the time we put in and the lack of profitability we have." However, the whys of farming have become more poignant since the birth of his son, "This place was a broken, but beautiful piece of property. If I can leave him something in better shape than what I found it, and he can do something special with it, what more can I do?"
MacLeod's intent has never been to work full-time on the farm, and his vision expands far beyond his own acreage. The average age of farmers in the province is 56: he believes the need to attract new, younger people to the industry is vital to future food security. MacLeod's latest epiphany came while listening to a commentary on the need to double world food production by 2050. "My son will be my age by then, with the same set of eyes," he says with tears in his own. "I have a new mission: There's 150,000 acres of abandoned farmland growing up in spruce trees across New Brunswick. Our forefathers used axes and horses to clear that ground. In 35 years we'll desperately need those acres. We're not fulfilling our obligations to the next generation."
MacLeod envisions a model of farming that connects existing operations with would-be farmers who don't have the capital to invest. He's looking for a junior partner for Local Valley Beef who has the vigour to make it more profitable, and who will take personal ownership in it. "Then we can go to the next farm and the next one. Or go work with the folks on those 150,000 acres that need to be brought back to life before we lose them to the forest," he warns.
As the former chairperson of the New Brunswick Cattle Producers, vice chair of the Centreville Chamber of Commerce, and one of the founding members of Young Farmers of New Brunswick, MacLeod is well positioned for the task. But he's pushing against established models of doing business in the province, "We need fresh thinking, but the leadership in place today is often chasing a memory, not looking to a vision." MacLeod knows he can't sit idly by and wait for someone else to take up the challenge, "I fear for my boy's future. We need to face the truth about what we're up against. We can't do this alone; we need each other and a common vision for the future to drive our actions."
MacLeod is a pragmatic visionary who embraces new ideas, and a wealth of knowledge for new and old farmers alike. He has a deep, almost fatherly concern for the members of Young Farmers, nurturing and mentoring whenever possible, "Many of them are in emotional anguish. I've been fortunate to fine myself in a position to support young farmers who are struggling through farm succession planning."
Committed to being a part of the solution to the pending crisis in farming, MacLeod's visionary outlook and dogged determination will no doubt move mountains.
Black Angus
Black Angus cattle are a hearty, docile lot originating from Scotland where they learned to adapt to harsh winters. Angus beef is prized for its marbling, and they have a reputation for finishing well on grass. Both characteristics produce a more valuable end product according to MacLeod. They have small frames, typically mature earlier and are naturally polled (hornless). Small calf sizes means crossbreeding is a common practice to help keep the stock robust. The first black Angus were introduced to North America in the late 1800s.
Field marshall
Growing high quality forage means regular replanting in pastures. MacLeod reseeds to push production by frost seeding, letting nature do the work, "The frozen soil contracts. Then as it warms, it opens. The frost action moves the scattered seeds from the surface into the soil." Cattle then graze on existing grasses, giving the younger grass a chance to grow.
Sunny side up
As with most of MacLeod's farming decisions, the choice to go solar was a practical one. The herd's shared water supply was cut off for two days without MacLeod's knowledge, pushing him to put in his own. He called a friend in the solar business that day, and by the end of the week had a newly dug well and solar system in place. "Power poles would've cost us about $50,000 and then we'd have a power bill," says MacLeod, "It was $15,000 in total and has run seamlessly ever since." Although a decision made during an emergency, MacLeod highly recommends the set up for other farmers, "We're self-contained. And a 100 per cent solar run business is a nice marketing bid."