Be prepared: a good motto for scouts, and novice family historians
Atlantic Canada enjoys a relatively rare North American advantage as both the home of many people with ancestry across the ocean, yet also the place from where so many people in our continent originated. Consequently, people from here travel to the British Isles and Europe to try to learn more about their ancestry. By the same token, many an American and Canadian comes here on a similar quest, letting local genealogists and archivists see whether or not aspiring family historians have done their homework.
A novice often imagines the task will be easy. Some rely so exclusively on surfing the 'Net they overlook critical sources, which have not been put online. Others harbour the hope that they can breeze into another country or province and the answer will be waiting for them in a file or book. Regrettably it doesn't work that way in many, probably most, cases.
Prep work is key
A visitor enters a library or archives, or perhaps calls up a local genealogist, and announces that their great-grandmother Peggy MacDonald came from Nova Scotia. The hoped-for response is that we know all about Peggy and have her family tree near at hand. The reality is explaining that there have been legions of people named MacDonald hereabouts for the past 250 years, and that Peggy or Margaret was not a rare name among them. Ask for more information about the woman and learn that she married Bill Jones in Boston about 1865. No help there. Had they any idea where in the region she came from. Cape Breton? Then hope is crushed when they hear that there may have been more MacDonalds to the square mile there than almost anywhere else in the Maritimes.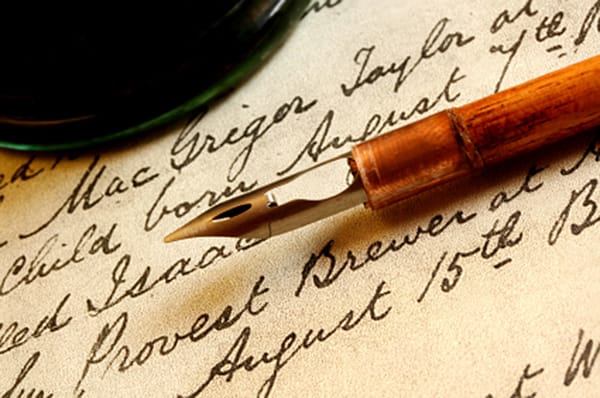 If we become the searcher entering a facility in Ireland or France, England or Germany without adequate preparation, we appear just as unready as the person seeking a MacDonald.
The three Ws
Anyone who proposes to seek roots in a distant place needs to move heaven and earth at home attempting to learn answers to three questions: who? when? where? Firstly, what was the name of the migrant in both English and the language of origin? Secondly, when, at least approximately, did that person emigrate? Thirdly, is there any way you can narrow down the specific place of origin?
As to the person's name, learn all you can from the available records. Peter Cook may appear in older records as Johann Peter Koch. As to when someone migrated, scour the documentation here to get as precise a year of arrival as you can. One way to focus on the place of origin is to study books or websites about surnames in the homelands. Or compile a list of any names closely associated with the original immigrant, as one or other of them may be a name more easily tied to a specific location.
The odds of finding help and of a successful search improve with each additional piece of information you can add to what is known about the individual you're researching. If Peggy MacDonald had a brother Hector who stayed in Cape Breton and had a family there, you have a potentially useful piece of the puzzle. If you find that she was a Presbyterian that may reduce somewhat the places where her family had lived. Did anyone ever mention whether she spoke Gaelic? What were the first names given her children? Is there a record of her death that mentions parents or states a definite age or birth date? Did she even become an American citizen? Each question you can answer improves your chance of getting somewhere. It follows the time-tried principle that the more you know the easier it is to find out more.
England had a king known to history as Ethelred the Unready. While we think of unready as being unprepared, the original meaning was that the Saxon monarch did not heed advice. Please don't become another Ethelred. Do your genealogical homework here before venturing elsewhere. If you don't do that, I can only hope that your forebears came from a place with great scenery and interesting cuisine. Then your trip won't be a waste of time and money. Happy hunting!
Dr. Terrence M. Punch is a Member of the Order of Canada. His latest book, Montbéliard Immigrants to Nova Scotia, 1749 - 1752, is available in a revised edition from genealogical.com.