Getting to know Allyson Trainor
ALLYSON TRAINOR is the kind of 22-year-old who could inspire a generation. Now at McGill University in Montreal, studying speech-language pathology, she recently graduated from UPEI in psychology and English. But it's her volunteer work that makes her such a stand out, most recently in mental health at two PEI hospitals. Naming her their winner of the 2015 Young Humanitarian Award, the Red Cross in PEI said she "is an active global citizen and her commitment to helping others locally and abroad demonstrates the humanitarian spirit we seek to recognize." Saltscapes spoke with Allyson about her extended PEI family, the ethics of volunteering overseas and connecting with people.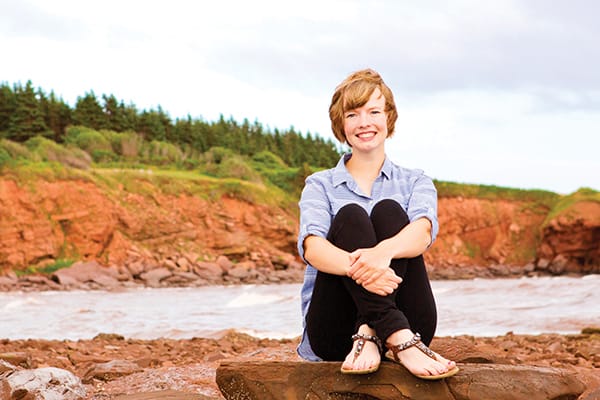 Q Do you consider yourself an Islander?
A My grandparents on both sides and my parents are from PEI. We used to come here every summer. I grew up in Petawawa. My dad was in the military, the Royal Canadian Dragoons, and went on tour to Bosnia and Afghanistan. He got posted to PEI when I was 15. Now it's home.
Q What do you remember of your childhood summers in PEI?
A My grandparents on my dad's side live a walk away from this beautiful beach with sand dunes. Me and my sister would walk up and down the lane. It'd be completely covered with wild rose bushes. Every time I smell wild roses, it takes me back to those sun-soaked days.
Q What got you interested in volunteering?
A My father's work as a peacekeeper definitely influenced me, as well as my mother's strength and independence while he was gone. My parents are heroes to me. They gave me a desire to help others.
Q Why do you like volunteering for those hospitalized with mental illness?
A I have people who I love dearly that have struggled with mental health. I have had low points in my own life, especially moving to PEI and feeling friendless. I think that is why I wanted to connect with people on a social and psychological level.
Q You recently volunteered for a month in Sri Lanka to help people with mental illness. What did you learn from the experience?
A There's a story I've heard—maybe a legend—where volunteers help build a school. But every night, the citizens of the town have to tear it all down and put it up the right way because these kids have no idea how to build a house. It's a big worry I had. Am I really helping these people or am I doing it just for myself? In the end, you focus on the people. It was a very positive experience in Sri Lanka, even though it was very intense at times. I learned that I want to be in a helping field, but not psychology.
Q Why should young people volunteer?
A Volunteering is really good to get you out of yourself, to realize you're not the only one in the world. You can become part of something bigger than yourself. It's important to building the community and to building yourself.
Q What have you learned about yourself?
A I am independent and can do anything I want to do. After volunteering—especially after Sri Lanka—I feel so much more confident in my abilities to cope with things. I've learned I never want to stop helping people.
Q What one thing would make the world a better place?
A Understanding. People talking to each other. Technology is great, but especially with people my age, it can be an excuse not to connect to each other. That's what it's all about—connecting with people, learning their stories, making your world a bigger place.