"I was in charge of probably the only firefighting operation in the world that had six or seven departments from different countries working under me. That was an exciting time"
Dave Massie grew up in tiny coastal communities in Labrador and the north shore of Quebec, before settling down in Happy Valley-Goose Bay, where he found his true calling—working as a firefighter and fire chief for 46 of his 81 years. (Two of his brothers became fire chiefs as well, while three other brothers were pilots.) A father of three, he is now retired and lives at the western end of Lake Melville with Hannah, his wife of nearly 60 years. "It's a fun place to live," he says. "We're not overcrowded. We got lots of room to move around."
My father was a Hudson's Bay Company manager. He came over from Scotland when he was only 18 years old. Back in those days you had to have permission from the company to get married, and he got married in August of 1933, after he had worked for them for two or three years. The only place they had with a post for him was in Hebron, so he went up there.
I was born in 1934, in St. John's, and the following year we went back to Labrador. I grew up on the north coast. We went to Nain, and then from Nain to Nutak, and back to Nain again.
The Big Land
It was a good place to grow up. We enjoyed it. We had lots of activities, and there were a lot of children there. There wasn't a big crowd—probably about 20 families in most of the places. Nain was the largest place we lived in. Probably 100 families at that time.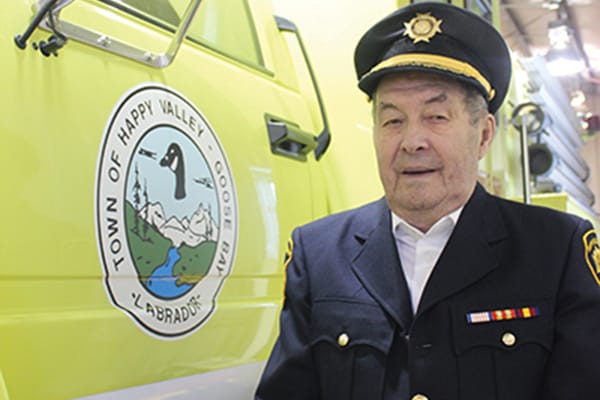 We'd go out fishing, play on the beach in summertime and go outdoors sliding in the wintertime. The Hudson's Bay Company used to buy sealskins—the people would bring them in cleaned, but after a while in the heat of the store I guess, some of the grease would come out into the fur. There was a bit of a hill back of the house and the store, and my father would get us to take the sealskins outdoors on the bank. Lots of us kids would slide down the hill on them to clean the grease off. We didn't realize that we were working for the Hudson's Bay Company and helping them make more money on their sealskins. We just thought it was great fun.
My father and mother had 11 children. I was the second oldest. We were always outdoors, playing around with something. We didn't mind the weather at all.
I remember one time we were in Nutak and the store chimney caught on fire. I was looking out through the window and I saw this black stuff blowing by the house. My father come rushing over, looked out the window and said, "Oh my gosh, the store is on fire." He got the fire out with very little damage. Just one of the things that happens. It happened quite frequently up there those days, because they didn't have the style of chimneys we've got now. It was just a black iron pipe stuck up through the roof, that's all.
In the winter of 1941-42 myself and my brother were left in Rigolet to go to school, because my father had got sent to Hopedale and they only taught Inuktitut in the school up there—so they dropped us off to go to school in English.
I remember we used to listen to a program on the radio called Calling L for Lanky. It was about the Lancaster bombers over in England, coming back from bomb raids over Germany. They'd always talk about the fire trucks being out on the runway and I was only six or seven at the time, but I was trying to imagine what it looked like with a plane coming in for a crash landing and the fire truck going down the runway.
Going to work
When I was taking Grade 9, I was pretty sure I wasn't going to pass. The Hudson's Bay Company were charging [my father] $25 a month rent for the older ones in the family and I think it was $10 a month for the youngest ones—something like that. After they finished charging him rent, my father was only getting something like $10 or $12 a month, and I said that's not very much to raise a family on. Better if my older brother and I went to work—and that's what we did.
I worked with the Hudson's Bay Company in Cartwright, then I came to Goose Bay in the fall. I was 17 years old at the time. I came up here and spent two years with them. I was store clerk first, and then the assistant manager got married without permission, so they fired him and offered me his job. A few months later I had a letter saying they were only going to give me $5 a month more to work as assistant manager, so I quit. I was 19 years of age, and I went to work for the Americans in the fire hall [on the air force base]. I signed on for three months and when my three months were up I said, "Well this is not a bad job, I'll stay here." I worked in fire halls for 46 years, and I was also the volunteer chief in the town for six or seven.
I went to work on the American base in September, and in November we had a hangar fire; there were several aircraft inside. We had a brand new fire hall, opened in August, and the alerting system didn't work. The old sergeant had to run around to every bed and wake us up, so we were slow getting out the door. Slower than we should have been. I was on a pumper truck with four military people. Two of them stayed with the truck and two of them helped me carry a hose in. I remember the ammunition exploding in the hangar and going up through the roof—tracers, stuff like that. When I looked back, I was the only one there with a hose on the building. The two military men had crawled down in the ditch. We lost the hangar and three aircraft I think. They figured it was spontaneous combustion from somebody leaving oily rags in a metal container. Nobody was hurt, fortunately.
Another time, one of them big American cargo planes crashed up here. It was a Saturday morning, snowing a bit. They took off and crashed right beside a large fuel tank. The fuel in the plane all burned up, scorched the tank, but the tank didn't explode.
International crew
The Americans treated us fairly good. I think when I started out I was getting $2.25 an hour back in 1954, which was good money then. I was with the Americans for almost 13 years, in the fire department, and then I went over to the Canadian government—Transport Canada—in 1967. I got the fire chief's job in 1979, I think it was.
When I was the fire chief, the Americans and the Canadians had firefighters up on the radar site, and there were also Germans, Dutch and the British—and then the Italians and the French came over here too. I was in charge of probably the only firefighting operation in the world that had six or seven departments from different countries working under me. That was an exciting time. I remember one time a German crew came over, five of them, and I asked, "Do you speak any English?" The guy had his thumb and forefinger about a quarter inch apart. That much. That's about all the English they could speak.
They had their own jobs to do and we were just in charge. If there was an Italian plane that had engine trouble, the Italians would come to us and try to explain what we needed to do and what we had to be careful of — and the same with the British and the Americans. Most of the time it was no difficulty at all.
When DND took over running the base from Transport Canada I went over to them in 1987 as the deputy chief.
They did things differently at DND.
When I was with Transport Canada and with the Americans, we just jumped off the trucks and went at it. These folks here would sit in the back of their truck and discuss what to do before they went into a fire. We weren't used to working that way. We decided what to do when we saw the situation. The first two minutes of a fire is critical, and they're standing around discussing what they're going to do before going into the building. Different tactics altogether. I wasn't too fussy about the DND way of operating at all.
I've seen a lot of changes in equipment, and tactics have changed a lot too in those years. How you attack a fire. At first we'd just go in with what they call a two-and-a-half inch line and just straight stream water on the fire. Now they use mostly inch-and-a-half lines with fog pattern they call it, almost like rain showers, which is much more effective. It protects the firefighter and absorbs a lot more heat.
And then foam came into use in aircraft firefighting. At one time it was made with animal blood and now it's all chemical stuff. Everything's changing. They come up with new concepts. Once you got used to it, you know, it was a lot easier.