Heritage trades are undergoing a resurgence among young tradespeople and entrepreneurs
Joshawa Lamkey's head is down, focused on the task at hand. He seems oblivious to the smells, sights and sounds that surround him at the Historic Halifax Farmers Market. To his left, a woman is selling pies, and gently persuading a customer about the merits of her meringue. The gentleman on the other side of him is explaining to a customer the differences in fragrance and flavour between Tahitian and Madagascar vanillas. Joshawa—his eyes and hands focused and sharp—is holding a hair between his fingers in one hand, a razor in the other. The hair falls gently onto the blade, almost as light as air. The blade shears the hair in two, falling to the ground as quiet as a whisper in the din of the market. Joshawa smiles.
He turns to his customer and shows him how to use a strop to hone his newly sharpened straight razor. The blade strokes the leather strop, humming a characteristic sound you'd hear in an old barbershop "You hear that little 'sing'?" Lamkey asks. "That's what you want to hear when you strop the blade." The customer thanks Lamkey, saying that he "couldn't find anyone to sharpen this thing." That "thing" had been his father's straight razor, and had sat unused for years. Now it has found a second purpose, and an almost familiar face to shave.
Devotion to the craft
Sitting down to talk between customers, Joshawa Lamkey is a man who lives by an old trade, but sports a young face—and a well-shaven face at that. At 37, the former Moncton native started Grindhouse Blade Care & Ware in 2013, after more than a decade of what he calls "enthusiastic sharpening."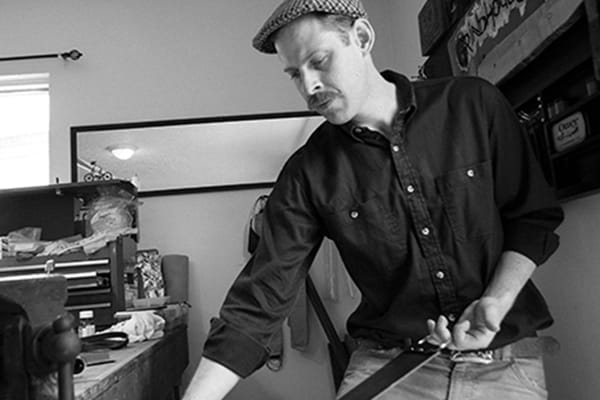 "I had a Forge de Laguiole pocket knife," he recalls, "and took it to a fellow to have it sharpened. He destroyed it. He put it on a grinding machine and destroyed a family heirloom that I had yet to create a family for. So from then on, I never let anyone touch my knives." Lamkey's devotion to his craft eventually led his friends and family to ask him to sharpen their blades. Eventually he got so busy and had enough people coming to him that he started charging people. But that didn't slow down the demand for his services, and Lamkey found himself with an ersatz business. "It was going to be a sideline while I looked for work, but I got so busy with it there was no time to look for work," he says. "All of a sudden there was a need for me to properly take this into a real business and not a hobby business. And people were so enthusiastic about it."
Enthusiasm is a key word when talking to progenitors and patrons of heritage trades. In a 21st century world, ease of consumption—and the disposability of said objects of consumption—is a way of life. Housewares, tools, cooking implements and even buildings can easily be sourced in infinitely replicable copies in infinitely replicable ways. But the desire for such cookie-cutter consumption is waning. "It harkens back to a time when people were more thoughtful about trades and crafts and were more community minded," says Lamkey. "You can see it reflected in economics and people are bringing it back home." For Lamkey and other practitioners of heritage trades in Atlantic Canada, economics often dovetail nicely with community politics. "It used to be that you trusted the people you dealt with because they were your neighbours, and you said good morning to them every day. The further we get away from that, the faster you will find people returning to it."
Forging a new path
That's a sentiment that reverberates for Alexa Jaffurs. Born in Sacramento, California, and raised in Ohio, Jaffurs now lives in Mount Hanley on the north mountain in Nova Scotia's Annapolis Valley. Jaffurs bought her first blacksmithing rig at an auction in 1987, after having befriended and been inspired by a blacksmith she met in 1984. She moved to Nova Scotia seven years ago, and has made a career in blacksmithing by giving her customers what they want and in ways that fits their specific needs. "I like to work with clients and use existing architectural details or favourite motifs to blend the piece with its environment." she says. "It's hard to buy something off the shelf that fits perfectly into your home."
Jaffurs may spend her time clanging on hard metal, but before that she spent a lot of time observing the soft and moving lines and textures of nature as a botanical illustrator. This intuitive understanding of themes found in nature has led her to work with people like Beverly McClare of Tangled Garden in Grand-Pré. She's created various sculptures for her gardens, as well as more utilitarian pieces. "Beverly needed a signpost that would direct people to her various gardens," she says. "We noticed we were in front of an old building with great strap hinges, and so we used that shape for the pointers. The signpost is near a field full of wisteria, and so it mimics the looping, expansive gestures of the vines."
But beyond the aesthetic pleasures and visual play wound within smithing, Jaffurs is first and foremost a fan of the craft itself. "If you want to be practical, it is nice to make your own hook, or pot holder," she says. "There are many times when you need to make or modify an existing tool because you can't buy one. I do this because I love working with metal: it's hard, strong stuff and you heat it up, it becomes putty and you can shape it into anything in your mind's eye."
Building awareness
In Cape Breton, Grant Haverstock has spent a lot of time and energy getting other people interested in blacksmithing. If he had a mantra, it could easily be, "You should come and smith." Haverstock is the brains behind FireHouse Ironworks in Whycocomagh, but he is also one of the organisers of CanIRONX, a biennial conference that most recently took place in Baddeck in 2015. "I just feel like there is a primeval draw to blacksmithing that everyone can embrace on one level or another," says Haverstock. "It has a pull like no other craft."
The former machinist had been working out west to when he was seized by what he likes to call his "addiction" to smithing. Haverstock moved back to Cape Breton with a plan to open his own shop after having worked in Vancouver and in the Okanagan for many years. According to him, it was the first new blacksmith shop (opened in January 2011) to open in the area since the late 1800s. Haverstock has found customers in everyone from farmers looking for high-grade tools to First Nation fishermen looking for traditional eel spears. "If I can see something, I can figure out how it was made," he says with a sense of pride.
Now, Haverstock is the president of the Cape Breton Blacksmiths Association, which boasts 50 members, and helped host the island's first international blacksmith conference, Forge 300, in 2013. "Everyone thought we were nuts," he says. "But I feel like I owe it to the craft to educate people about it. People still have this misinformation that we shoe horses, which is a running joke with blacksmiths. I wanted to expose blacksmiths in Canada to artists they may not have heard of." Some of those artists came all the way from the parts of Eastern Europe, while attendees from New Zealand found their way to demonstrations and lectures in rural Cape Breton.
Haverstock's love of smithing is steeped in both the past and the present. He maintains a strong social media presence to promote his business, and the conferences he works with attract new audiences to the trade. But he doesn't forget the historical significance of his trade. "I try and emphasize how vital and pivotal it was to have a blacksmith in your village," he says. "If you look historically, if you didn't have one, you had no tools, no nails. Everything came from the blacksmith. When the first settlers first came, often Hudson's Bay traders and such, they had no blacksmith with them, and burned their houses down before leaving the area, because they needed the nails."
Over in Trinity, NL, there is a forge that would have made many a nail. The Green Family Forge is currently run by the Trinity Historical Society and operates as a living museum from mid-May until mid-October. "The Green family have been blacksmiths in Trinity since 1750 and operated a forge until 1955," says Jim Miller, project co-ordinator with the Trinity Historical Society. Six generations of Greens worked that forge until August 1955, when Andrew Green closed it. "Andrew's daughter, Ada, approached the society in the early 1990s about taking over the Green Family Forge," says Miller. "We had the building restored and opened a time capsule as everything was as it had been left—equipment, materials, tools, etcetera—by Andrew when he closed it in 1955."
But don't let the word "museum" imply smithing is a lost art in this part of the province. The restored building was opened as a museum in 1992, and in 1999 they hired blacksmiths to come and demonstrate smithing techniques. It has been hiring smiths—and apprentices—ever since. It gives new workers ample experience in making utilitarian items such as hooks, fireplace pokers and candle holders, as well as larger projects, such as gates for properties under restoration in Bonavista.
History and permanence are foremost on Josh Silver's mind. He works as the learning manager at the Heritage Retrofit Carpentry Program at Holland College in Charlottetown, PEI. "Teaching here is a cross between carpentry and education," says Silver. "It's kind of like an old historic building: someone had to build it, and now we have to maintain it."
The program helps students understand the intricacies and details necessary to maintain residential and commercial heritage buildings. Thankfully, Charlottetown is home to the most heritage homes in Canada per capita, so that knowledge can be put into practice fairly easily. "These buildings are part of our culture and our experience that we can touch, but we have merely inherited them," he says. "We will work on them as their caregivers. Our students are putting themselves in history. We are brought into our most sacred buildings of our communities and are entrusted to save them. We give our past a future."
Two-thirds of the program's students are from the Island, but the program attracts people from across Atlantic Canada, as well as parts of the United States and the Caribbean.
"A common theme with most of us is that we have chosen this career because it is nice to enjoy the fruits of your labour," says Silver. "You can touch, smell, feel what you have done." Silver's students benefit from advisers from all across the region, and the program has a near-100 per cent employment rate, with many students being headhunted before they even finish the program. The program is also very hands on, with only about 30 per cent of learning time spent in the classroom. The rest is practical and that is why many of the students—including Silver himself—are engaged by the never-ending learning curve such a trade provides. "One can be a master of one small facet of carpentry, but the possibilities are endless, so there is never a dull moment," he says.
All in a day's work
Back in Halifax, Joshawa Lamkey is sharpening a knife for a customer at his market stand. People stop and chat with him, and Lamkey stops what he is doing. While he wants to continue on with his work—to devote as much time and precision to his trade as possible—he feels responsible to his clients and their blades. "I get a lot of older clients who come to me and they say that it was their "other half" who used to take care of the knives," he says.
"It would almost be like they were bringing in their lost loved ones, and it felt good to know I could take care of that." Lamkey notes that he occasionally meets people who think it's ridiculous that someone would sharpen, rather than discard, a knife. But like most people in heritage trades, he is philosophical about it. "We live in a disposable world but we didn't make that world," he says. "This generation, the current one, you can't call them the decision-making generation, but you can consider them the end user. They didn't create that world but they can change it."