The increase in birth rates after the Second World War - otherwise known as the Baby Boom - was larger in Atlantic Canada than in the country as a whole. Add this to the fact that people are retiring earlier than ever, and you have a significant number of Atlantic Canadians in their 50s and 60s (and beyond) with time on their hands. More time to sit in the rocking chair, or play with the grandkids? Perhaps. But the increase in seniors' colleges here suggests another ending to the story…
A tall woman cocks her head, listening intently, as a man describes a murder he committed decades earlier-and got away with. The small room holds? a dozen people, many of whom lean forward to hear the riveting tale.
"Riveting tale" is, of course, the key. This is the creative world of lifelong learning. The woman is novelist Susan Haley; the man describing the murder is one of her students, reading from a short story he wrote for a course Haley teaches through Acadia Lifelong Learning (ALL) Centre, in Wolfville, NS.
Haley has been teaching this course since 2000. "So many of the same people return over and over," she says. "A warm atmosphere develops and people begin to trust one another and to enjoy the interaction. Some people are ambitious to publish, and there have been some very good writers. There are also others who just like seeing what they are able to do."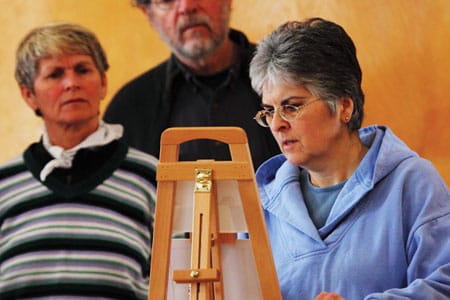 Across the Atlantic Provinces, people in their 50s, 60s and beyond are taking courses and attending seminars to learn more about local and world history, literature, folk art, philosophy, natural history and more. They are learning American Sign Language, developing competence in digital photography, writing memoirs and fiction, refining their skills in drawing and painting, and making music. And, although the courses have no exams or grades, these are not "bird" courses-unless they happen to be about the region's wild birds.
Learning centres for older adults, sometimes called seniors' colleges, are not some sort of learning ghetto for old dears. Many people over 50 - and even a few over 90 - take credit courses at colleges and universities alongside younger classmates. But learning centres meet a different need. They offer non-credit, personal-interest courses at low prices. Courses are usually offered during the day, so they don't exclude people who find night driving difficult.
Such centres in Atlantic Canada have begun to multiply. In the past two years, three new ones have opened their doors, joining the six that were already active. These centres are unlikely to be short of students any time soon-the Baby Boom was larger and lasted longer here than in Canada as a whole. According to a Dalhousie University Faculty of Medicine report, by 2015, the percentage of the population over 65 years old in Newfoundland and Labrador, Prince Edward Island, Nova Scotia and New Brunswick will be, respectively, 19 per cent, 17.5 per cent, 18.3 per cent and 18.4 per cent, compared to 16 per cent nationally.
Within 30 years, nearly one-third of the population of Atlantic Canada will be 65 or older, say Susan Lilley and Joan M. Campbell in their government report, Shifting Sands: The Changing Shape of Atlantic Canada.
The current generation of seniors and the coming generation of Boomers - dubbed "Zoomers" by Canadian media mogul Moses Znaimer -are discovering an important aspect of staying mentally and physically healthy: "Learning is to the brain, what exercise is to the heart." Although coined by Creative Retirement Manitoba, a seniors' educational program based in Winnipeg, the statement applies to everyone.
By learning new things and taking up creative pursuits, people are not just keeping their brains sharp-research indicates they are actually increasing their brain capacity. Studies by Dr. Gene Cohen, the Director of the Center on Aging, Health & Humanities at George Washington University, in Washington, DC, show that regardless of age, creative activities increase functions such as memory and information processing.
Nurturing creativity can also help people sleep better, feel happier and boost the immune system. So it's a no-brainer, so to speak, that courses tapping into creativity are well attended. "After computer courses, our most popular classes are those addressing the arts, such as painting, singing and writing," says Bob Gibson, provincial coordinator of Prince Edward Island's Seniors College, with courses offered in Charlottetown, Summerside and Montague.
"We recently had a Seniors College Social where members brought their paintings and drawings for display. The audience was also treated to several songs from the choir and readings from the writing course. It was a wonderful evening."
In Wolfville, ALL's writing and art courses fill quickly, sometimes having waiting lists, says Acadia's Debbie Kiely.
Twila Robar-DeCoste, an artist teaching an acrylics course this winter, taught her first ALL course in 2002. "I really enjoy working with ALL students," she says. "With mature learning, you have so much life experience to bring. For me as an instructor, it's the most amazing thing to see how the students develop and grow."
Erika Stokes took Robar-DeCoste's acrylics course in 2002. "Studying art later in life has made me brave in ways that surprised me," she says. One of her more recent paintings was chosen as the cover of ALL Centre's 2007-08 course calendar.
"It's the encouragement, stimulation and advice-and meeting people-that I really enjoy," she says.
For some people, a course can be a stepping-stone to a new adventure. Shirl and Jerry Sawler headed to Cuba late last February to volunteer as English tutors. To prepare, they studied Spanish in a new ALL course, Spanish for Travellers.
"We're there to tutor, to develop relationships and to experience the culture," says Jerry.
Adds Shirl: "We're in Cuba to help the local people, but we're also there to learn."
Last July, four scientists and seven ALL members went on a scientific expedition to the Cape Breton Highlands in search of rare flowering plants and lichens. The ALL members acted as a support team on the four-day trip, helping the scientists catalogue plants.
"A great deal remains to be discovered in the Cape Breton Highlands with respect to its biodiversity," says Ruth Newell, curator of the herbarium at the K.C. Irving Environmental Science Centre, in Wolfville. "Working with the Acadia Lifelong Learning group was an absolute pleasure. Their endless enthusiasm and able assistance in the field made the expedition a successful as well as a truly memorable venture."
"Projects like this take the ALL vision to another level," says Carol Embree, who went on the trip. "It is learning and growing, with nature as the classroom."
Rachel Cooper is a freelance writer and advisory board member of both the Acadia Lifelong Learning Centre and CATALIST, The Canadian Network for Third Age Learning.