Lace up, and glide across natural ice — an homage to shinny
LIKE COUNTLESS generations of young boys, I first played hockey on ice that never knew a Zamboni's wheel. Ice was a mysterious magical surface that transferred mere youth into hockey titans—once it appeared, all was possible. It was what I waited for, and on one very special day, I would awaken to ice on the farm pond.
Pond ice was free to those with strong backs, brave hearts and who were willing to swing a shovel. Once it was checked for thickness I would make a telephone call, and a dozen telephone exchanges would set up the following day's events. A long sleepless night was spent watching for the first glimmers of dawn. No clock ticked slower that night before the first hockey game. I would then step out onto the ice after the long drought, hearing the sound of steel on hard water.
In a world before the thousands of distractions we have today sounds seemed clearer, and none was so sharp as steel on ice.
No worse for wear
Back in the 50s and 60s, boys played hockey on every farm, in every community where I grew up, in Carleton County, NB. I knew fellows who spent hours skating and stickhandling all alone. They were some of the most enthusiastic players and the last to finally leave the ice. Equipment was old, with a single pair of skates often passed around; worn shin guards were better than the sheets of cardboard some brave souls wore. Hockey sticks were a pricey item, but I don't ever recall anyone with the homemade sticks you see in movies, not once.
Pucks were guarded carefully and when a stray shot drove one into the snow banks everyone pitched in to find it. I've seen a dozen kids hunting for one and no one whooped louder than the fellow who found it, since he was then granted a lone shot on goal.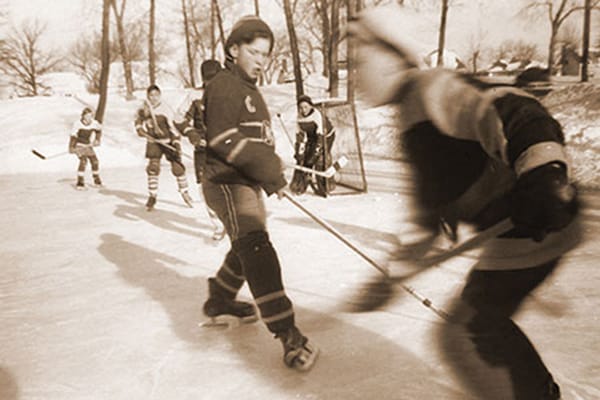 Sometimes my Dad would cut the heels off a pair of cracked gum rubbers, and we would use them for pucks. Rubber boots made fine goal posts, carefully measured by the width of the goalie stick plus one foot.
Did we suffer from badly fitting skates, was our enthusiasm dampened by sticks with 10 pounds of friction tape? Not a chance. There was magic on the hard water, and we loved it.
Ice for a hometown hero
You had to respect pond ice and use it gently. Too warm a day and skating was halted to save the surface. No one used skates that were too sharp, since wild ice can flake and scar easily. We tried flooding the pond by various methods—but nothing worked as well as Mother Nature. A hard rain followed by plunging thermometers with no snow to ruin things made for ice fit for any hometown hero. I might not have been a gifted student at school but I could predict the correct conditions for optimum ice—all without a computer or meteorologist's charts.
A heavy snowfall after a thaw made rough ice; wind during a rainy thaw could ripple the ice; and worse still were tracks, which came in many forms. During a thaw the stock in the barnyard would sometimes wander out onto the ice, chipping it horribly. A visiting snowmobiler once raced up and down the pond, destroying a winter's work. But perhaps the strangest were the bear tracks. One January morning I found them on the farm pond, frozen corner to corner. It made one of the worst surfaces ever, and the tracks remained until the ice broke up in March.
The beaver ponds I skated on had hazards like chewed sticks frozen to the surface or worse yet, holes where old Bucky climbed out. Wild ice was very wild!
Natural ice is not something to be controlled or forced to obey; she must be left alone to her own devices (and yes, ice is a She). Ice can be downright confounding in her whims. But if you were patient and believed, as only small boys can, ice would do what she does best: give you what is arguably the finest surface any hockey player could hope for.
Silent in the winter sunset
Each game was the same. Every player, from smallest to biggest, would skate alone around the pond announcing his name. In a child's voice each would sing out Bobby Orr or Henri Richard or Phil Esposito, and the others would cheer just like a real hockey crowd. Many times there was no real team against team, but just a general scramble with each kid trying to fire the puck towards the poor goalie who had no defensemen to assist him. But over time we made up a line of two or three players against the same number.
Anyone one who showed up could play. I can't recall a single fight or even harsh words. We would play until we were tired and then rest for a while until we got cold, then got back on the ice. At the end of the day we would all stand together talking about the game, the NHL and sometimes we just stood silent in the winter sunset.
Then someone would say it was time to head home, or a parent's car would drive up, and a bone-tired bunch of players trudged off to tumble into bed.
Winter's slumber of snow
Over time, many of the farm pond players entered organized hockey, and my pond was allowed to slumber under winter's mantle of snow. Hockey was slowly overshadowed by 40 hour weeks, chasing girls and a hundred other distractions.
The players who once sped across the frozen farm pond now rack up thousands of kilometres shuttling their own youngsters to various arenas. Things are as different as the game of hockey itself. But I hope there will always be kids who are willing to shovel snow off the pond, who play just to play, not to win, and still thrill to the sound of steel on wild ice.
Windsor, NS: Birthplace of Hockey...?
Had you asked Garth Vaughan that question (he died in 2012), you'd have heard a resounding "Yes." After attending a presentation at King's College School in Windsor about the town's role in developing ice hockey, Garth was inspired to research this claim—he'd been fascinated with hockey since his childhood in the town. He took on the project in earnest two years later, after he retired from his career as a surgeon, and made a strong case for it in his subsequent book, The Puck Starts Here (Goose Lane Editions, 1996). "The original 'hockeyists' had no plans to develop an international league of teams made up of the world's highest paid specialists of the game," he wrote. "They were interested in the love of a new game... designed to fill otherwise long empty hours of cold Canadian winters. ~Heather White
Pond hockey: playing it forward
Hockey purists of the world, unite! Current events take players and spectators back to the game's roots on natural ice throughout the region. Here are two highlights.
Long Pond Heritage Classic; Long Pond, Windsor, NS.
An opportunity to play Canada's national sport on the pond where it's said to have been invented, based on an account by Thomas Chandler Haliburton reminiscing on his days there "playing "hurley on the long pond on the ice"—more than 200 years ago; funds raised from the tourney support the Windsor Hockey Heritage Society and the Hockey Heritage Center Museum.
Information: longpondclassic.com.
World Pond Hockey Championship; Roulston Lake, Plaster Rock, NB
Started in 2002 as a fundraiser to help pay for the construction of a new recreation centre in the community, this event initially hosted 40 teams, mostly from New Brunswick, Nova Scotia, Prince Edward Island and Maine; today it hosts 120 teams from around the world, as well as thousands of spectators.
Information: worldpondhockey.ca.