How a local landmark came to trigger memories of a mother's sorrow
The two dog tags on the chain were round and old, stamped with Christena J. MacDonald, Nurse, A.N.C. Base Hosp No. 6. U.S.A. Having found them in an old box in the basement of my husband's house shortly after we married, I put them in a small jeweller's box and tucked it into his top dresser drawer. Coming across them six years later, I wondered again why my husband had them so this time, I called my 84-year-old mother-in-law.
"Who is Christena MacDonald?" I asked.
"Oh, you mean Aunt Jean," Mary said, thus explaining the J.
She told me Jean was born in 1888, so these tags were from the First World War. "She was a nurse in Boston…who went to the front lines, in France, I think."
When asked if Jean had any children who might talk about their mother's experience in the war, Mary said no.
"She never married. My father's three sisters were all nurses, and none of them married."
There was silence for a moment then Mary said, "Did I ever tell you that I lost a child? He was stillborn."
"No," I breathed.
"He came after Beverley. He's the reason we have Dwayne."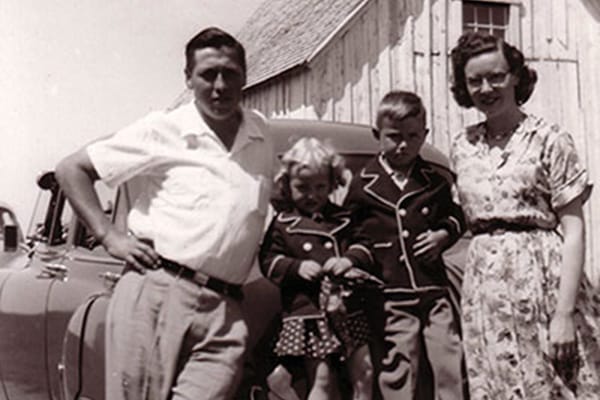 The man I married. Then I remembered that I did know Mary had lost a baby. One of my husband's favourite stories involves flipping his father's 1969 Chevy pickup onto its roof when he was 16, while driving home in a snowstorm. He stayed at a friend's house that night. Early the next morning, the boys used a tractor to right the truck and pull it out of the ditch so Dwayne could get home in time to do the chores.
"I wanted to get out of there," Dwayne recalls about that morning, after he got home. "Dad had looked the truck over and there wasn't a scratch on it, but I knew I was in trouble.
"'You gotta eat breakfast,' he said to me.
"We sat there at the table and Dad didn't say a word to me. He just looked at Mum and said, 'Mary, I wonder how the other fella would have turned out.'"
It wasn't time for the baby
When Mary married Donn, in 1948, she became a farmer's wife, moving from her parents' home in Bayhead, NS, along the Northumberland Strait to a farm 50 miles away on the River Philip. Her husband had cows, a woodlot and a gravel truck. Donn worked hard but money was tight so they didn't own a car, just borrowed his parents' or his Aunt Martha's car.
The house was Mary's domain and in it she raised three children and cooked three meals a day, and fed dinner and supper to any men working for them. She cooked with a woodstove, baking 18 loaves of bread a week, plus pies, roasts, potatoes and vegetables. In winter or summer, the woodstove was always warm.
In 1954, Mary was pregnant with their third child. She had gone to the hospital in Tatamagouche for her first two births but since those had gone smoothly, she planned on a home birth for her third child. Aunt Jean would come to help. (Mary's mother had died two years earlier, at the age of 50.) During this pregnancy, however, Mary developed phlebitis, a painful swelling of the legs caused by blood clots, so Aunt Jean came a month early to take care of Mary and the two children, who were five and three.
"It had been a difficult day," Mary said as she recalled September 24. "I was eight months pregnant and my father was very sick." She'd been down to Bayhead to see her father and then come home to bake pies to feed the threshers, 10 to 12 men, the next day.
That evening, she started to bleed and cramp. She thought it might be false labour but when the symptoms worsened, Aunt Jean called the doctor.
"He stayed until he realized I wasn't in labour," Mary said. "It wasn't time for the baby to be born, and he didn't know there was anything wrong.
"There were no tests or machines. We had no ultrasounds. Back then, you either had a child or you didn't."
Since the closest hospital was a 45-minute drive over dirt roads, and Donn's parents had taken their car to Halifax where his father was working as a carpenter, Mary stayed in bed.
"I didn't sleep at all. I had pain all night. Daylight had come when I started hemorrhaging."
Donn called his Aunt Martha to bring her car but the doctor arrived first. Mary was bleeding so heavily that her husband had to carry her downstairs to the doctor's car.
"I was in the backseat of the car with blankets and towels all packed around me," she said. "Aunt Jean sat in the front and Donn had to wait for Martha.
"We didn't get further than the bideau."
Aunt Jean tried to revive him
Where the river widens and the road narrows on the road now known as Route 301, pavement was laid over a large, wooden culvert. Long-time locals refer to it as the bideau, their pronunciation of the Acadian word, aboiteau. The bideau is less than a mile from Donn and Mary's home.
"I told the doctor I was having contractions," Mary recalls. "I said, 'Stop! The baby is coming.' Aunt Jean was out first and she caught the baby."
Mary stopped talking. She didn't speak for a long time.
"I remember the sound of the road grader going by," she finally said, her voice changed, thick and soft, and then she began to weep.
This loss was not buried deeply; it remained close to the surface, thin and translucent like early ice on the river. One slips easily into the water of grief once the first step is taken.
She eventually continued. "They drove me home, and Aunt Jean brought the baby inside. She wrapped him in towels and laid him on the open door of the woodstove, where it was warm. She was trying to revive him but she couldn't. She was crying.
"He was gone."
The sadness in her voice was decades old.
"He is buried up in the cemetery but there is no name on the headstone. The doctor told me that stillborn babies weren't named." The doctor also told her the problem was placenta previa, when the placenta covers the cervical opening.
"Did you have a name picked out?"
"Dwayne Jonathan," Mary answered promptly. "I didn't tell anyone. He was buried without a name but in my heart, he was Dwayne. The doctor said I shouldn't have any other children on account of the phlebitis, but Donn wanted another boy."
Back then, women lived so much closer to life and death—you either had a child or you didn't—and there was no time for mourning. There was a husband and hired hands to feed. There were other children to care for, another child to have. Two years later, in August 1956, she gave birth to a fourth child.
"Why did you give him the name of the baby you lost?" I had to ask.
"I liked it," was Mary's simple answer. "The baby I lost, his middle name came from one of my mother's brothers, so I gave Dwayne the middle name of my older brother, Stewart."
For 60 years, every time she has gone to buy groceries or attend a graduation ceremony or visit the dentist, Mary has driven over the bideau. Every time she says her youngest child's name, she speaks the name of the baby who died.
She gave you the first name of the son she lost
When I told my husband about the conversation with his mother, he said all he pretty much knew about the brother who died was his father's comment at breakfast, when he was 16; he knew there was a baby before him who died, and that there was no name on the grave marker.
"She named him Dwayne Jonathan," I said. "She gave you the first name of the son she lost."
He shrugged, unfazed by the revelation. For him, the story is about the medallions. When Aunt Jean died in 1974, the family gave Mary those dog tags and she, in turn, gave them to Dwayne because Aunt Jean had watched over him for weeks after he was born.
What he doesn't realize is that there has always been someone watching over him, all these years.
The other fella.