Something old, something new, something borrowed, something—local. How East Coast weddings are mixing business and pleasure
When Helen and Neil Morley of Ardoise, NS, are asked what the theme of their August 2015 wedding was, they laugh and say, "Wedding."
Helen amends it to "Country wedding on a budget. We wanted to have a lovely wedding and support as many local businesses as possible without running up a huge pile of debt." The couple held their reception at the Ardoise Community Hall, near Roseway Stables, the equestrian facility they own. Along with pew markers made of horseshoes and sprigs of lavender from Meander River Farm, the wedding featured 'harlequin dishes'—mismatched china plates bought and shops and yard sales around Nova Scotia—on which the locally catered reception was served.
Instead of wedding cake for their thank-you favour to guests, they gave out chocolate cowboy boots made by Holly Pye of Chocoholly's, who specializes in making hand-painted chocolate suckers in hundreds of different mould designs. "Holly decorated them with burgundy (our wedding theme colour) and we printed up business cards that said "Love is Sweet; Helen and Neil, August 29, 2015" which we tied onto the chocolate with burgundy ribbon."
For many who married years ago, the only wedding favour that we gave out was a piece of wedding cake—possibly wrapped in a paper doily with a ribbon around it in the wedding colours. Over the last decade or so, says wedding planner Sylvain Pitre of WEDS Weddings and Events Designed by Sylvain, the use of different sorts of favours has become very popular. "People are being inspired by wedding shows on television, wedding planner websites and going to well-planned events hosted by friends," he says. "Personalized shot-glasses are not so popular now; people enjoy edibles or items that they can use and enjoy for years to come."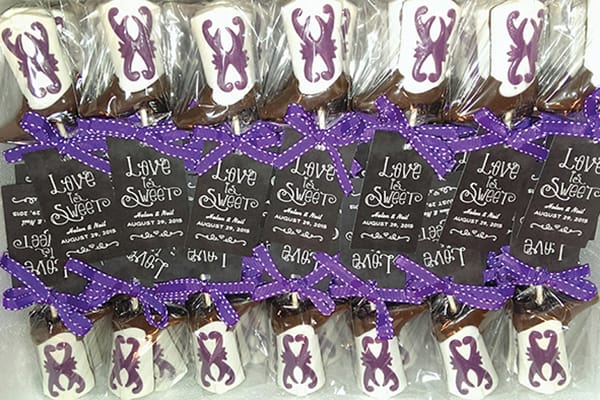 Supporting Local
Rajeev Chowdhury and Bill Malesky were married in August 2014 in Greenwich, NS. Rajeev says, "We wanted to give out wedding favours that people could both enjoy and keep as a souvenir." The couple considered several different products before settling on local-produced maple syrup from Warren Family Syrup in Upper Granville, NS, because they are firm believers in supporting local businesses. "We put a thank you note directly on each bottle with our photograph and the date."
Some couples still love the idea of offering a modified piece of wedding cake as a wedding favour. Veronique Levesque owns Sweet and Sassy gâteaux et délices in Bouctouche, NB, and has seen the demand for different sweets explode in the past few years. "Although some couples still like the traditional big cake, the majority will have a mixture of cupcakes and mini cupcakes." Veronique can customize the baked delights, and also makes homemade fudge in many different flavours, a popular choice instead of cake.
Andrew and Wanda Aulenback of Halifax love tea so much that they gave it out as favours when they married; from that union, their business, Sense & SensibiliTea, was born. Wanda says, "As history buffs (Andrew works at the Maritime Museum of the Atlantic) we blend our teas to be historically accurate as much as possible. We call it time travel in a cup!" The couple also creates custom blends based on great works of literature, and for special events: at the recent HalCon science fiction convention in Halifax, they offered Companion's SereniTea, a nod to fan favourites Doctor Who and Firefly.
For picky or allergic guests who don't or can't eat certain foods such as sweets, handmade soaps have become very popular. Trish Tymstra of Island Lavender near Charlottetown, PEI makes cakes of scented soap that can be sliced, bagged and shared at the wedding or beforehand. Colleen Dingle of Dartmouth's Soap In Your Mouth has supplied weddings where there was no baked wedding cake—instead, there were several cakes made of her delectably fragrant soaps.
Homegrown Business
Hurricane Juan did a lot of damage when it roared through Nova Scotia in 2003, but it also helped start a business for Gail Martin and her family. Originally, she purchased tree seedlings to help with reforestation in her local area, but word got out that tree seedlings made great wedding favours, and her business Treelings was born. Gail supplies tree seedlings to commemorate milestones—weddings, births, graduations, even memorials—and says people love the idea. "When you plant a tree, it's much more symbolic of long lasting love and life—it's an emotional thing, and it's positive." She offers several different native evergreens as well as unusual hardwoods such as black ash. Each is poly-bagged then wrapped in burlap with a raffia tie or a satin ribbon in the wedding colours. Some couples purchase the seedlings and do the wrapping themselves.
Handmade candles are also popular favours. Tracy Harrity of East Coast Candles in Fredericton, NB says votive candles are especially popular as they are inexpensive—a factor when needing dozens or hundreds of items. "Some go in for larger items, especially if the wedding is smaller—clear glass jars with simple white wax, or a colour to match the theme of the wedding." She can also do small, lidded tins with colours and fragrances custom chosen by the client.
Brides and grooms usually give special gifts to their bridal party members. These items are often higher-end than guest favours, and can also be selected from local businesses from wineries to potters to plant nurseries to jewellery artisans. A walk through an artisan-only shop like Botinicals in Fredericton, owned by tin artisan John Welling, is an excellent way to find inspiration for that perfect gift.
Andrea Hounsell of Something Borrowed, Something Blue, a wedding planning company in St. John's, NL, says that not every bridal couple bothers with individual wedding favours. "They may choose an edible buffet of cookies or candy," she says. "Some put money towards a specific charitable organization. Whatever they choose, it's a way of saying thank you to everyone who has taken the time to come to the wedding."
Tips For Selecting Guest Favours
Set a budget, and stick to it. Many companies have different prices for different amounts of product. Newfoundland Chocolate Company provides wedding favours to many couples, and has pricings for a wide array of handmade chocolate favours, including their popular boxed truffles and their recently developed 'Love Bars', sea salt caramel chocolate bars wrapped in Newfoundland sayings such as "My Duckie" and "Kiss Me, Luh."
Give the artist or business plenty of lead-time to fill your order, especially if you're going to need favours for a lot of guests.
Edible favours are a great choice. From balsamic vinegars to chocolate, tea to jelly, edibles are more apt to be brought home and enjoyed by the guests. Helen Morley says, "We thought there would be a bunch left over because people always leave behind favours after a wedding, but there were exactly two!"
Think about details like personalizing. Kim Kirkpatrick of Kirkpatrick Pottery in Riverview, NB has made small pottery items like tea light holders and embossed decorations as wedding favours and tries to steer clients away from putting their names on the items. "I suggest that they maybe put their initials and date on the bottom of an item. If they're investing a lot in wedding favours, they want them to be used and treasured for a long time," she says.
In lieu of favours, consider giving a donation to a local charity: a food bank, animal rescue or shelter, or other organization. Print up little cards with a note about the donation and a thank you to your guests.
Decide whether to put a favour at each place setting or have a table with them displayed. The risk of the latter is that someone may help themselves to more than one, and someone else might not get any. Rajeev Chowdhury and Bill Malesky placed their bottles of maple syrup at each guest's seat at the reception. "Sometimes people forget to go to a table and take home the wedding favour," says Rajeev, "So we put a bottle at each place setting, even for the kids!"