Let's face it, here on the East Coast, we are boat people
THE WORDS were quietly spoken. "If you really want a boat, we should get one." My wife, Alice, made that thoughtful comment almost a decade ago as we drove home from a sailing weekend on Nova Scotia's South Shore. She noted that spending time with my cousin and his wife on their Beneteau 36 sailboat had rekindled my enthusiasm for longer, overnight water adventures.
Sea kayaks and canoes aside, multiday forays on the water are easier to enjoy with inside accommodations. Offering protection from direct sun, larger craft are also less vulnerable to the whims of weather. Sleeping afloat can be an amazing experience (if one has ample protection from biting insects!)
Soon Alice and I were checking out boats and options. Recent technologies make modern day boat travel a pleasure. The 25 foot long, fishing-style Seabreeze power boat that we eventually purchased was fibreglass-built in Newfoundland and sold by a dealer in Antigonish. I shoe-horned a galley into the pilot house so we could provision the Kingfisher for multiday adventures. (You can read more about it in the March/April 2014 issue of Saltscapes.)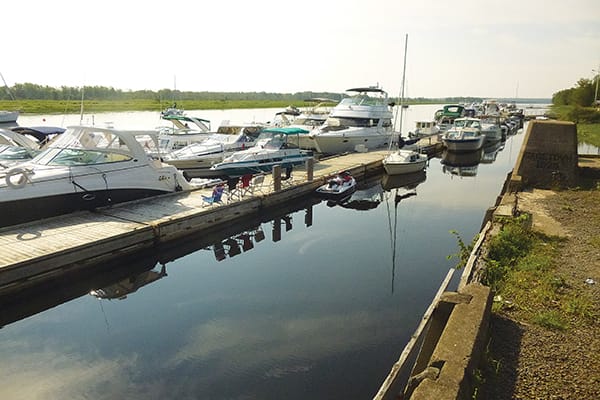 We just had a car then, but a friend offered the use of his truck to transport, launch and retrieve the Kingfisher at nearby Bayfield Wharf, where we had a summer berth. Local boating and mackerel fishing in St. Georges Bay made for tremendous fun over many years.
Gradually the Bras d'Or Lakes beckoned from the east. We answered its call twice and loved it. Friends with a cottage, and the local amenities available to boaters in St. Peters and Baddeck, made those days easy and unforgettable.
"Boating for us began when we were kids. Our parents provided the means for each of us to experience amazing outdoor water adventures that we still remember and cherish as adults. Most were in fresh water. Canoe and dingy excursions were special times during my early childhood in the Yukon.
Alice grew up spending summers at her family cottage on Lake of Bays, Ontario, with a canoe, sailboat and power boat on the dock. The Saint John River in New Brunswick had offered me wondrous outdoor experiences as a teenager. So in 2011 we decided to sample the fresh water of the Saint John River in the Kingfisher.
We traded our existing boat trailer for a sturdier, double axle trailer with disc brakes and a 3,200 kg hauling capacity. We purchased a new 4X4 Toyota compact truck capable of hauling the boat, motor and trailer. Now we could travel by road to coastal locations, lakes and rivers, and launch by ourselves. A Zodiac with a small outboard motor serves as a tender for the larger boat, allowing me to fish in tight places and to put Alice ashore wherever she would like to sketch. When apart, we communicate by portable radios. For four successive summers, for three to five week durations, we happily plied the river and its associated lakes, using the Gagetown Marina as an occasional base. We were hooked.
In early 2015 our personal situation changed when, sadly, Alice's mother, our last parent, died. For the first time in more than two decades, we were no longer primarily responsible for shepherding a parent through the challenges of older age. With new-found freedom, and being self-employed, we scheduled more summer time off. At the end of June we drove from Nova Scotia to the Saint John River and stayed until early September!
Spending two months on a 25-foot-long boat became a bit tight during poor weather, even while docked at Gagetown Marina, where we could walk, visit and shop. Most folks with boats moored there have homes or cottages only a short drive away. Before leaving New Brunswick last September, a friend took us around the Gagetown area to see land for sale. Alice had noted a real estate sign beside a beautiful stream, and we knew the neighbours. After exploring the 34-acre property, mostly old growth forest on floodplain and hillsides, we contacted the real estate agent. By the end of October we owned it. After visiting a number of RV retail sites, we also owned a travel trailer to park on it. We now have a land base for our water adventures!
The technology and effective use of space in these new travel trailers is amazing. The one we purchased is equipped with a furnace, air conditioner, hot and cold water, and a generous-sized refrigerator and freezer combination across the isle from a double sink and stove. There's plenty of storage space and a queen-sized bed with access on both sides. The unit has a 12-volt system that also takes 110-volt electrical sources. Propane powers the hot water tank and four burner stove. Holding tanks take care of the kitchen drain and bathroom waste. There's a tub, bathroom sink and shower. It conveniently parks beside our home in Nova Scotia, where I am currently modifying it to meet our needs and tastes.
Buying a house or cottage could have been an alternate approach, but the travel trailer and trailerable boat combination will allow us to relocate wherever, whenever we wish. Spending "Kingfisher time" at other beautiful locations like the Bras d'Or Lakes, Canada's only inland sea, becomes feasible.
The travel trailer could also be driven south for a respite from winter, with a canoe atop the truck on roof racks. Extras like tools, fishing gear and art supplies are easily stored under the lockable cap on the box of the truck. Our New Brunswick land will likely retain its value, and the neighbours will keep an eye on it when we're away.
Years ago, my brother and his family had no boat. I gave them a canoe (tied with a bow) for Christmas, along with an instructional video. All three nephews went on to become canoe instructors at a local summer camp.
Many families ply the Saint John River system in just about any craft that floats, large or small. The summer weekends and vacation time that these folks spend together on the river offers children much more than computer screens. It's been fun to watch three youngsters grow from dependent "water babies" into excellent, proficient sailors who socialize with adults as well as their invited friends.
Another delightful couple raised a son and daughter decades ago with family boating on the river. Now in their 80s, their son and his family return the favour; giving his parents use of his boat weekdays when he's at work.
Time on the water can change your life. Boats let you see a completely different world.