Page 1 of 3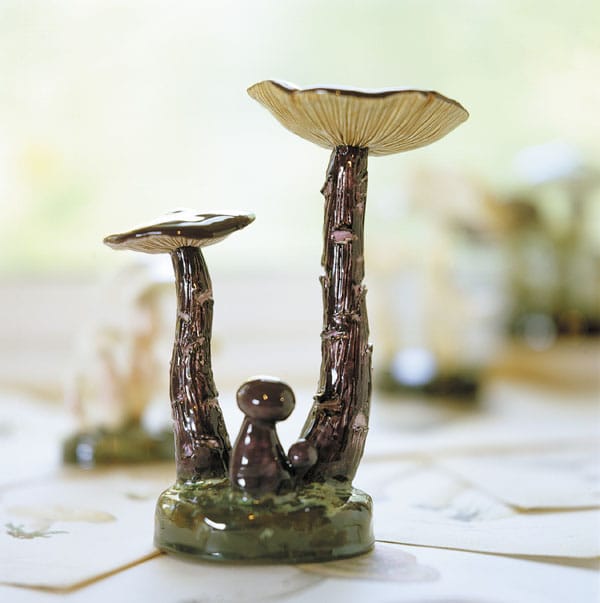 For half a century, The Lorenzen Pottery had enjoyed international renown, most particularly for the beauty and botanical accuracy of its ceramic mushrooms. Located in Lantz, a village in central Nova Scotia about 50 km north of Halifax, the pottery was founded in 1949 by Ernst and Alma Lorenzen.

Their daughter Dinamarca-Spanish for Denmark-joined her parents on the job in 1982. But the illness and subsequent death of Alma Lorenzen in 1998 (her husband and collaborator, Ernst, died in 1990) began a two-year period of dormancy at the studio-workshop.

Today, Lorenzen Pottery, with Dinamarca Lorenzen at the helm, is undergoing a rebirth. New shelves, workstations and a kiln are being moved in. That will be joyous news to collectors and to a community which supports the careful work done here.

In early fall, prime mushroom season in Nova Scotia, Dinamarca often comes home to find a box of assorted fungi on her doorstep, left by an anonymous donor. Then the phone calls begin. "Dinamarca," they say, "you must come see this." She usually goes, always excited by the possibility that the caller may have struck mushroom gold. Dinamarca lights up as she describes one such find from a recent fall foray. She cups a hand as if holding the unfamiliar fungus in her palm. "These mushrooms were weird…exciting…marvelous," she recalls. "They were like licorice sticks." She reconsiders. "No…monkey fingers!" She's done the research; the fungi's ghoulish common name is Dead Man's Fingers. Dinamarca triumphantly brings forth an as-yet-unglazed model she has created from her detailed sketches.

Lorenzen hand-sculpts about 235 of Nova Scotia's approximately 7,000 varieties of mushrooms. Each sculpture is a replica of a Nova Scotia mushroom species, usually modelled to show several stages of growth. Every mushroom's scientific name is inscribed on the bottom.