Saltscapes Calendar
Our popular calendar features beautiful Atlantic Canada Scenery and recipes. A beautiful accent to your home or cottage - the perfect gift for friends, family, and business associates.
The 2017 Saltscapes calendar features:
Beautiful off-the-beaten-path images from around Atlantic Canada
Delectable recipes and helpful cooking tips from Saltscapes' founding food editor Marie Nightingale
Gardening tips from Saltscapes' gardening guru, Jodi DeLong
Interesting facts about the weather, people and history of Atlantic Canada
Holidays and observances, plus selected festivals and events from around Atlantic Canada
Birthdays of some famous folks who have a connection to Atlantic Canada
Moon phases in the Atlantic Time Zone
Basic fishing seasons
A guide to fresh foods that are available locally each month
Click for larger image: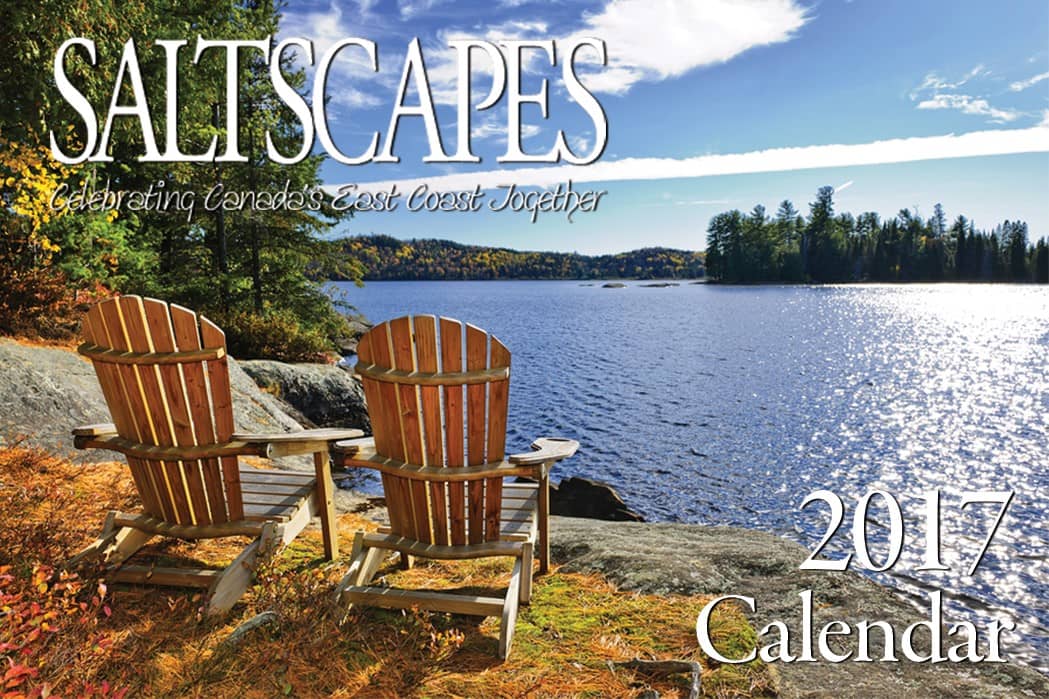 The 2017 calendar will be available for shipping in October 2016. Order early to avoid disappointment.
Only $19.95 (includes shipping, handling, and taxes within Canada)
To order a limited edition 2017 calendar, please call our friendly customer care team at:
1-877-885-6344
or order online:
or send us an email:
This email address is being protected from spambots. You need JavaScript enabled to view it.
or mail your order to:
PO Box 526 STN MAIN, Dartmouth, NS, B2Y 3Y8

If ordering by email or mail, please be sure to include your phone number so that we can contact you with any questions regarding your order.

Saltscapes acknowledges that there are more events, great people to profile and interesting facts about the Atlantic Provinces than can possibly be presented on one calendar. Please note that event dates are subject to change; it's advisable to call ahead.
We welcome your comments. Please contact us at This email address is being protected from spambots. You need JavaScript enabled to view it. or 1-877-311-5877.

Saltscapes Publishing Limited
30 Damascus Road, Suite 209
Bedford, NS B4A 0C1
Tel: (902) 464-7258
Toll free: 1-877-311-5877
Fax: (902) 464-3755
www.saltscapes.com