From our East Coast to the Far East: celebrating those who have gone before with dignity and humour.
Our east coast garden holds an eclectic mix of roots. And this is the season they'll be dug up by ourselves and by visitors from far and wide: archives, graveyards, historical societies and families will all be visited in the search for connections to the past. Our roots have been transplanted from Ireland, Scotland, France, England, Portugal and other gardens of the world, and pieces of our branches have been carried to all corners of Canada and beyond, taking root elsewhere. It seems like there's a pandemic of people needing to know where they came from, and why their ancestors settled on these shores. We often wonder about the lifestyles of our forefathers when they left their home fires to settle here. And those who have branched from hereto elsewhere carry the folklore of life "back home.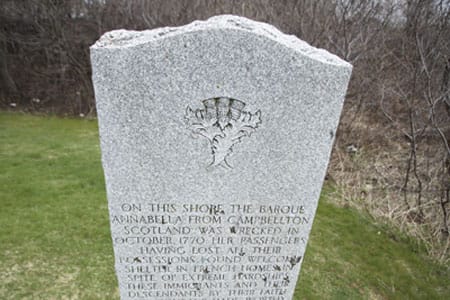 "Our past is important, no question. Knowing where we came from helps us to understand ourselves better. Sometimes it explains why we act the way we do. We often rationalize our behaviour by saying"it's in the genes." When a new baby arrives we search for family resemblances - are we trying to predict the future? It's the rich mix of roots in our garden that gives us our special East Coast culture, that blend of beliefs and traditions and lifestyles that keep us bound together no matter where we land. When I'm away from the region for more than four days I get homesick for the smells and sounds that I left behind, but I think it's the quick wit and sense of humour that I miss most. And the music. And the rhythm of Atlantic Canadian life.We have a strong sense of identity in our region, and it's fairly easy to pick out where a person hails from just by the sound or manner of speech, even within a province. The accent of someone from Saint John is different from the accent of a person from Dalhousie, NB. Plum Point,Rose Blanche, Clarenville and St. John's,NL, accents differ one from the other. And it's easy to pick out a Cape Bretoner from a crowd of people from Stewiacke or Bridgewater in Nova Scotia. The soft drawl of the PEIer, too, is distinctive.
That's what our culture is - a blend. Our roots are strong and we're proud of them. People around the world celebrate their forerunners in different ways. In the Far East there are special ancestor celebrations that last for several days: candles, music, dances and feasts are part of the rituals that pay tribute to those who have gone before. Japan in particular has an annual "Come Home" time - descendants return to their hometowns to visit with each other, plant gardens, groom the graves and honour the dead. During celebrations the spirits of ancestors are invited to walk the earth, partake of food offerings and join in family gatherings - fostering a good feeling about the family connection.In some cases family crests are hung around ancestors' graves so wandering spirits can find their way back at the end of the annual event.
Until the mid 19th century the fruit didn't fall far from the Japanese tree, so the spirits of thousands of years are all close to home. Because there are so many ancestors, sometimes only the most recent or most notable are acknowledged. One of my daughters-in-law, Yukiko, hails from Japan. She says she doesn't want to go back there to live because there are "too many ancestors." Of course, I'm delighted that I won't lose her, my son and their two treasures to the Far East. I'm also thrilled she makes sure the children know both their East Coast and Far East ancestry and culture, and that they celebrate on appropriate occasions. In our region of the New World we tend to pay tribute to our ancestors a bit differently. We commemorate those who settled here with cairns, monuments and other lasting memorials.
Festivals and community events are planned around paying tribute to those who settled here; we gather periodically, either individually or in groups, to offer thanks. I recently attended a ceremony at the Culloden Memorial Cairn in Knoydart, NS, to celebrate three men who had fought in Scotland's Battle of Culloden, in 1746, and then came to New Scotland to enjoy the culture that had been devastated at home. Many Macs - in full tartan dress - participated in the ceremony: Macdonalds, MacPhersons, Stewarts, MacLellans, MacNeils and more. Wreaths fashioned in the colours of the clan were laid at the cairn with both dignity and humour. The ceilidh at the Lismore Community Hall after the ceremony was a glorious event. Toes and knees were well tapped in time to the fiddles and pipes, and the tummy was filled with a great lunch.
No solemn ceremony here to honour the dead - instead it was one of joy and gladness that our people had settled in these parts. The same holds true where some of my ancestors arrived on the shores of Malpeque Bay, PEI. From there, one Stewart made his way to Northern New Brunswick. Seven generations later, still connected to the Stewarts, I was born. And now two more generations are connected to New Brunswick's North Shore - they enjoy many spirits to guide and protect them! We have a fertile area for the study of historical connections.
Our memorials are big and small, and are in special places that hold meaning for a few or for many. War memorials are visited regularly. In each of the four Atlantic Provinces there are shrines to those who have been lost at sea. The Escuminac Disaster Monument, in New Brunswick, is inscribed with the names of the 35 victims of a hurricane that took them away from their families in1959. L'Anse Amour in the Labrador Straits is the site of a 7,500-year-old monument, the earliest known human funeral monument in North America.
In Frosty Hollow, NB, a monument acknowledges an Ancient Indian Portage, an important communication link between Acadia and Quebec. I have my own small memorial to a well worth the drive special person who shared part of my life. His spirit passes judgment on those who visit our place, he sees the river and more importantly, he sees the woodpile as it grows in summer and gets used during the colder seasons. His spirit welcomes me when I come home to an empty house. When you're travelling around the region, get off the main highways and keep your eyes peeled for monuments - you'll come across them when you least expect it. Stop and let your mind drift back to what it was like "back when…". Smile and the spirits smile with you.