We hear a lot of bellyaching about medical matters, but here are two happy homecoming tales - just what the doctor ordered.
Bones hold the soul of home. Try to escape and the bones pull you back to your roots. Some people leave home and build a new nest far away, but the new often resembles the old in ways that provide familiarity and comfort. While we're here we may not be aware of what we love about our East Coast home, but when we leave, the sights and sounds and smells of the past echo constantly in our memory banks. Sometimes they surface at strange times: a paving project conjures up memories of a walk on a wharf. Whooshing traffic laps and crashes like ocean waves. A seagull's cry recalls an ache that is difficult to salve. Nothing stays buried forever.
This is the way it was for Dr. Adrienne Watson. Home for Adrienne was PEI-West Royalty and Bunbury/Stratford, to be specific. Educated in three public schools, she then earned a B.Sc. from UPEI, and moved on to Dalhousie University, where she got her MD, specializing in family medicine. She holds the distinction of being the first indigenous (Maritime) black female to graduate from Dal's medical school. (That this was in 1998 should make us wonder why it took so long!)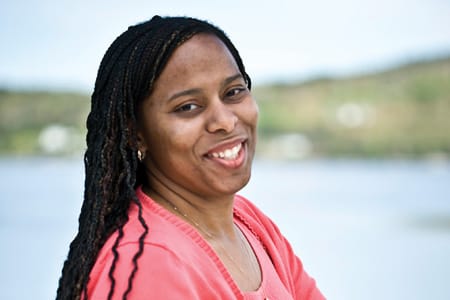 Adrienne moved to London, Ont., to complete her residency requirements, remaining in southwestern Ontario to practise. The people were nice, her colleagues supportive, the practice successful-but the call of the ocean grew stronger as the days and seasons passed. She spent her spare time trying to find water. After seven years, she packed her bags and returned to the East Coast. Her older sister, also a medical doctor, followed suit and returned to this area too.
Now in private practice in Halifax, Adrienne is teaching, doing a master's degree in clinical science and working with a collegial group. She's a happy camper. She says PEI is the only true home she has known, and she takes every opportunity to go back.
Another doctor who shares Adrienne's sentiments is Mark Taylor. He's a seventh-generation Islander, from Cornwall, a growing area near Charlottetown. After graduating from UPEI, Mark went to London, Ont., to study medicine at the University of Western Ontario (UWO).
The Medical Society of PEI has a great "come home" program, so Mark kept his ties to the Island during the summers. In his first year at med school he was introduced to surgery, and so began his love for otolaryngology (ENT, or head and neck) surgery.
It was a long haul away from his roots-four years at UWO then five years studying cancer surgery at various medical institutions. His wife, Tammy, also from PEI, kept him grounded in the saltiness of the East Coast, and they returned as often as resources allowed.
Otolaryngology focuses on everything above the neck, except for brains and eyeballs. Surgery can sometimes be extensive and potentially disfiguring, so Mark took the initiative to do double duty: cancer and reconstructive surgery. Spending part of his study time at Washington University in St. Louis, Mich., he is certified to practise in the US as well as in Canada, so we were at some risk of losing him. But Dalhousie University was quick to recognize his talents, offering him a position in 2001.
A position was one thing; becoming operational was another. His initial budget was… zero. He begged, borrowed and negotiated for equipment. Colleagues, the hospital and the university came through. Now part of a team that has one of the top cancer treatment operations in the country, Mark welcomes the opportunity to practise his two-dimensional focus of laser and reconstructive surgery. If he were elsewhere, it's possible he would not be able to combine these skills, so perhaps we can keep him here.
The more Mark talks about his work environment, the more excited he becomes. There is great camaraderie among his colleagues; they work as a team, each with a specialty.
The big news is the soon-to-be-formed Maritime Centre for Head and Neck Cancer, being sponsored jointly by the university and the hospital. It will employ a wide range of professionals-doctors with different specialties, dietitians, nurses, and speech and language pathologists. This is an exciting initiative and will help to keep our specialists anchored in this region. (This venture doesn't fall under the list of those supported by the usual cancer fundraising organizations, so donors and additional sponsors are always welcome!)
Mark likes being in the Halifax area. He's close to the salt water, and it's a pleasant ride from home to the hospital. His daughters Victoria, Alexa and Sara get to enjoy growing up in much the same way he and Tammy did. And it's a quick skip to his PEI home for visits and to operate the clinic he runs there.
I can personally attest to both Drs. Watson and Taylor being skilled and caring medical professionals-I met each of them fairly recently and somewhat by accident. My former family doctor had to go on medical leave herself, so I was given a list of four doctors who would take on some of her patients. I knew nothing about anyone on the list, and thought I should investigate which new doctor and I would be a good fit. To start, I made an appointment with the one I considered to have the best parking. That was Dr. Watson. I was delighted when I met her: she was perfect! I'm a fairly healthy and active person, and wanted someone who would work with me in routine health matters. After a brief chat, we agreed that we would become doctor and patient.
I had a mishap with some flood-waters a few months ago. A dark night trip over an unbarricaded bridge found me sitting in chest-high freezing water until I was rescued 45 minutes later. The event made the weekend newspaper a couple of days later. Who called and left a message that included her home phone number in case I needed her? Dr. Watson! I doubt that would happen in many Canadian cities.
Last summer, as part of a routine examination, it was discovered that I had a touch of cancer on my larynx. I was referred to Dr. Taylor, who corrected it in a "wham, bam, thank-you-ma'am" timeframe: three weeks from diagnosis to laser surgery. Cancer is gone, with no outward cuts or scars, and I'm left with a husky, sexy voice. And a lot of respect for a neat Maritimer.
Both Drs. Watson and Taylor have demonstrated the best of the best in medical treatment and in caring. We hear a lot of bellyaching about medical matters and health care across the nation, but we don't hear enough about the wonders of both the care and the medical caregivers. Drs. Taylor and Watson have shown that the heart doesn't need reasons to make us do what we do. I'm glad their bones brought them back home to this part of the world that we treasure. Their souls will keep them here.