What floats your boat, or makes you as happy as a clam at high tide? Time to make a list for next year-so the bucket is half full.
As each year begins to fade into nothingness, I like to take a reflective look at my "bucket list." Where did I go, who did I see, what did I do; did I have enough fun and did I learn anything? The experience of one year helps me look forward to the next. I like to plan some things; others I prefer that they just happen. There are still many things on my to-do list before I depart for the great salmon pool in the sky.
Overall it's been a good year: I've explored new nooks and old crannies of our four eastern provinces, and there have been some exciting discoveries. As a snack food aficionado, I've become addicted to Covered Bridge potato chips, made in what a chap I met long ago called "my old hometown, New Brunswick." Between munching on them as I travelled, and stopping at every Scotsburn ice cream sign, I've added a few inches around my middle. Plans for next year might include learning new ways to exercise control! Maybe just plain exercise would help.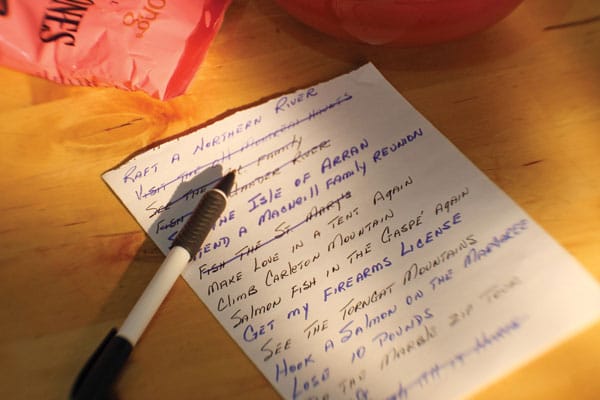 A friend and I packed our fishing gear and headed out to explore Newfoundland this summer. The service provided by the Marine Atlantic ticket agents was not only friendly and courteous; it was so spectacular that we felt as though we had made lifelong friends. John Francis worked miracles for us on our way over, and Heather's assistance on the way home was most helpful. She introduced us to Bob's Chicken Coop in Port aux Basques-that alone is enough to make us want to return soon.
We joined friends for fishing on the Gander River for a few days, then explored on our own. Rocky Harbour, in Gros Morne National Park, was one of our destinations, and it proved to be a popular spot-people from far and near were swarming every establishment in the village. Fortunately we already had a reservation at Ocean View Hotel on the main street, with full view of the water. Entertainment, Newfoundland style, kept the hotel bar packed with a delightful mix of locals and tourists.
As we chatted our way across the province, I noted how many older people were operating the shops, restaurants, gas stations and other establishments. It seems like they are keeping the home fires burning till the sons and daughters return home from the West. I understand that the return is beginning to happen, and the wanderers are bringing ideas for new and different ventures with them.
One of the new ventures is something I'm putting on the agenda for next year: an excursion with Marble Zip Tours, in Steady Brook. You're harnessed to a cable and sent soaring across Marble Mountain Gorge; there's a spectacular view of the 200-foot waterfall and canyon below. The weather wasn't conducive to doing the zip tour when we were there last summer-next year we'll check the forecast first! Added to a few days of fly-fishing, a zip tour experience might be just what my waistline needs.
We're quickly approaching the Season to Be Jolly. As you look back over your year can you single out some of the factors that made you happy? The most content? Often we can put a finger on what went wrong and why-I guess it's like the adage "only bad news sells." Can you turn that around to identify what gave you the most happiness? Was it your job? Your family? Your living circumstances? Your significant others?
Too often we listen to people rant and bellyache about what's wrong with this, that and the other thing. Not often enough do we hear people rant with praise and joy about things that are important. And that's my personal bellyache for the day!
Significant research has been conducted on what makes people happy. Did you know that five of the top 10 "happy" cities in Canada are here in our Far East? They are Saint John, Charlottetown, Moncton, St. John's and Halifax. I bet that people are even happier living in rural Eastern Canada - one of the study's co-authors concludes that community engagement and trust in neighours increase a person's chances of happiness.
Interestingly another study showed that New Brunswickers are more personally content than Nova Scotians. It was posited that NB'ers enjoy life the way it is while NS'ers spend more time yearning for the way things used to be. Now, there's food for thought!
Despite interprovincial differences, people in the Atlantic Provinces share an important quality: though we leave here to study or to work, we eventually come home. And when we're away from home we remain connected by our shared culture, our humour-and our songs. Ever been in a pub in Alberta when somebody started singing Sonny's Dream? How often have you heard Farewell to Nova Scotia west of our borders? Cape Breton voices are loudest anywhere on the mainland when strains of The Island waft in the air.
New Zealand is a country that has much in common with both the islanders and mainlanders of Atlantic Canada - we both have Scottish ancestry, for example. A 2008 study of happiness in different age groups and life circumstances in New Zealand indicated the following results:
Women are happier than men. ?o People more than 65 years old are happier than younger folks. Least happy are those in the 40 to 50 age group.
People with higher incomes are only mildly happier than those with low incomes. Least happy are those in the middle-income range.
Retired, self-employed people and homemakers are happier than those employed or unemployed.
By marital status, the happiest people are widowers and widows. Folks in relationships are happier than those who are divorced or never married.

Considering the parallels between Atlantic Canadians and New Zealanders, these results indicate I'm as happy as a clam at high tide! How about you? Can you fit yourself into the picture and come out smiling?