Master swordsmith Jake Powning lives and works in Markhamville, NB, population 37. In 2004 the University of New Brunswick included him as one of the "21 Leaders for the 21st Century;" one of his works was included in Masters of Fire, an international exhibition of swords as art objects in Macau, China, in 2005. Saltscapes talked to Jake about his unusual childhood, his artistic family and modern Vikings.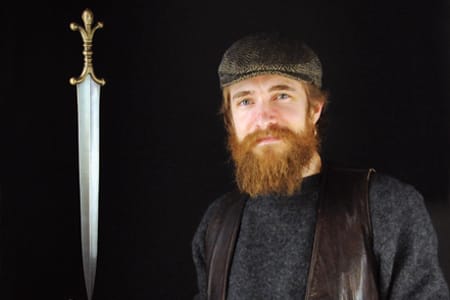 Q Describe what you do.
A I make swords in the Celtic and Norse traditions, drawing inspiration from the mythology of those cultures.
Q Why swords?
A I'm fascinated by power objects. It doesn't matter who I put a sword in the hand of, it has this very powerful effect on them. They'll either hold it away from them or they'll take ownership of it and stand up a bit straighter.
Q What is a sword to you?
A It represents conscience, because you are directly responsible for what you do with it.
Q What were you like as a child?
A Eccentric. We didn't have TV. We played elaborate games in the woods that would run for months. We'd make armour. When I was 12, I went to a historical village and worked with a blacksmith named Bear. He forged a sword for me. He'd sing to me in Gaelic. He had an interest in wizards and dragons.
Q Your father's an accomplished ceramic artist, your mother a successful author. Your wife is a designer. Why is your family so creative?
A You inspire each other. You grow up doing creative things and looking at the world in a creative way. My parents' friends are artists. They had complicated, passionate conversations about art. You grow up with it in your blood.
Q What do your two daughters think of your job?
A They think it's very cool. I make them wooden swords. They're my little warrior queens. Kids get it. Magical swords and mythology. When you get right down to it, it's kind of a childish thing I'm doing. It's about creating wonder.
Q What's a typical day for a swordsmith?
A I might spend the day forging steel or doing intricate wood carvings. I might spend a week doing etymological research into a certain word for the name of a sword. I'm a combination of physical and nerdy.
Q Who's your most unusual customer?
A One who lives on a sailboat. He's a modern Viking. The sword has a deep, spiritual meaning to him.
Q What landscapes inspire you?
A I spent a lot of time in Britain, hiking through the Snowdon Mountain Range in Wales and the highland coastal trails in Scotland. The landscape is remarkably similar to here-that geology comes right through Newfoundland and the Maritimes.
Q What about local landscape?
A We're in the Fundy Uplands. There's a sense of mystery because there's rolling hills, forest, fields and old houses, some abandoned. There's a ravine behind the house. This kind of rumpled landscape allows you to imagine what's over the next rise.