How a search for family led to a wedding in Lunenburg, NS—repeating history.
Standing just inside St. John's Anglican Church, Gail Hewitt started to cry. "I was overwhelmed. This is where my relatives had been married, baptized and buried. They came with so little. This moment was very special to me."
It had taken Hewitt nine years to get to that moment—nine years since she had decided to embark on a journey to discover more about her grandfather, Grant Ivan Parker. She had always felt close to him, but never knew much about his background. The year Gail began her quest, one of her daughters, Sarah, met a young man named Justin Plant at their local church in Auburn, Ont, where they were both involved in a youth group. They became fast friends—and little did anyone know how Gail's search into her past would affect the young couple's future.
Although Gail could trace her grandfather's dad, William Parker, she couldn't find his wife, Druscilla—until an elderly aunt suggested she look for someone by the name of Truscilla instead. Bingo! Truscilla was in the 1881 Nova Scotia census.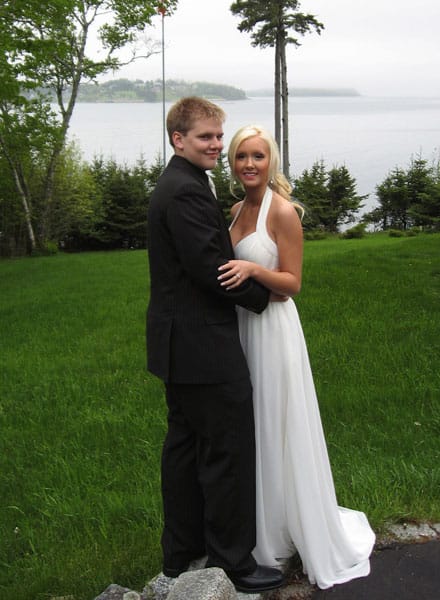 Druscilla's maiden name was Eisenhauer; Gail discovered she came from a line of Eisenhauers who were part of the founding settlers of Lunenburg, NS.
These settlers included Johann Hans Adam Eisenhauer (1698-1781) originally from Wilhelmsfeld, Germany. On July 2, 1751, Johann and his family boarded the Pearl in Rotterdam, where 265 men, women and children set sail for Neu-Schottland (Nova Scotia) with a promise of free land in the New World. Eighty- six days and several deaths later, they landed in Halifax. At the time Halifax was a rowdy garrison town, but the new settlers buckled down and built Dutch Village, a series of small, tidy homes. Every Sunday the "Foreign Protestants" gathered to worship and read their German Bibles. They took whatever jobs they could get, patiently waiting for the land they were promised in Lüneburg.
Almost two years later, the settlers gathered at Parade Square in Halifax, where Governor Penegrine Hopson handed out playing cards from a deck. Each card held a number, location and town lot in Lunenburg. A week later, 1,483 immigrants boarded 14 transport vessels along with 158 troops and rangers led by Colonel Charles Lawrence. Alas, due to foul weather, what should have been a short journey took 11 days. They landed in Lunenburg somewhat bedraggled, but anxious to homestead.
The men had each been promised a town lot and an additional woodlot of several hundred acres—if they hung in for seven years.
A year after arriving in Lunenburg, the settlers received a grant for 476 sterling pounds, and built a simple 40x60-foot building for a church. But the money didn't stretch very far. There were no pews or heating, and the roof leaked. As well, the fledgling community had to deal with everything from Native raids to forest fires and drought. Food was so scarce that the government shipped special rations to keep them alive. Yet, the settlers survived. Lunenburg and the church began to thrive and expand.
By 1892, St. John's Anglican Church was a grand specimen with unique features—such as a Gothic 70-foot tower, and decorative stars painted on the dome of the apse. These are not randomly painted stars; they are constellations as they might have appeared in the Lunenburg sky on Christmas Eve.
In 1995, the church was designated a UNESCO World Heritage Site, but on Halloween night in 2001, it was destroyed by fire.
The community rallied, formed a restoration committee, raised funds, pulled together an army of volunteers and set about to restore the church. Four years later, the restoration was complete.
Gail Hewitt found all of this fascinating. She pored over historical accounts, checked online genealogical sites and corresponded with scores of people.
Meanwhile, when Sarah turned 16, Justin asked Gail's husband, Jim Hewitt, for permission to date his daughter. Before long, there was talk of marriage when Sarah finished school. While the youngsters dreamed about their wedding, Gail dreamed of going to Nova Scotia to learn more about her ancestors. She did so in May 2008.
Standing inside the church, Gail felt she was "home." She thought back to 1756 when young Johannes Adam Eisenhauer (son of Johann Hans Adam) married widow Marie Elizabeth (Herman) DuMett on the same spot. "These were my great, great, great, great, great, great grandfather and grandmother."
By the time Gail left Lunenburg, she had met some descendants from the Eisenhauer family and walked on the land their ancestors had farmed. She knew she would be back.
That summer, Sarah was taking a fashion merchandising course and Justin worked as a personal care worker at Community Living Brant. They were finalizing their wedding plans. Justin suggested Nova Scotia: they would have a low-budget destination wedding the following May, getting married in St. John's Anglican Church in Lunenburg.
Imagine! The ninth generation to marry in that church. On May 30, 2009, 18 people (parents, siblings and friends) seated themselves in the intimate and wondrous chancel of the church. As Justin stood next to Rev. Michael Mitchell, the organist struck up Pachelbel's Canon in D Major and Jim Hewitt, beaming from ear to ear, walked his daughter down the isle.
Sarah was in tears. So much love; so much history.
After the wedding, the family drove to some picturesque Lunenburg places to take wedding photos, including the First Peninsula, land granted to the Eisenhauers those many moons ago.
Andrew Eisenhauer lives there now. He's one of the founding members of the Restoration Committee—and a direct descendant of the same Foreign Protestants Gail discovered in her quest to know more about her family.
Had Sarah and Justin been married two centuries before, the wedding reception would have been at the home of the bride where feasting and dancing would have gone on for several days—or at least until the "eatables" were gone.
In the History of the County of Lunenburg, author Mather Byles DesBrisay writes: "The provisions laid in for a wedding in this county included several sheep, 18 geese, soups, hams, puddings, pies, cake, and wines in abundance." One recipe for a wedding cake called for 12 dozen eggs (144!) to be mixed in a washtub. For Sarah, Justin, their family and friends, the feasting took place at nearby Oak Island Resort.
Now, even though many months have passed, Gail's memories often drift back to the rainy morning of the wedding. "I remember thinking how in 1753, my family arrived in a ship in the same type of weather. They were probably soaked but they likely climbed up the hill, and with great expectations, looked at their new land. This was the place where they would finally start their new life. This is the place where my daughter chose to start her new life, as well. I can't express how much that meant to me."
Back in Ontario, Gail flies the Nova Scotia flag and has a large collection of rocks, shells, and driftwood from the land of her ancestors. "It helps me to feel that I have a piece of "home" here. One day I will return to Nova Scotia to live, and then I will be able to continue to discover more of my family history.
"My father was a Melanson, an Acadian who came to Nova Scotia in the 1600s—a whole new avenue to explore!"
As for Sarah and Justin, they too have plans to move to Nova Scotia—sooner rather than later. They are expecting their first child this July, and would like the baby to grow up on NS soil.