At age 42, Rita MacNeil won the Juno Award for Most Promising Female Vocalist. She'd already been performing for more than two decades. By 1990, she was Canada's top country artist. Eight of her recordings went platinum, two more went gold. She has five honorary degrees and has received the Order of Canada; a play has been written about her life. Today, at 66, Rita spends her time in Big Pond, Cape Breton. Saltscapes spoke to her about growing up shy, the impact the women's movement had on her music, and making up lyrics as she sings.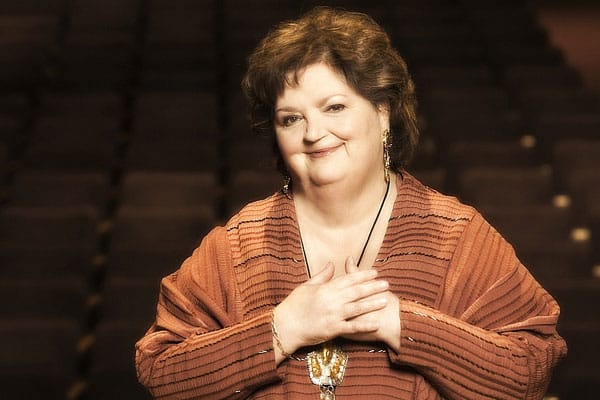 Q What are your earliest memories of Big Pond?
A I loved being outside in the woods playing. Everything around us was something we could play with…. I was a bit of a dreamer. I would sit and rock, listening to the radio. I would imagine myself out there singing.
Q You grew up in a family of eight kids. How did your parents manage day-to-day demands?
A We all did our chores. My father and mother owned one of the general stores. They were hard working people. There was always different people coming into the store. I remember some of the wrestlers of the day would stop. My father would get me to sing for them.
Q Tell me about your mother.
A She was a bit of a dreamer in her own way. She encouraged me with my music. She would get me to sing in the kitchen, but I would never let any of them look at me, so they would have to go in the living room while I sang. I was disappointed that she passed before she got to see me on the stage. 
Q When you were younger you had a series of surgeries?
A Yes, I was born with a cleft palate. Growing up with any little thing that sets you apart is always a challenge.... I went to a one-room school and don't have a lot of great memories of school. I did a lot of staring out the window. I was always going around holding my hand up to my face.
Q You were a single parent with two children, you battled shyness and the frustrations of starting a career. Why were you so persistent?
A Rather than talk about what I was feeling, it was easier for me to sing about it.
Q Those early difficulties led you to the women's movement.
A I had no intention of going, but after I went to the first meeting, I couldn't stop going. I was too shy to speak up, so I asked if I could sing at one of the meetings. I got up and started singing what I was thinking. From then on, that's the way I expressed myself.
Q You made up the lyrics as you sang?
A Yes. That's how I do my writing. The melody and the lyrics come all together.
Q You lived in Toronto and Ottawa in the 70s, then returned to Cape Breton in 1979. Most people would warn against that as a career move.
A You wouldn't believe how many times I've heard that. [But] it was the best move I ever made. Playing in the pubs and the little halls, the writing started to flow.
Q Do you remember your first public performance?
A It was in Big Pond at the little church hall. I was about seven. When I was older, I sang in little variety shows. I'd get through three lines and run off the stage.
Q In contrast, can you pinpoint when you knew you'd made it?
A I worked with [Halifax-based promoter] Brookes Diamond. He got me into Expo '86, in Vancouver. It opened a lot of doors. I made it to the bigger stages from there: London's Royal Albert Hall, the Sydney Opera House.
Q You're 66. Any sign of retirement?
A No, I'm still going. Music is forever—it's not something you retire from.