It gossips and listens, records stories and reveals secrets. If you want to know the low-down in River Bourgeois, Cape Breton, you read The River Round Up.
If you mention "the river" to folks in a certain part of southeastern Cape Breton—in the vicinity of St. Peter's—it means one place, and one place only: River Bourgeois. If you say "the round up," that, too, means only one thing, and it's not cattle being corralled. Rather, it's a monthly newsletter called The River Round Up.
It all started back during the Second World War. Teacher Marie Boyd worried about the troops and the harsh conditions "her boys" experienced overseas, so she mailed them care packages. In 1942, Marie added written accounts about the community, chronicling everything from births and deaths, to comments on the crops—and who chased so-and-so's pig down the lane. It all started back during the Second World War. Teacher Marie Boyd worried about the troops and the harsh conditions "her boys" experienced overseas, so she mailed them care packages. In 1942, Marie added written accounts about the community, chronicling everything from births and deaths, to comments on the crops—and who chased so-and-so's pig down the lane.
Originally called Bourgeois Bulletin, the newsletter morphed into The River Round Up. The guys loved receiving it and many, like Gunner James Richards, wrote back. "There is nothing as inspiring as news from home when one is so far away," he typed in a letter dated December 6, 1944.
After congratulating Marie on the artwork and commenting on the news, he added: "How I would love, not to follow in my imagination but in reality, the winding River to HOME now; but there's a War on and we must make the best of it until we return."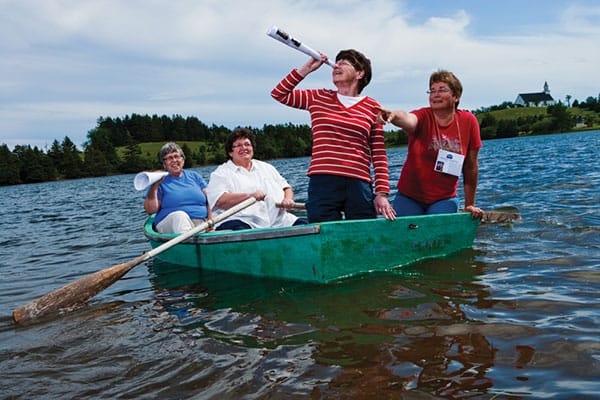 Although Marie stopped publishing The Round Up right after the war, with the help of others she started it again in 1954 in order to raise funds for a Soldiers' Memorial. Once accomplished, the newsletter once again ceased publication, in 1959.
Zoom ahead to the year 2000, when River Bourgeois was about to celebrate its 22nd Annual Festival, and open a CAP site. (CAP provides public access to the Internet in places like schools, community centres and libraries.) The notion of producing a newsletter popped up, and the CAP site seemed the perfect place to produce it.
Sharon Digout was involved with both the festival and the new site, so got the ball rolling with some other volunteers. Before long, Sharon Chilvers, Therese Pottie and Sherry Baccardax came on board, and the feisty foursome became the new backbone of The River Round Up.
For Sharon Digout—who had worked in a hospital lab for 30 years, and was used to reporting results—writing stories and interviewing people was an eye-opener.
"I was surprised that I could get into the flow and do something that was so fluid," she says. She notes the number of people in River Bourgeois who live well into their 90s, and how they all have tales to tell. (Some say the longevity is a result of the copious quantity of fish they used to eat.)
"I also discovered that I love to learn things much more than I like to clean house," Sharon adds.
Since its resurrection, the newsletter has been instrumental in raising thousands of dollars to help build a marina and cenotaph, and to build a replica of the lighthouse that was burned down. No small feat for a community of 550 people.
Two hundred and fifty copies of The River Round Up are distributed on the first day of every month—or on the second day, if the first day is a Sunday. Fifty-one are hand delivered, 103 are mailed to subscribers, and the rest are placed at the local post office, Wilson's Gas Bar and the East Coast Credit Union, where they sell for a toonie. (Past issues of the newsletter are available in pdf form online at http://ns4.seaside.ns.ca/~rbcap/roundup/rounduparchives.htm.)
The newsletter is so popular that people expect it by noon; if they don't find a copy by suppertime, phones start to sizzle and the production crew has explaining to do.
Over the past few years, the reporters have systematically set out to profile all the veterans in River Bourgeois. "They have touching stories," says Sharon Chilvers. "I cried many times listening to them speak about the horrific things they saw and endured."
But the stories are not always heart-wrenching. In her capacity as story sleuth/reporter, Sharon has often been privy to personal conversations—like the time a resident insisted on talking about her sexual escapades.
"I told her I couldn't put that kind of information in The Round Up but she kept telling more than I wanted to hear—and it was explicit!"
On another occasion, en route to do a story about a farmer, Sharon got stuck in the snow. After abandoning her car and slogging her way to the farm, she discovered the batteries in her camera were dead, and her pen had run out of ink. Yet she carried on with the interview, and the farmer hauled her car out with his tractor when they were finished. Although she had to write the story from memory, she considers it one of her best.
Therese Pottie creates and maintains the database for The River Round Up, keeps the mailing lists sorted, prepares renewal notices and prints labels, as well as stuffing, sealing and stamping envelopes. Sure, the tasks can be mundane and repetitive but Therese finds them worth doing because the feedback is always so positive. She also sees the newsletter as "history being restored—and stored—for future generations." And, in spite of living in River Bourgeois her entire life, Therese adds, "I always learn something new about people I thought I knew so well."
Therese also acts as fact checker. This has come in handy more than once, for example when one of the reporters goofed and wrote that someone was deceased when the person was actually alive.
Sherry Baccardax, the fourth cog in this impressive wheel, is responsible for formatting, sniffing out misspelled words, and making sure reporters get the names right. Although Sherry says there are no secrets in River Bourgeois—a mixed blessing—her biggest challenge over the past 10 years has been to get the two Sharons to keep the newsletter down to four pages.
The River Round Up has featured hundreds of folks. Take Edna and Gerry Casey, for example. Part of the story tells of their chance meeting in 1960; another part delves into their stint as B&B operators from 1984 to 1987 (charging grand sums of $18 for a single room and $28 for a double per night). Sixteen years ago Gerry and Edna started taking music lessons: he on the fiddle and piano, she on the bagpipes. They play at ceilidhs, for friends and at public dances. On balmy mornings, it's not uncommon to hear Edna blare a tune on the bagpipes from her back porch.
There's also a humorous anecdote about Edna when she worked at Richmond Villa as a licensed practical nurse: Once a family brought in an elderly gentleman for admittance to the Villa. The daughter asked if they took care of the patients' teeth at night- time. Edna, having listened to only part of the conversation, replied "Yes, we take them out at night, clean them and reinsert them in the morning." The lady was quite alarmed and replied, "But he has his own teeth."
Other extraordinary ordinary characters featured include Charlotte LeBlanc and Anne Sampson. In addition to having 14 children, 30 grandchildren and 24 great-grandchildren, Charlotte has created more than 1,300 quilts and countless batches of fudge. She's also an avid bingo player. As for Anne, the list of community groups that she has founded, headed or helped is longer than a flagpole; her years of service collectively add up to more than 150.
The River Round Up was also instrumental in reuniting two people, which came about when it published a story about Marie (Bourque) Boucher. Born in 1916, Marie headed to Halifax when she was 15 to work as a maid. Later, she had a position at the Halifax Infirmary doing 15-hour shifts. "Hard work for $12 a month," reported the lively 95-year-old.
Following that stint, Marie became a housekeeper for Joseph A. Chisholm who was Chief Justice of Nova Scotia at the time; she was also nanny to his three grandchildren. One of them was Joseph Chisholm Lyons, nicknamed Chissy, who became very fond of her. However, in 1939 Marie moved back to River Bourgeois to marry her childhood sweetheart, and eventually lost touch with the family.
In March 2006, The River Round Up featured a story about Marie, mentioning her position as housekeeper to Joseph A. Chisholm. Then serendipity stepped in. Edmund Boyd—a retired Dalhousie University professor, subscriber to The Round Up and a good friend of Chissy Lyons—read the article. He sent his friend the newsletter and lo and behold, although Chissy was living in Mexico, he remembered his nanny from way-back-when. They started to correspond and two years later, the 81-year old lawyer-cum-artist and world traveller was sitting in Marie's living room for a visit. And, of course, The River Round Up was there to report on the reunion.
So it is. And even though Sharon Digout relinquished most of her duties this year due to her responsibilities at the CAP site, stories continue to unfurl—and be recorded.
The river that isn't
Oddly enough, there isn't actually a river in River Bourgeois. The body of water referred to as the river is really a tidal harbour with a narrow entrance, which one might think leads into a river. Not so.
Garvie Samson's gem of a book, The River That Isn't, is chock-o-block full of the history of River Bourgeois, including vignettes like how his dad, Jimmy Sampson, helped Jim Bouchie renovate Farley Mowat's famed boat that wouldn't float.

Farley Mowat has a summer residence in River Bourgeois, and in the forward of the book he writes: "This is one of the oldest and most enduring communities in Cape Breton, and its present-day inhabitants carry with them not only the memories, but the many good, solid attitudes of other times."
Of course, not all the old attitudes were good. In the book Garvie says why some names from the same family have different spellings. For example, note that Garvie's surname and his dad's differ: one has a "p" and one does not.
"The reason is that as men sought employment outside the River, their names—Bourque, Sampson, Paté and LeBlanc—were considered to be degrading," writes Garvie, suggesting discrimination was at play.
"Before they went for job interviews, they changed their names to English versions. When servicemen enlisted, often the English versions of their names were used.... and they were adopted."