Rob Jackson wanted to answer a simple question: "Is the quality of your well water any different if you live near a natural gas well?" Discovering a lack of hard data on the topic, the researcher from Duke University, in Durham, North Carolina, set out to explore the question himself.
Joined by three colleagues, Jackson travelled to northeastern Pennsylvania and upstate New York—hotbeds of debate on shale gas development and hydraulic fracturing, the controversial procedure used to draw natural gas from shale.
Jackson and his team collected 68 drinking water samples from wells that sit atop the Marcellus and Utica shale formations. The Marcellus shale is home to the most expansive shale gas "play"—an area where oil and gas companies are actively looking for natural gas in shale rock—in the US, spanning six states and containing hundreds of gas wells.
Jackson tested drinking water in areas that, in many ways, resemble the Maritimes: rural terrain with heavily wooded hills and farmland, sprinkled throughout with homes and people, many of whom rely on well water.
Here at home
In recent months there's been a flurry of news about the natural gas sector in the Maritimes. On September 13, Nova Scotia announced that Alberta-based St. Brendan's Exploration Ltd. had secured the exclusive rights to explore for oil and gas on three large land blocks spanning from Pictou to Amherst. The company has committed to spend $10.4 million over the next three years as it combs over 335,500 hectares of terrain.
In all, eight companies have secured exploration or production agreements with the Nova Scotia government.
The hunt for onshore riches extends far beyond mainland Nova Scotia. From central PEI to southern New Brunswick and Cape Breton, oil and gas companies—from as far away as Texas—are seeking lucrative deposits of oil, natural gas and coal bed methane.
Currently, New Brunswick is the only Maritime province that produces onshore natural gas—Corridor Resources has been producing it near Sussex since 2003. Corridor's gas production, it must be noted, is what the industry describes as "conventional," meaning it flows relatively easily from porous underground rock formations, often composed of sandstone.
But like many oil and gas companies across North America, Corridor is also seeking natural gas from an "unconventional" source. In such cases, natural gas is drawn from tight rock formations, such as with shale, where the gas does not easily flow out. That's why hydraulic fracturing—or fracking as it's commonly known—is nearly synonymous with shale gas production.
Fracking a gas well involves pumping millions of litres of fresh water—often mixed with sand and chemicals—underground. Under great pressure, the brew creates fissures in the shale, allowing natural gas to escape and flow to the wellhead. The problem is that fracking fluid has been shown to contain toxins, including benzene and lead, a potential worry for those who draw their drinking water from nearby wells.
Corridor is seeking a major gas development in New Brunswick's Frederick Brook shale. On September 27, the Halifax-based company announced the drilling of a shale gas appraisal well just north of Elgin.
Of the three provinces, New Brunswick appears closest to launching a shale gas industry. The current government estimates such a sector could deliver hundreds of millions in annual royalties. Despite that prospect, the industry has received a harsh welcome in the Picture Province.
This past summer, SWN Resources, the Canadian subsidiary of Houston-based Southwestern Energy, experienced theft and destruction of its seismic equipment, as well as assaults to some of its workers.
New Brunswick has also played host to a number of protests.
But are the majority of residents actually opposed to shale gas exploration? Not according to a poll released in September by Halifax-based Corporate Research Associates.
The survey indicates that 48 per cent of Saint John residents support exploration, while 33 per cent oppose it. In Moncton, 41 per cent of the population support the idea, while 36 per cent oppose. Opposition groups may be vocal, but New Brunswickers are "very much divided" on the issue, concluded CRA pollster Don Mills.
The mention of fracking, however, caused shale gas opposition in both cities to rise significantly, Mills noted. Justified or not, fracking has the power to spook.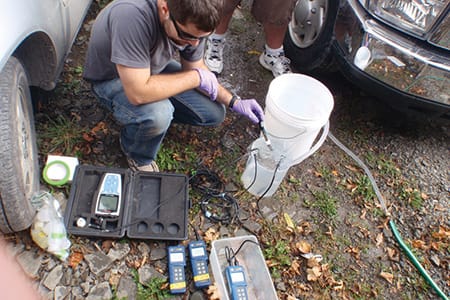 Fresh water: an unknown quantity?
The shale gas industry often requires enormous ?quantities of fresh water. How much? In the US, up to four million gallons (15 million litres) of water are required to drill and frack a single horizontal shale gas well.
"While these volumes may seem very large, they are small by comparison to some other uses of water, such as agriculture, electric power generation, and municipalities, and generally represent a small percentage of the total water resource use in each shale gas area," notes a primer on the American shale gas sector. A similar report, issued in 2009 by Canada's National Energy Board, expressed uncertainty about how much water will be needed for this country's developing shale gas sector.
"Little is known about what the ultimate impact on freshwater resources will be," it concluded.
Emotion vs. science
So what did Rob Jackson discover after testing those 68 water wells in Pennsylvania and upstate New York? There was no evidence of fracking fluids in the well water. "What we did find was a strong relationship between how close people were to a gas well, and the concentration of gases in their water, particularly methane," says Jackson, an environmental scientist who directs Duke's Center on Global Change.
Methane levels were, on average, 17 times higher in drinking water drawn within one kilometre of a gas well. According to the US Department of the Interior, well owners should be concerned when methane levels reach between 10 and 28 milligrams per litre;
Jackson found numerous wells with methane levels as high as 64 milligrams per litre. His report called such levels "a potential explosion hazard."
Jackson did not have pre-development numbers to compare his data to, so he cannot definitively say that natural gas production caused the methane contamination. However, the Duke professor compares his research to early studies on smoking and lung cancer. Those studies couldn't prove smoking caused cancer, but they showed the presence of a link—one that warranted further study.
"There's a lot of emotion, a lot of anecdotes, but not a lot of good scientific analysis to separate the rumour from reality," he says.
In North Carolina, Jackson's home state, fracking is currently illegal, but the state legislature is studying whether to allow the practice. Jackson himself lives on a rural gravel road outside Durham, drawing his drinking water from a well. Fifty kilometres to the south lies a shale formation eyed for development.
"In many cases I think shale gas can be extracted safely if companies are careful… But it hasn't always been done safely in my opinion."
Chemical concerns
Back in April, the US House of Representatives released a report revealing the slew of chemicals used in the fracking process. Fourteen companies were called on to reveal the chemicals used in their fracking fluids between 2005 and 2009.
"Some of the components used… were common and generally harmless, such as salt and citric acid," stated the report. "Some were unexpected, such as instant coffee and walnut hulls. And some were extremely toxic, such as benzene and lead."
Many of the companies also used 2-butoxyethanol. Easily absorbed by humans, it can destroy red blood cells and cause spleen, liver and bone marrow damage. In Wyoming—in contrast to Rob Jackson's results—the US Environmental Protection Agency has discovered 2-butoxyethanol in drinking water wells.
Between 2005 and 2009, the 14 companies used 29 fracking chemicals that are either "known or possible human carcinogens," or recognized as air or water pollutants. "Some of these chemicals, if not disposed of safely or if allowed to leach into the drinking water supply, could damage the environment or pose a risk to human health," concludes the report.
Such warnings concern Coralie Cameron, a 33-year-old teacher who lives in Scotsville, Cape Breton. Nearby, Lake Ainslie pours gently into the Margaree River, a key spawning ground for Atlantic salmon.
Growing up, Cameron could view Lake Ainslie from her parents' house. She still spends many summer evenings swimming in the warm water of nearby Trout River Beach, watching the sun setting or the eagles hovering above the lake.
In 1869, Nova Scotia's first oil and gas well was drilled near the shore of Lake Ainslie, the province's largest natural freshwater lake. Now industry eyes are again fixed on the area.
On September 20, Nova Scotia granted PetroWorth Resources permission to drill an exploratory oil well near the lake. The Toronto-based company has secured the exploration and development rights for nearly one million acres of land across PEI, New Brunswick and Nova Scotia, including 383,000 acres in Cape Breton.
At Lake Ainslie, PetroWorth has been approved to drill a vertical well up to a depth of 1,500 metres. The province, in announcing its approval, made sure to note that fracking is not included in PetroWorth's current plans.
Regardless, Coralie Cameron is concerned that exploration and development could transform the area. She wonders how oil or gas activities might impact the fishery, tourism and local well water.
"It doesn't really make sense to push forward with an industrial project and put all these other things at risk," she says. "And I'm not sure we trust the government standards that are in place to protect us."
Fracking is technically allowed in Nova Scotia, though the provincial government is now reviewing the practice. Some areas, such as New York and Quebec, have halted fracking until the environmental impacts are studied further. France has banned the practice outright, the first country to do so.
In May, the US Energy Secretary assembled a group of experts to explore the controversial procedure. Similarly, in September, federal environment minister Peter Kent called on Environment Canada and a panel of independent scientists to conduct two parallel studies on the environmental impacts of fracking.
Donald Savoie, one of the country's preeminent academics—he holds the Canada Research Chair in Public Administration and Governance at the Université de Moncton—applauded the move. In a newspaper commentary, Savoie called on his fellow New Brunswickers to look objectively at both the possible economic benefits and the "potential impact on our fragile environment."
"The debate should be based on facts—not on hype, not on hearsay and not on what one may have seen on YouTube," he wrote. "We need to ask ourselves, is it appropriate for New Brunswickers to say no to the oil and gas sector at home without a proper debate, but welcome… transfer payments that are in large part generated by the same sector in other provinces?"
Also in late September, BC's energy regulator said that it, along with Natural Resources Canada, would investigate a possible link between fracking and recent earthquakes: since 2009, 31 earthquakes have occurred in the Horn River Basin, a hub of natural gas activity in northeastern BC. There were no recorded earthquakes before 2009, and three of the recent quakes occurred while fracking was underway.
Faith in regulations
Nova Scotia's fracking review, to be finished next year, could have a major impact on how natural gas companies operate in Nova Scotia, contends Charlie Parker, the province's energy and natural resources minister.
On this particular day, Parker is working from his home office in Loch Broom, a small community just outside Pictou. Parker's property, including his drilled well, sits within one of the three large land blocks recently awarded to St. Brendan's Exploration. "We have the same concerns as many Nova Scotians. I know people are worried about the environment and their drinking water," he says.
Parker insists that the province is already regulating the onshore oil and gas industry. For instance, prospective developers must go through a "stringent" review process with provincial officials to prove their expertise and financial capabilities. As well, companies that secure a land lease must still make separate applications for all rounds of seismic testing and drilling.
Parker, a former teacher and House Speaker, says those existing regulations will be improved further by the results of the fracking study. "The last thing we want to see is damage to our drinking water or our environment. I have faith we can put in place regulations to protect those things, and still promote responsible economic development," he says. "And if we can't do that, then we're not going to allow companies to operate here."
Balancing act
Parker's New Brunswick counterpart has a similar outlook. Bruce Northrup's Sussex constituency office is about a 10-minute drive from Penobsquis—home of Corridor Resources' gas plant. As the MLA for Kings East, Northrup represents citizens on the frontline of natural gas development; as natural resources minister, he is tasked with balancing environmental concerns with the economic potential of natural gas activity. And he's convinced it can be done.
Leaning back in his chair, Northrup recalls his recent fact-finding trips to BC, Pennsylvania and Arkansas. In Arkansas, a hub of American shale gas activity, he was shown photos of discoloured water. He also visited the home of Bertie Houston, an elderly woman whose house sits about a kilometre from a Southwestern Energy gas compressor station. The incessant noise and rattling was preventing her from sleeping at night. Northrup, who sat at Houston's kitchen table, says it sounded like a jet was taking off outside her house.
Northrup admits he encountered a dark side of the shale gas sector. But he also saw industry striving to correct problems. He points out that Southwestern Energy has since built insulated walls and a roof around the compressor to help block the noise. His conclusion: the sector can be developed in an "environmentally friendly way," while also producing substantial royalties.
According to Northrup, a major natural gas project could deliver $250 million in annual royalties. "Obviously we're $9 billion in debt right now. So we can't ignore this opportunity," he says.
In late June, Northrup announced new regulations aimed at strengthening public confidence in the emerging industry: oil and gas companies must pay for independent baseline well water testing; disclose all the fluids and chemicals used in the fracking process; and put up a security bond to protect property owners in the event of an industrial accident.
But Northrup is promising more, including a review of the current royalty system. His goal: to boost the province's cut, while also delivering some of the proceeds directly to the communities and landowners affected by natural gas development.
"Right now the landowner doesn't really benefit at all," Northrup admits. "We're never going to satisfy everybody… But we're not going to hide from anything either. We're going to be very upfront about this industry."
A "commendable" start
That attitude, combined with the government's new regulations, was enough to convert Bethany Thorne-Dykstra. The farmer and activist became nervous about natural gas activity when small orange flags—marking locations for seismic testing—started popping up near her two dairy farms west of Moncton.
Each of her nearly 400 cows requires about a bathtub worth of water per day, meaning a dry or contaminated well would likely ruin her family operation. "We had a few sleepless nights here, wondering if we would lose our water," she says sitting at her kitchen table.
So Thorne-Dykstra and her group, Citizens For Responsible Resource Development, called for a moratorium on natural gas activity—to stay in place until the province beefed up its regulations. For months her 650-member organization lobbied cabinet ministers and launched a petition.
Then, in early July, Thorne-Dykstra sat next to Northrup at a press conference in Fredericton. Her message: a moratorium was no longer needed.
"The government showed it is finally listening to us," she says of her group's controversial change of position. "There's some real protection now. We're not saying that's enough. But it makes me and my family feel better to know those new rules are there. We believe it's a commendable start."