The connections forged by a family's oldest and youngest members involves trust, fun, comfort and cuddles (...and pets are cuddle bugs, too).
Frost is on the pumpkin. The vibrant colourful days of October are behind us, and the next season begins—a season that holds a different kind of warmth. It's called cuddle time. You'll need feelings of affection and intimacy.
Quite apart from the serious relationships I've had with partners in my life, my most intimate cuddle times have been with my grandchildren and my dogs. A beloved member of a family that wants to snuggle most of the time is a dog! Some breeds are clingier than others, and I have two top snugglers—Cavalier King Charles spaniels, who were born with the cuddle gene. Our cuddling is a sign of mutual love and affection, and I confess that I often need it as much as they do.
Most of my grandchildren are now adults so the demonstration of affection takes a different form, but I'm sure that some of them still remember the happy times in the rocking chair and the cuddles with a good book. What is more satisfying than nodding off in the rocking chair with a small person resting on your chest? The strong bonds that develop last a lifetime and are reputed to strengthen a child's academic, psychological and social development.
The relationship between the oldest and youngest members of a family is pretty special. Elders don't have the same responsibilities they had with their own children. They are free from day-to-day parenting, and they don't need to discipline or arrange socialization activities. They spend time with the grandkids because they want to, and vice versa.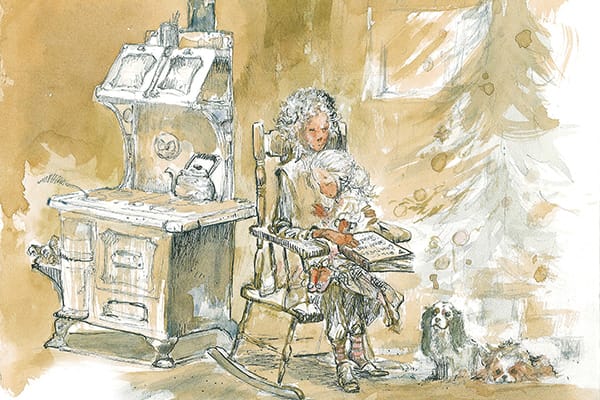 When they are with a grandparent, grandchildren inherently know that no one else is more special. Trust, love and comfort are wrapped up in the connection—heritage and values too.
Names are passed from generation to generation, but sometimes special names are assigned to the eldest and youngest. In my family youngsters have been called Tiger, Skeezix, Kitten, Girlie (do you have unique names in your family?) Nanny, Gran and Papa are common in our culture, but sometimes we're assigned names that can't be explained. When she was two years old one of my West Coast grandchildren named me Jamie. It stuck!
The East Coasters called me Gigi. I answer to both and treasure them.
We can be silly and serious with our grandkids. We can sing silly songs and make up preposterous stories about anything that pops into mind. Kids love it and join in the fun. Kids of any age love to hear stories about when their own parents were young, and as grandparents we love to reflect on those days ourselves. In these ways we pass along our heritage and family values. No lectures, just fun—the best kind of learning. Do you remember some of those moments with your own older person? I bet that the stories you heard have been carved into your memory bank and treasured.
Those at both ends of the age spectrum share in activities that transfer skills. I'm sure that one or two of my grandchildren will resurrect their fly-fishing skills when they are older. I often meet people on the river who tell me that they were introduced to fly-fishing by a grandfather when they were young. My own grandchildren, Kate and Nori, will say, "My grandmother took me fishing!"
This is not to say that parents don't, but grandparents tend to be more deliberate in demonstrating unconditional love and encouragement. Children tend to be more tolerant of grandparents than parents. My own grandchildren listen to me more intently and less dismissively than their parents ever did! To be fair, I am older, wiser and more relaxed with them than I ever was with my sons. As a grandparent, I know that I can be a role model, a teacher, a nurturer, and a mentor. I can contribute to the development of their character in ways that are different from a parent. I take this role seriously and enjoy it.
It is never enough, and I frequently see only two of my seven grandchildren. When we are apart, we communicate through technological means. The phone, texting and Facebook are invaluable in keeping us up to date on each other's daily lives. I know about their academic performance, their health, their love lives, their social highlights and lows, and they about mine. We like each other and our contact is direct.
Geographic location of the other five grandchildren makes family togetherness difficult. They are out west. We get to physically see each other only every year or two so our being part of each other's lives is not easy. Contact is indirect, either through chatting with their parents or reading their notations on Facebook. We rarely cuddled together so the bonds aren't as strong. Unfortunately it is left to the parents to convey the East Coast family history and traditions.
The attitude toward elders differs in various ethnic communities around the world. In the Western world we celebrate youth, individualism and self-reliance. Asian cultures stress the importance of obedience, respect and deference to elders, especially parents and grandparents. The family is a closely united group of living and dead relatives. Deceased ancestors are honoured with various ceremonies and rituals to show respect, look after them in their afterlives, and possibly seek their wisdom, guidance and support for the living.
My daughter-in-law Yukiko observes some of her Japanese family traditions, but several years ago she told me that she likes living in Canada. "In Japan," she said, "there are too many ancestors!" Her children, Kate and Nori, the lights of my life, are the best blend of the Eastern and Western cultures. (Hey, I'm a grandparent, I'm entitled to boast!)
Interestingly, the situation is similar in many First Nations communities in our country. Here elders hold a position of reverence. Their principal role is to convey wisdom of experience and cultural traditions to younger generations. The community looks to the elders for guidance and sound judgment. Several years ago, Margaret Labillois, a respected elder in the Eel River Bar Reserve in New Brunswick, told me that it is considered counterproductive to criticize the behaviour of others. It is better instead to foster harmonious relationships and to focus on an individual's potential for goodness. This is a tenet that runs through various cultures and religions worldwide and tends to instill respect in people of all ages.
If you aren't old enough yet, look ahead to the best season of your life. If you are old enough, be an actual or pseudo grandparent and enjoy. We wise up as we age, and curl up as the days grow shorter. Make those days the best gift ever—cuddle!