How Newfoundland's oral tradition has become a literary goldmine
Newfoundlanders have always been great storytellers," says Des Walsh, a poet, writer, screenwriter, musician, actor and cultural icon, as we stand in darkening twilight outside the Heritage Theatre in Woody Point, NL.
It's intermission at Writers at Woody Point—a star-studded festival heavy on homegrown talent—and we've slipped out the side door of the former Orange Lodge to continue a conversation under the stars in Gros Morne National Park.
Top to bottom, bottom to top, publican to pub storyteller, this province of less than half a million people produces an inordinate number of national and international caliber writers, artists and musicians. The question: Is it in the DNA?
Maybe, says Walsh, who wrote the screenplays for the miniseries' The Boys of St. Vincent and Random Passage, and the feature film Love and Savagery. He recalls growing up in a storytelling culture; and a time when many communities strung along the coast were mostly isolated from each other.
"Big songs told big stories. It was almost how people got their news. There would be a whole story. You had that ability… the way to retain information through stories and song. You could hypnotize someone with a story. There was no TV, no radio; just to be captivated by someone's ability to hold you in that trance."
"The province's history plays a role"
More than a literary tradition, Newfoundland has a strong tradition of being entertained by stories, says author and St. John's newspaperman Russell Wangersky, at the festival to read from Whirl Away, his collection of short stories.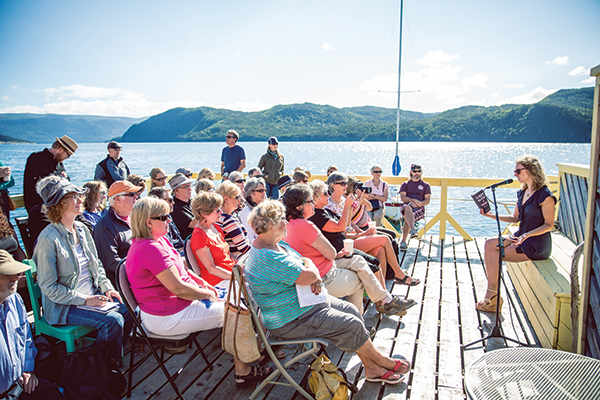 "It's a community that loves that method of exposition."
It's also a culture that loves specific words. Things not working out? They get "tangly." Your leg falls asleep? It's "dunch," Wangersky says.
The province's history plays a role, says Breakwater Books president Rebecca Rose. Before joining Confederation in 1949, Newfoundland stood for many years as its own country, developing a strong cultural identity.
"We developed our own way of using the English language, a very inventive, electric and efficient way of using that language.
"This is a rugged island with sometimes tumultuous weather, and with a history of tragedy. I think our oral and written traditions developed as a way of interpreting that landscape and making it more human, making it a home through stories and song and poetry."
National broadcasting multi-syllable wordsmith Rex Murphy comments on the diction of Newfoundlanders in the foreword of the second edition of The Dictionary of Newfoundland English: "It…comes as close as anything ever will to housing, in the particulars and singularities of Newfoundland speech, the quicksilver notion of what being a Newfoundlander means, as well as—and I am aware of the presumptions, nativist or metaphysical, in this next phrase—what a Newfoundlander is."
If oral and written traditions speak to Newfoundland's cultural identity, bestselling author Lisa Moore, reflects on its character.
"There's an audaciousness, a form of irreverence that makes storytelling very lively here," she says.
Writers, she adds, benefit from sharing between artistic disciplines, and owe a debt to the visual artists, the theatre of Codco, to people like the late Janis Spence who helped spark an artistic renaissance in the 1970s, to the Mummers, filmmakers and musicians.
For every Rick Mercer or Mary Walsh who choose television as a way to reach an audience, there are a hundred storytellers who choose a local pub or a weekend kitchen party to rant on the events of the day and hold an audience in rapt attention, Rose says. And then there are those who put pen to paper to tell their stories.
"A very supportive writing community"
"It's a tremendous time to be an emerging writer in Newfoundland, because the great wave of talent that's come before has made the country's publishers excited about fiction coming out of Newfoundland," says Writers' Alliance of Newfoundland and Labrador president Chad Pelley, a multi-award-winning writer, songwriter, and photographer.
Pelley says there have always been great writers in the province, but around the year 2000, a pack of writers ("The Two Michaels and Lisa—Winter, Crummey, and Moore") came onto the stage together, and they, with a dozen or so epic writers, helped established Newfoundland as a literary goldmine.
Now, established writers are gaining international acclaim and emerging writers are proving capable of carrying the torch well into the future.
"It's a special time in the province's literary history. I feel privileged to witness it happening, to be a part of it," Rose says.
Awards and festivals across the province celebrate writers as never before. Publishing houses and titles produced have increased dramatically in recent years, and community events—launches, readings and book signings so numerous it's difficult to keep track—are proving the literature's place in daily culture.
The provincial government, Rose says, has been wise enough to invest in the industry to ensure Newfoundlanders can compete within the national publishing scene.
"And we're doing it all together," says Chad Pelley. "There's a very supportive writing community here. The publishers aren't competing, but rather, starting festivals together, like Mixed Type; our established writers go out of their way to help the up-and-coming."
Says Corner Brook-raised author Michael Winter, "Wayne Johnston was the first Newfoundland writer to achieve a massive worldwide readership, and I recall when he came home that first Christmas after _The Colony of Unrequited Dreams _hit the big-time.
"He was quietly opening doors for all sorts of younger writers, telling them who to send manuscripts to, that sort of thing."
"We've been tenacious"
When someone tells a good story it lifts the soul, says Winter, nominated for the International IMPAC Dublin Literary Award.
As a professional writer, you look to break down that story: "How did they get away with that yarn? How did they keep my interest?" he says.
"I'll never forget a dramatic monologue [writer and performer] Stephen Lush did once at the LSPU Hall, in St. John's; this string of stories he told where each story got more and more exaggerated and convoluted, and then he'd pause and turn to the audience out of character and say, 'Did you believe that?' And of course he punctured the air of credulity and you realized it was all invented and meanwhile, as you came to understand this, he had launched into a new story and you forgot that he had tricked you and you listened intently again, spellbound, believing him all over again. It's that talent and craft that I try to emulate in my own writing."
This generation's talent pool is no different than those past, says Winter. The thing that's changed is attitude.
"I met Lisa Moore, among others, and we just took another approach. We made it a business. We'd be encouraging each other. If a rejection came in, we had another pitch ready to go. They [publishers] knew we were serious.
"It wasn't that we were better, we were tenacious," Winter told a crowd during an author reading in Woody Point.
"We've been tenacious in knocking on the doors of Toronto and New York and London and Australia and India and Paris; knocked on those doors with agents that represent us, to say here is a corner of the world worth looking at. Your readers will be interested. Something is going on here.
"That's a new development," he said when asked later. "Before, if these agencies of power ever looked at a manuscript from here, they would ask you if you could rewrite the story and set it in Boston or the US eastern seaboard. That, thankfully, is much less the case now and Newfoundland fiction is now read all over the world."
"The rhythm of the waves seeps into the structure of the sentences"
One can't talk about the Newfoundland literary scene without talking about the landscape that informs it. "A lot of my work is set here because it's such a dramatic place. It's got such strength," says Russell Wangersky, on this land flung to the far east in Canada, where so many people live on the edge, right on the line between ocean and land.
The island's geography often finds its way into fiction.
"Our forefathers had to haul a living out of a vicious sea and infertile land, and learned to use levity as a crutch for the harsh realities of life, and honesty as a way to resonate and relate to each other," says Chad Pelley.
"The best fiction tells honest stories of people persevering through the harsh realities of life: people die, people struggle people fall out of love. That's life, and we write about it here in a way that captures all the visceral pain and beauty of being alive."
And while people no longer depend as much on the sea, the connection remains. "I think the rhythm of the ocean, of the waves, seeps into the structure of the sentences," muses Moore. "That's a romantic notion, of course, but I sometimes think I hear when I read Newfoundland work, and sometimes work from the Caribbean."